Observer Name:
Greg Gagne with Tom Flaherty
Comments:
Weakest layers on Saturday were either a density inversion in the storm snow, or at the interface with the Wednesday storm. The storm slab weaknesses have settled out in the past 24 hours (these often settle out quickly) and although I did get one shear failure at the storm snow interface, today's stability tests were failing in faceted snow underneath the small Wednesday storm. These were full propagation, failing between 10 and 15 taps and Q1/SC or Q2/RP. Down ~45 cms (18")
With storm snow instabilities settling out, the deeper faceted layers were the weakest layers in the snowpack today. If we get decent water amounts (> .5") or wind loading overnight, am thinking avalanching will occur in these deeper faceted layers. With a deeper snowpack and slab on top, slopes are well-connected and avalanches may propagate widely.
Video showing one extended column on North aspect at 10,400'. ECTP15 failing down 45 cms (18") on a layer of facets. Of the extended column tests we performed, this was the least impressive with the least energy.
Cracking on a wind-loaded slope on a steeper roll-over.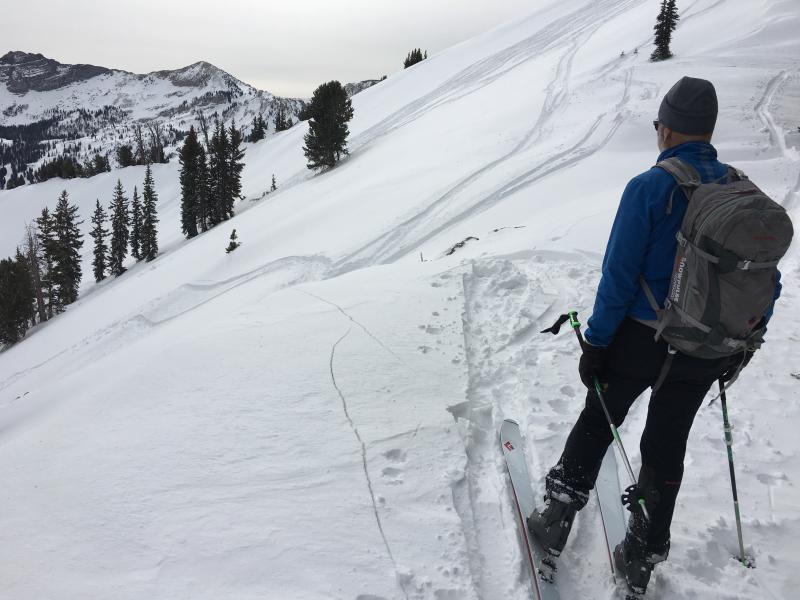 Conditions were clearly more stable than Saturday, and numerous tracks on steeper slopes in the backcountry. But persistent weak layers are notorious in conditions like this as the slab on top gains strength many people can ride slopes with no avalanching .... until someone finds a sweet spot.
Considerable hazard, but not widespread indications of instability - the type of conditions when accidents often occur.
Snow Profile Coordinates: