Forecast for the
Uintas Area Mountains
Issued by Craig Gordon for
Monday, March 25, 2019 - 3:08am
Expect two very different avalanche problems today-
WET SNOW AVALANCHES-
Nearly all aspects and elevations will take on heat today and the danger for WET SNOW avalanches starts out as LOW this morning, but rapidly rises to CONSIDERABLE as the day heats up. Human triggered avalanches are LIKELY and natural avalanches POSSIBLE on all steep, sun baked slopes.
DRY SNOW AVALANCHES-
In the wind zone at and above treeline you'll find MODERATE avalanche danger. Human triggered DRY SNOW avalanches are POSSIBLE on steep leeward slopes facing the north half of the compass. Limited to a small percentage of the terrain available to ride in today, if you're getting into steep, technical terrain facing the north half of the compass remember, there may be a rogue drift or two large enough to boss you around.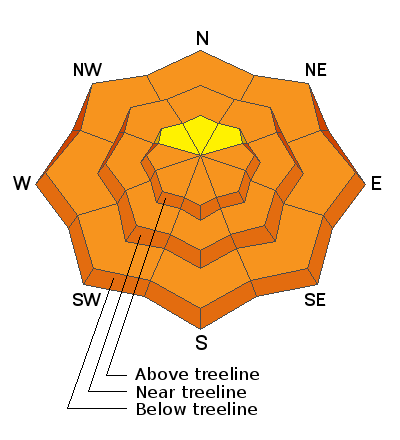 Learn how to read the forecast
here