---
Week in Review for Friday Jan 5 through Thursday Jan 11
Progression of danger roses and overall hazard rating from 1/5- 1/11. (Click on the day of the week for the archived forecast for that day.)
| | | | | | | |
| --- | --- | --- | --- | --- | --- | --- |
| Friday | Saturday | Sunday | Monday | Tuesday | Wednesday | Thursday |
| | | | | | | |
| Low | Low | Considerable | Moderate | Considerable | HIGH | HIGH |
Summary - Storms overloaded a weak, unstable snowpack leading to elevated hazard and dangerous avalanche conditions by midweek. Storm and water totals for the week varied widely, this included up to 2' (with nearly 3" of water) in the Cottonwoods, and 15" (1.5") along the Park City side of the range.
Friday January 5 - Low hazard, but the Christmas storm snow had turned to weak facets during the 11 days of high pressure from Dec 25 through Friday Jan 5. Overall the existing snowpackwas weak and unstable, with several layers of faceted snow throughout the snowpack. The only missing ingredient for avalanching was a new load of snow.
Saturday January 6 - A small storm deposited 3 - 7" of dense snow with 0.3 - 0.7" of water. Most activity involved small avalanches failing in the faceted snow just underneath the new storm snow. However one larger slide involved a fresh wind drift on east facing Cardiff Peak(photo below Mark Pugliese), as well as a large avalanche in Porter Fork that brokedown into faceted snow from November.
Tuesday January 9- A storm system with a rain/snow line at about 8000' brought 3 - 5 " of heavy dense snow. Avalanche activity included a remotely-triggered slide on an east aspect at 9600' in the Meadow Chutes.
Wednesday January 10 - The UAC issued an Avalanche Warning for dangerous avalanche conditions in the mountains of northern Utah as well as the western Uintas. Widespread human-triggered avalanches occurred, and several were triggered remotely. These slides were 1.5 - 2' deep, and 100' to 1000' feet wide. Unfortunately, most of the slopes that slid left intact faceted snow, setting the stage for repeater avalanches once these slopes get a new load of snow.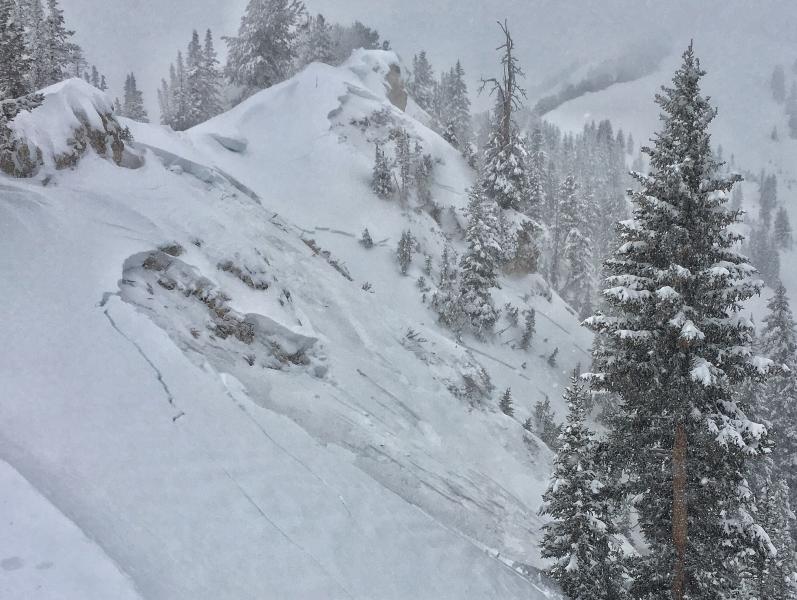 Deadly Conditions In The Utah Backcountry from Trent Meisenheimer on Vimeo.
Thursday January 11 - The avalanche danger remained HIGH and verified with both ski area explosive control work andremotely triggered persistent slab avalanches in the backcountry. All of these stepped into old faceted snow 1-4' deep and a few hunded feet wide on west to north to east facing slopes. Cracking and collapsing still the norm. Photos below of remotely triggered slide in George's Bowl of Cardiff Fork and West Deso ridge of Mill D North. (pc: Caldwell, Torrey)