Description:
Prior to yesterday's storm the snow surface on many slopes became weak and faceted on slopes other than ones facing SW, S, and SE. The 3-4 inches of new snow resting on these facets should be easy to trigger today. While not particularly dangerous being only a few inches deep, these slides should occur in many areas. The remotely triggered avalanche (photo above) is a good clue that more should occur today. That avalanche occurred on a south facing slope and tells me that weak faceted snow could be lurking under our feet in more places than we realize.
What concerns me the most isn't small avalanches breaking 3-4 inches deep. I am worried about slopes mostly near upper Little Cottonwood Canyon that received snow containing 0.7 inches of water (5-6 inches of snow) or any other slopes with similar amounts of new snow. This is a major load for such a fragile snowpack riddled by weak facets underneath the snow that fell around Christmas. An avalanche breaking on this weak layer would be 2-3 feet deep and perhaps 100 feet wide or more.
Below is the crown photo from an avalanche near Point Supreme in the Dry Fork drainage in the backcountry behind Alta. I wouldn't be surprised to see a similar slide today breaking in facets just above a crust about a foot above the ground.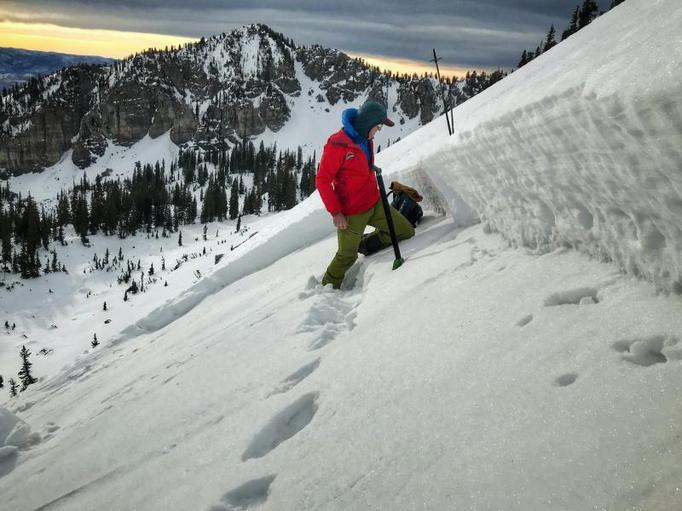 Special Announcement:
We have discount lift tickets for Alta, Snowbird, Brighton, Solitude, Deer Valley, Snowbasin,and Beaver Mountain. Details and order information here. All proceeds from these go towards paying for avalanche forecasting and education!
Current Conditions:
What's more important than how much snow fell is how much water that snow contains (snow water equivalent or SWE) because this tell us how much weight was added to the snowpack. Since yesterday most areas received 0.3-0.4 inches of water (3-4 inches of snow). The exception is upper Little Cottonwood Canyon that received up to 0.7 inches of water (5-6 inches of snow). This is a heavy load for the fragile snowpack.
Temperatures cooled last night and are in the the upper teens and low 20's F above 9000 feet. At many trailheads, temperatures are in the mid to upper 20's F.
Light winds this morning are averaging 5 mph from the WNW with gusts of 10-15 mph. Stronger winds blew yesterday afternoon from the SW at 15 mph gusting to 25 mph. Because yesterday's snow was relatively warm and dense, these winds were probably not strong enough to transport much new snow.
Recent Activity:
Skiers yesterday remotely triggered small slide 2-3 inches deep at the head of Snake Creek Canyon. A remotely triggered slide is one that is triggered from some distance and is a major red flag of unstable conditions. Photo - Kyle H.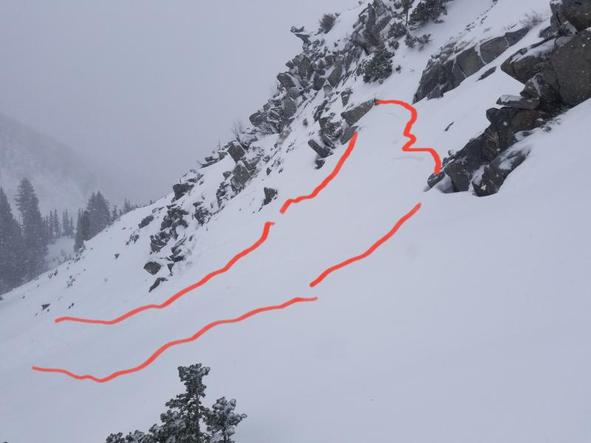 Mountain Weather:
Clouds and fog will slowly dissipate this morning as another ridge of high pressure builds and brings clear skies and sunshine by this afternoon. Temperatures should reach the mid 30's F later today and winds will remain light.
The good news is that this ridge of high pressure will be short lived as a minor trough of low pressure arrives Monday night with a few inches of snow. A larger trough of low pressure follows the smaller one and arrives Tuesday night.
Bottom Line:
The new snow should create shallow avalanches in many areas today. In places like upper Little Cottonwood Canyon that received higher amounts of heavy snow, avalanches could break on weak, faceted layers 2-3 feet deep. The potential for these slides creates dangerous avalanche conditions and the danger is CONSIDERABLE on mid and upper elevation slopes. A MODERATE danger exists on lower elevation slopes and ones with a southerly aspect.
Description:
Warm temperatures and sunshine today should dampen the snow on southerly aspects. In many places the new snow rests on an ice crust. As the snow gets wet, there may some small, wet loose avalanches today on these aspects but shouldn't be a major concern and will occur predictably as the day warms.
General Announcements:
CLICK HERE FOR MORE GENERAL INFO AND FAQ
Support the UAC through your daily shopping. When you shop at Smith's, or online at REI, Backcountry.com, Patagonia, NRS, Amazon, eBay  a portion of your purchase will be donated to the FUAC. See our Donate Page for more details on how you can support the UAC when you shop.
Benefit the Utah Avalanche Center when you buy or sell on eBay - set the Utah Avalanche Center as a favorite non-profit in your eBay account here and click on eBay gives when you buy or sell. You can choose to have your seller fees donated to the UAC, which doesn't cost you a penny.
This information does not apply to developed ski areas or highways where avalanche control is normally done. This advisory is from the U.S.D.A. Forest Service, which is solely responsible for its content. This advisory describes general avalanche conditions and local variations always occur.
Rose: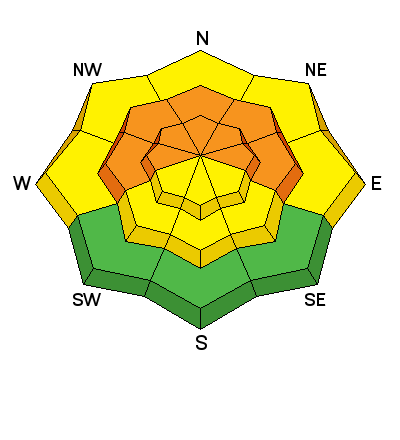 Rose: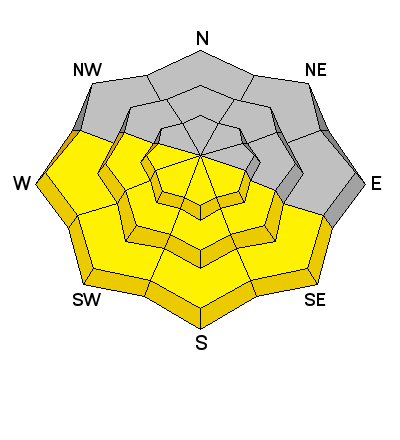 Rose: