Description:
We now have a slab over the patchwork of persistent weak layers – the multiple layers of sugary facets and crusts. Some slopes will avalanche naturally, but many slopes are hanging in balance, just waiting for a trigger. Don't let it be you. Avalanches can be triggered remotely and from below. Any slide you trigger on a steep slope today will be large enough to take you for a ride and bury you. An avalanche staring in the new storm snow may step down deeper weak layers, and be very long running as it entrains snow down the slope. There may be cement like wet debris if the slide runs down into the mid elevations.
Current Conditions:
The cold front is just hours away…but ahead of the cooler air, it's another warm, soggy morning, with light rain and snow falling, and the rain/snow line still hovering around 7,500 to 8,000'.  Temperatures are in the low 30s at the lower elevations, cooling into the 20s at the mid and upper elevations.  Winds are still from the southwest, averaging 10 to 15 mph, with gusts in the 20s.  Speeds across the high peaks are only a bit stronger.
Another 3 to 5" of dense snow fell overnight at the upper elevations, with more rain at the lower elevations.   Storm totals are now in the 6 to 14" range, with tracks nicely filled in, and turns quick and fun on low angle slopes.  The water content in that snow is now around 1" to 1.8" of water weight at the higher elevations.
Recent Activity:
UPPER ELEVATIONS:  Yesterday, a party on the ridgeline above Meadow Chutes, Silver Fork, remotely triggered a long running slide – about a foot deep, 100' wide, that ran over 1000' vertical; avalanche reduction work at the resorts triggered new snow slides with ski cuts, up to a foot deep and large enough to bury a person.
LOW ELEVATIONS: natural and skier triggered wet loose sluffs ran on a variety of aspects at the low to mid elevations; Also, a 2 foot deep wet slab avalanche was triggered with a ski cut at 8300'.
Meadow Chutes avalanche photos - Nathan Chaszeyka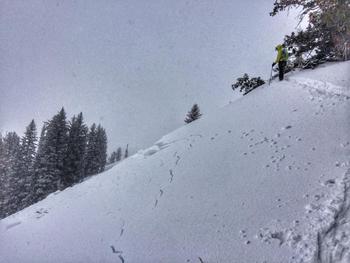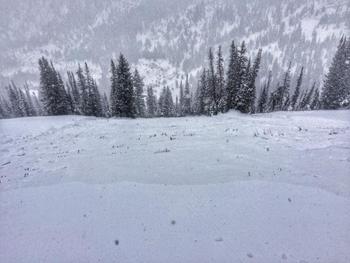 Mountain Weather:
The cold front is just reaching the northern mountains, and should sweep south, with the snow line dropping to 6,000' by noon in the Provo area mountains.  An additional 4 to 8" of snow is possible by evening.   Winds will shift to the northwest and increase with frontal passage – 10 to 20 mph averages, gusting to 25 mph.  The highest terrain will have averages to 35 mph, with gusts in the 50s. A few lingering snow showers tonight, with temperatures finally cooling – into the teens.  The northwesterly winds will decrease overnight.
Avalanche Warning:
THE FOREST SERVICE UTAH AVALANCHE CENTER IN SALT LAKE CITY HAS ISSUED A BACKCOUNTRY AVALANCHE WARNING.
* TIMING…IN EFFECT FROM 6 AM MST THIS MORNING TO 6 AM MST THURSDAY
* AFFECTED AREA…FOR THE MOUNTAINS OF NORTHERN UTAH INCLUDING THE WASATCH RANGE...PROVO AREA MOUNTAINS...BEAR RIVER RANGE...WESTERN UINTA MOUNTAINS...
* AVALANCHE DANGER…THE AVALANCHE DANGER IS HIGH.
* IMPACTS…HEAVY SNOW HAS OVERLOADED THE PREEXISTING WEAK SNOW PACK. THE AVALANCHE DANGER IS HIGH AND BOTH HUMAN TRIGGERED AND NATURAL AVALANCHES ARE LIKELY. TRAVEL IN AVALANCHE TERRAIN IS NOT RECOMMENDED. AVALANCHES CAN BE TRIGGERED FROM A DISTANCE AND FROM BELOW. STAY OFF OF AND OUT FROM UNDER SLOPES STEEPER THAN 30 DEGREES.
BACKCOUNTRY TRAVELERS SHOULD CONSULT WWW.UTAHAVALANCHECENTER.ORG OR CALL 1-888-999-4019 FOR MORE DETAILED INFORMATION.
THIS WARNING DOES NOT APPLY TO SKI AREAS WHERE AVALANCHE HAZARD REDUCTION MEASURES ARE PERFORMED.
Bottom Line:
The Avalanche Danger will rise to HIGH on steep, mid and upper elevation slopes facing northerly through easterly.   Large, long running avalanches can be triggered or run naturally, especially during periods of heavy snowfall or stronger winds.   A CONSIDERABLE DANGER exists on most other slopes, with dangerous avalanche conditions.  Travel in avalanche terrain is not recommended.  
Only those with the skills to identify and avoid avalanche terrain should travel in the backcountry today - on slopes less steep about 30 degrees, such as meadows and rolling, low angle terrain, which are not below steeper terrain,. 
Description:
Over 24 hours of rain and wet snow has created at soggy snow pack below about 8,500', and both natural and human triggered wet loose sluffs and wet slab avalanches are possible.  Anywhere there is snow down low, avoid steep terrain, including even small features such as creek beds, road banks and gullies.  
Description:
Winds are forecast to increase with frontal passage, and will drift snow at the higher and mid elevations, overloading the weak layers in the snowpack. Any period of strong winds is when natural avalanches may occur
General Announcements:
CLICK HERE FOR MORE GENERAL INFO AND FAQ
Support the UAC through your daily shopping. When you shop at Smith's, or online at REI, Backcountry.com, Patagonia, NRS, Amazon, eBay  a portion of your purchase will be donated to the FUAC. See our Donate Page for more details on how you can support the UAC when you shop.
Benefit the Utah Avalanche Center when you buy or sell on eBay - set the Utah Avalanche Center as a favorite non-profit in your eBay account here and click on eBay gives when you buy or sell. You can choose to have your seller fees donated to the UAC, which doesn't cost you a penny.
This information does not apply to developed ski areas or highways where avalanche control is normally done. This advisory is from the U.S.D.A. Forest Service, which is solely responsible for its content. This advisory describes general avalanche conditions and local variations always occur.
Rose: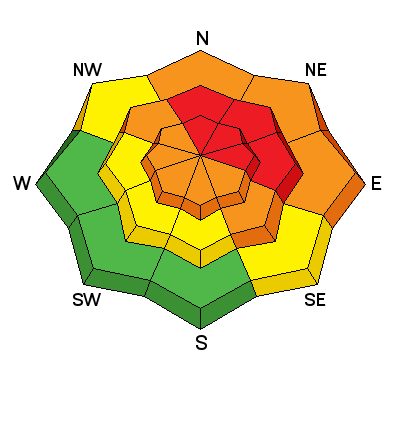 Rose: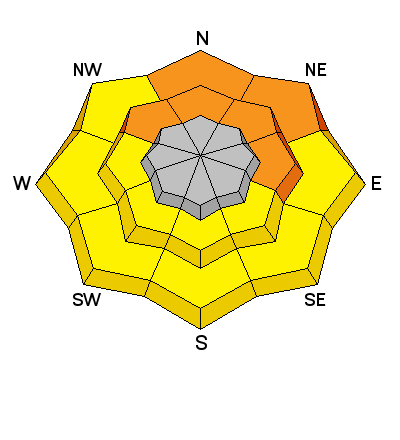 Rose: