Description:
Westerly winds on Saturday & Sunday created sensitive pockets of fresh wind drifts on a variety of aspects at the upper elevations, and increasing winds today will only elevate this hazard. Although I am not expecting these drifts to be large, they are sensitive as they are sitting on top of weak faceted snow that formed during the extended period of high pressure from Christmas thru Friday. Watch for signs of cracking and collapsing in fresh wind drifts.
Special Announcement:
We have discount lift tickets for Alta, Snowbird, Brighton, Solitude, Deer Valley, Snowbasin,and Beaver Mountain. Details and order information here. All proceeds from these go towards paying for avalanche forecasting and education!
Current Conditions:
As of 6 am, mountain temperatures are in the 20's F where cooler air has pooled at lower elevation trailheads, and in low 30's F. at mid and upper elevation where warming has begun ahead of a much-needed period of storminess. Winds are out of the southwest, and have been increasing overnight, gusting in the teens at mid elevations, and 20's mph at upper elevations. At 11,000' gusts have reached 40 mph.
The general consensus is that riding conditions have greatly improved with the small, 3-5" storm from Saturday.
Recent Activity:
We received several excellent observations from Sunday, and these included reports of collapsing and cracking where westerly winds drifted stiffer slabs on top of a layer of weak faceted snow that formed during the long period of high pressure from Christmas through this past Friday. On both Saturday and Sunday there were reports of small avalanches 3-5" thick failing on this layer, however there was one larger slide on a fresh wind drift at 10,100' on east-facing Cardiff Peak that was up to 2' deep [Mark Pugliese]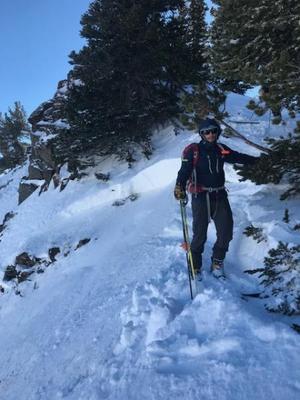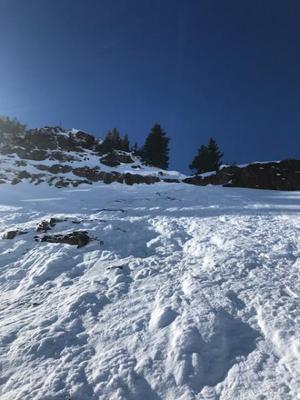 The avalanche that really caught my attention, however, was on a northeast aspect at 8900' in Porter Fork in Millcreek Canyon. This was 2' deep, 150' wide, and ran 600' vertical. This avalanche ran on a weak layer that formed back in November. Control work at one Cottonwood resort also pried out a slab on a north-facing, upper elevation aspect that also failed on a mid-November weak layer. I am suspecting we will be hearing about more avalanching on these deeper layers by midweek.
Mountain Weather:
Good news! A much-needed period of precipitation is on its way! Cloudy with increasing winds out of the south and west with gusts into the 30's mph. Temperatures will warm into the 40's at lower elevations, and mid 30's at mid and upper elevations. Precipitation should hold off until the evening hours, with a rain/snow line at about 8000' and several inches of dense snow overnight on a southwest flow. Currently this storm system looks to be a very equitable producer, with initially a southwest flow through Tuesday, followed by a colder northwest flow on Wednesday and into Thursday.
Bottom Line:
The overall avalanche hazard is MODERATE where pockets of fresh wind drifts can be found primarily at the upper elevations. With increasing winds today, I am expecting this hazard to increase, including drifting down off of ridgelines. There also is a MODERATE hazard of a persistent slab avalanche on slopes facing north through east, failing in a deeper layer of the snowpack.
You may also find minor wet, loose activity at lower elevations as well as aspects facing south and west
On lower-angled slopes, as well as slopes that aren't wind loaded, the hazard is LOW.
We expect a rising avalanche hazard this week, with potentially dangerous conditions by midweek.
Description:
The snowpack at mid and upper elevations facing northwest through east are plagued with weaknesses from the ground, to the old snow surface sitting just below the Saturday storm snow. Overall the small Saturday storm wasn't enough of a load to affect deeper layers, and most activity over the weekend was in the layer of faceted snow at the old snow interface. In general you will find this layer about 3-6" down from the snow surface. However, the Cardiff Peak avalanche indicates some slides may be deeper where the slope has been wind-drifted, and the Porter Fork slide tells us avalanches failing in deeper layers buried 2'+ are possible.
With snow and wind in the forecast, this persistent slab avalanche problem will become increasingly hazardous as this week progresses.
General Announcements:
CLICK HERE FOR MORE GENERAL INFO AND FAQ
Support the UAC through your daily shopping. When you shop at Smith's, or online at REI, Backcountry.com, Patagonia, NRS, Amazon, eBay  a portion of your purchase will be donated to the FUAC. See our Donate Page for more details on how you can support the UAC when you shop.
Benefit the Utah Avalanche Center when you buy or sell on eBay - set the Utah Avalanche Center as a favorite non-profit in your eBay account here and click on eBay gives when you buy or sell. You can choose to have your seller fees donated to the UAC, which doesn't cost you a penny.
This information does not apply to developed ski areas or highways where avalanche control is normally done. This advisory is from the U.S.D.A. Forest Service, which is solely responsible for its content. This advisory describes general avalanche conditions and local variations always occur.
Rose: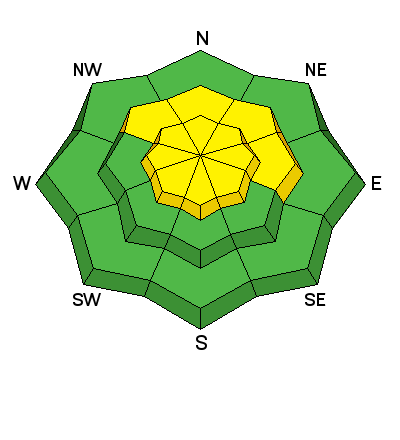 Rose: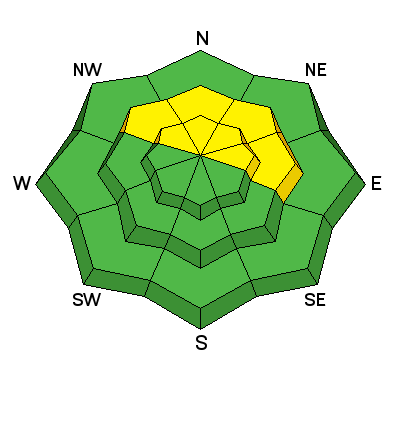 Rose: