Description:
Strong southerly winds overnight and this morning have created fresh drifts of wind blown. While the drifts will be most widespread on upper elevation northwest through easterly facing terrain, watch for wind drifts that have cross loaded onto other aspects around sub ridges and gully walls and at the mid elevations. Any wind slab triggered today has the possibility of triggering a deeper more dangerous avalanche that steps down into deeper weak layers. 
Current Conditions:
A much needed storm has arrived overnight. As of 4 am, mountain temperatures are in the low 30's °F. Temperatures will remain on the warm side and the rain/snow line will ebb and flow between 7,000' - 8,000' feet in elevation for much of the day. Snow has already begun to accumulate throughout much of the range, with 2"-5" inches of heavy snow so far. Southerly winds are the headline story for today, with the highest peaks already hitting speeds of 25-30 mph gusting into the 50's. Dense, spongy snow will be on all aspects above 8,000' feet in elevation and the riding conditions should be great on low angle slopes as the old tracks fill in.      
Recent Activity:
No new avalanche activity was reported from the backcountry yesterday. However, explosive work at resorts released two slides failing on faceted snow. Another resort reported they triggered two sizable avalanches remotely on approach. A list of all observations can be found HERE.   
Mountain Weather:
A much needed storm has arrived overnight bringing wet, warm and windy weather. Southerly winds will continue to blow 15-25 mph at 9,000' feet in elevation. Above 10,000' feet winds will be a bit more aggressive and in the 25-30 mph range gusting into the 60's. Temperatures will remain on the warm side and the rain snow line will hover in the 7,000'-8,000' foot range. Snow will be on and off for most of the day with an additional 2" to 4" of heavy snow by the dinner hour being a good bet.
Starting this evening the storm switches to a more northerly direction and the snow will increase and snow fall rates may reach 2" inches per hour at times through the evening. By Wednesday morning we hope to see 8" to 16" (1.2-1.9 "H20) inches of snow. We remain in an unsettled pattern into Friday where a ridge of high pressure builds back in for the weekend.  
Avalanche Watch:
* TIMING…IN EFFECT FROM 6 AM MST THIS MORNING TO 6 AM MST WEDNESDAY
* AFFECTED AREA…FOR THE MOUNTAINS OF NORTHERN UTAH INCLUDING THE WASATCH RANGE...PROVO AREA MOUNTAINS...BEAR RIVER RANGE...WESTERN UINTA MOUNTAINS...WASATCH PLATEAU/MANTI SKYLINE...FISH LAKE AREA MOUNTAINS....
* AVALANCHE DANGER…THE AVALANCHE DANGER IS EXPECTED TO RISE SIGNIFICANTLY WITH ADDITIONAL SNOW AND WIND. POSSIBLY REACHING HIGH BY WEDNESDAY.
* IMPACTS…HEAVY SNOW AND STRONG WINDS WILL LEAD TO VERY DANGEROUS AVALANCHE CONDITIONS. NATURAL AND HUMAN TRIGGERED AVALANCHES ARE LIKELY. AS AVALANCHES MAY BE TRIGGERED FROM BELOW, STAY OFF OF AND OUT FROM UNDERNEATH STEEP MOUNTAIN SLOPES.
Bottom Line:
We have a RISING AVALANCHE DANGER today and tomorrow. New snow and strong winds have created dangerous avalanche conditions and the danger is CONSIDERABLE for triggering deadly avalanches on a wide variety of weak layers at mid and upper elevations facing west through east. A MODERATE danger exists on mid and lower elevation slopes that have a southerly aspect. Lower elevations around the compass have a MODERATE danger for loose wet avalanches -  where rain in falling on cold dry snow. 
Description:
Our snowpack is riddled with layers of crusts and faceted snow - it's complicated to know which layer will be the one that the avalanche fails on. However, the strategy remains simple. Continue to avoid all steep slopes that are greater than 30 degrees in steepness today. Collapsing and cracking are signs that this dragon is coming back to life. These persistent slabs could be triggered by the weight of a single person and they will increase in both size and sensitivity today as they are further loaded by new snow and wind. 
When dealing with stronger more cohesive snow on top of weaker (faceted) snow we have to remember that avalanches can be triggered from a distance, or from being connected to adjacent terrain. Keep a close eye on slope angles and avoid being underneath steep slopes.
Description:
The rain snow line is hovering around the 7,000' - 8,000' foot range this morning. This is saturating the little snow we've had down low - avoid being in steep gullys where rain is falling on dry cold snow.
General Announcements:
CLICK HERE FOR MORE GENERAL INFO AND FAQ
Support the UAC through your daily shopping. When you shop at Smith's, or online at REI, Backcountry.com, Patagonia, NRS, Amazon, eBay  a portion of your purchase will be donated to the FUAC. See our Donate Page for more details on how you can support the UAC when you shop.
Benefit the Utah Avalanche Center when you buy or sell on eBay - set the Utah Avalanche Center as a favorite non-profit in your eBay account here and click on eBay gives when you buy or sell. You can choose to have your seller fees donated to the UAC, which doesn't cost you a penny.
This information does not apply to developed ski areas or highways where avalanche control is normally done. This advisory is from the U.S.D.A. Forest Service, which is solely responsible for its content. This advisory describes general avalanche conditions and local variations always occur.
Rose: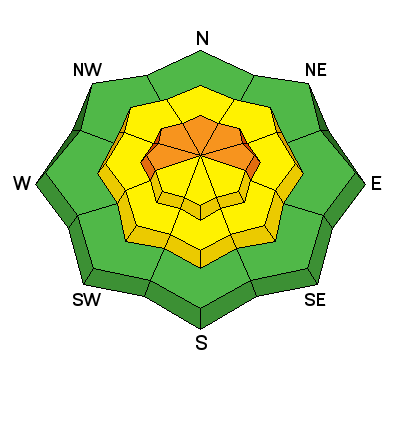 Rose:
Rose: