Description:
Most of the avalanches yesterday were failing on the uppermost layer of facets in the snowpack, and were 1 ½ to 2 feet deep, 100 to 1000' wide, running all the way down to the flats. A few broke into the deeper weak layers, in shallow, rocky areas.  There was significant activity at the upper elevations and the mid elevations below 9500'.  Avalanches were triggered remotely from above, but can also be triggered from below and from the side.
It's just plain dangerous out there - slopes that have not avalanched are hanging in balance, just waiting for a trigger. Many of yesterday's avalanches broke well off ridgelines, meaning you can get out on to a slope, and have the slide break above you.  Any slide you trigger on a steep slope today will be large enough to bury and kill you.
A note for the future: most of these avalanches are unfortunately leaving the deeper layers of large facets intact.
Special Announcement:
Park City Ski resort is planning on explosive work in the Murdoc/High Peak area with an avalauncher, as well as in the Daybreak area, including Main Mac, La Frontera, Nutty Putty, and Fin. Backcountry travel is not allowed in these areas.
Snowbird will be firing the Howitzer along the Gad Valley White Pine Ridge at 0530 on Thursday 1/11/18. A heads up for those traveling near the White Pine drainage.
Episode 2 of the UAC podcast has been released. Check it out on ITunes, Stitcher, the UAC blog, or wherever you get your podcasts.
Current Conditions:
The storm wrapped up quickly yesterday afternoon and temperatures finally cooled to more wintery norms, and are in the teens.  This morning, light snow is falling in the mountains, and winds are brisk, from the northwest, in the 10 – 15 mph range, with gusts 25 to 35 mph. The highest peaks are averaging near 40 mph and gusting in the 50s.  A look at the storm totals – both snow and water:
  Total Snow Total Water Upper Big Cottonwood 14 to 21" 2 - 2.5" Upper Little Cottonwood 8 to 14" 1.5 to 2" Mid Elevations, Cottonwoods 1 to 5" 1 - 1.25" Park City side 6 to 12" 1 to 1.35"
Recent Activity:
Lots of avalanches in the backcountry yesterday - a few naturals and many, many remotely triggered slides that averaged 1 1/2 to 2 feet deep and 100' to 1000' wide.  Remotely triggered slides include 5 along the ridgeline from upper Days to the Silver Fork Headwall, in addition to No Name, West Monitor, Claytons, Twin Lakes Pass ridgeline, Radar Love and 10,420.  The southeast face of Superior ran naturally to the willows. The resorts triggered large avalanche with explosives and ski cuts, with significant activity below 9,500'.
Deadly Conditions In The Utah Backcountry from Trent Meisenheimer on Vimeo.
Photos: Silver Fork Headwall, Mark Staples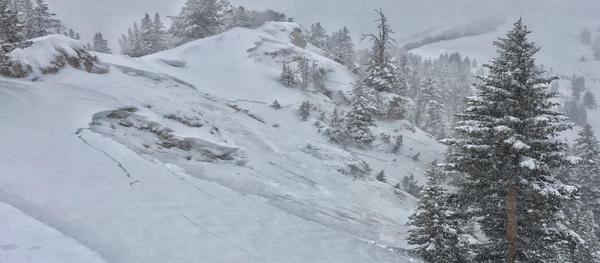 No Name, Mark White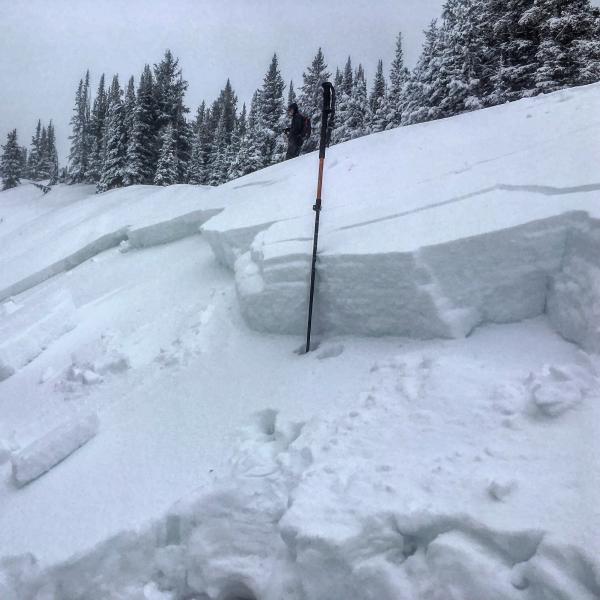 Mountain Weather:
A moist, northwest flow will keep skies mostly cloudy today, with light snow showers possible, especially this afternoon.  An additional 1 to 3" of snow is possible. Temperatures will warm into the low 30s at 9,000', and the northwesterly winds will increase this afternoon – averaging to 20 mph, with gusts to 35 at the mid elevations.  High peaks will be gusting in the 50s.  A few more inches of snow possible tonight into Friday.
Bottom Line:
The Avalanche Danger is HIGH on steep, mid and upper elevation slopes facing northerly through easterly.   Large, wide, long running avalanches can be triggered on slope or remotely from below or from adjacent slopes.   Avoid travel on and below all wind-drifted slopes.  Travel in avalanche terrain is not recommended.
Be very aware of other people near by in the backcountry - you would never would want to accidentally trigger a slide onto a party below - by remotely triggering a slide or kicking a cornice.    
Those with skills to identify and avoid avalanche terrain will find great riding and turning on low angle slopes less steep than about 30 degrees, which are not below steeper terrain. 
Description:
Wind was a key player yesterday – many avalanches occurred where wind had drifted snow onto the slope, providing the extra weight needed to tip the balance. 
This morning, the west to northwesterly wind is strong at the upper elevations, and forecast to increase at the mid elevations later this afternoon and overnight.  Avoid all steep, wind drifted slopes and travel beneath them.
General Announcements:
CLICK HERE FOR MORE GENERAL INFO AND FAQ
Support the UAC through your daily shopping. When you shop at Smith's, or online at REI, Backcountry.com, Patagonia, NRS, Amazon, eBay  a portion of your purchase will be donated to the FUAC. See our Donate Page for more details on how you can support the UAC when you shop.
Benefit the Utah Avalanche Center when you buy or sell on eBay - set the Utah Avalanche Center as a favorite non-profit in your eBay account here and click on eBay gives when you buy or sell. You can choose to have your seller fees donated to the UAC, which doesn't cost you a penny.
This information does not apply to developed ski areas or highways where avalanche control is normally done. This advisory is from the U.S.D.A. Forest Service, which is solely responsible for its content. This advisory describes general avalanche conditions and local variations always occur.
Rose: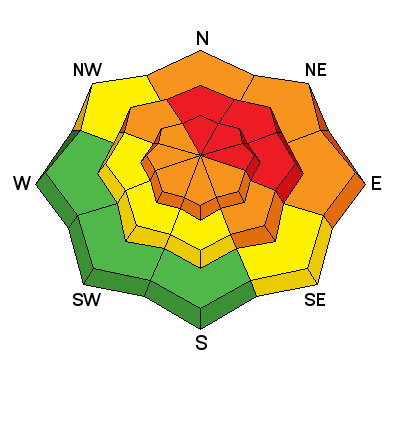 Rose: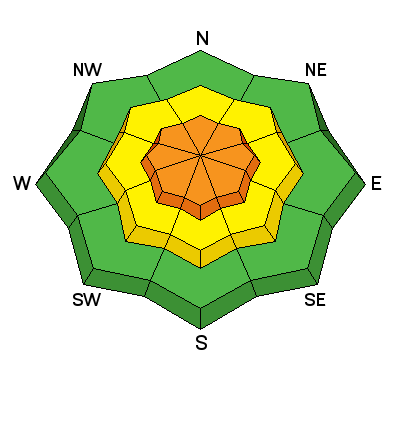 Rose: