Description:
Today's expected snowfall shouldn't change the avalanche danger. Triggering a persistent slab avalanche on a northerly facing, upper elevation slope remains a slight possibility only because facets in the bottom half of the snowpack remain very weak and the Christmas snow on top of them remains cohesive.
A low danger means that avalanche conditions are generally safe, but some unstable snow is possible on isolated terrain features. Watch out if more than a few inches of snow accumulates by later this afternoon.
With such a weak snowpack, I don't trust it's ability to support any additional load beyond 1-3 inches of snow. If higher amounts of snow fall, it could increase the odds of triggering a persistent slab avalanches a little bit.
There may be a few shallow wind slabs that form near the end of the day at ridgetops from West winds. Because the snow surface has become weak and faceted on East aspects, fresh wind slabs that form on top of this weak surface snow should be easy to trigger. With minimal snowfall and no major winds expected, wind slab formation should be isolated.
Another hazard will be hitting rocks that are barely sticking out of the snow this morning but will be hidden by today's snowfall.
Special Announcement:
Spend some time improving your rescue skills or learning about avalanches in these upcoming Salt Lake City area classes:
Episode 2 of the UAC podcast has been released. Drew Hardesty talks Avalanche Weather with Professor Powder himself, atmospheric sciences professor and author of Secrets of the Greatest Snow on Earth, Jim Steenburgh. Check it out on ITunes, Stitcher, the UAC blog, or wherever you get your podcasts.
Current Conditions:
This morning temperatures are near 30 degrees F. Winds are averaging 10 mph gusting 15 mph from the SW. The snowpack is about 3 feet deep on upper elevation, northerly aspects, but it is also very weak and faceted. SW, S, and SE facing slopes have about a foot of snow and have been warming enough to get damp during the day and refreezing at night.
Week in Review
[Click HERE for a more detailed report]
Friday December 29: A skier-triggered avalanche occurred in Dry Fork. This avalanche was 2.5' deep and 100' wide, running 400' vertical. It was a persistent slab avalanche, failing in faceted snow that formed during the earlier part of the winter.
Saturday December 30 - Thursday January 4: Our continued pattern of no storms with mostly clear skies. Moderate west/northwest winds were observed, particularly early in the week, but they only produced small pockets of unresponsive wind-slabs. Observers reported continued collapsing in the snowpack, but collapses were much less common than over the week between Christmas and New Years. The clear skies have helped to weaken the snowpack, especially at the surface.
Mountain Weather:
Today's weak storm will bring snow late this morning through this afternoon and bring 1-3 inches of snow with another inch or so tonight. High pressure with clear, sunny weather returns Sunday through Tuesday. Winds today will remain about 10 mph with gusts of 15-20 mph. They will shift from the SW to W during the day. Temperatures should rise into the mid 30's F.
A better chance for more snow will come with a storm that arrives sometime Tuesday.
Bottom Line:
Avalanche conditions are generally safe and the avalanche danger is LOW. The snowpack is generally very weak, but is not unstable because it doesn't have stress from new snow. Today's snowfall of only a few inches shouldn't add enough stress to change the situation, but watch out if more than a few inches of snow fall by this afternoon which could raise the danger.
General Announcements:
CLICK HERE FOR MORE GENERAL INFO AND FAQ
Support the UAC through your daily shopping. When you shop at Smith's, or online at REI, Backcountry.com, Patagonia, NRS, Amazon, eBay  a portion of your purchase will be donated to the FUAC. See our Donate Page for more details on how you can support the UAC when you shop.
Benefit the Utah Avalanche Center when you buy or sell on eBay - set the Utah Avalanche Center as a favorite non-profit in your eBay account here and click on eBay gives when you buy or sell. You can choose to have your seller fees donated to the UAC, which doesn't cost you a penny.
This information does not apply to developed ski areas or highways where avalanche control is normally done. This advisory is from the U.S.D.A. Forest Service, which is solely responsible for its content. This advisory describes general avalanche conditions and local variations always occur.
Date:
Saturday, January 6, 2018
Rose: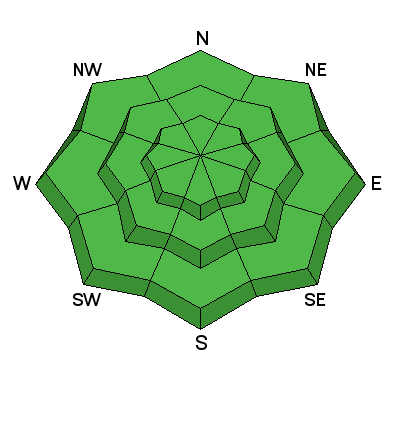 Rose: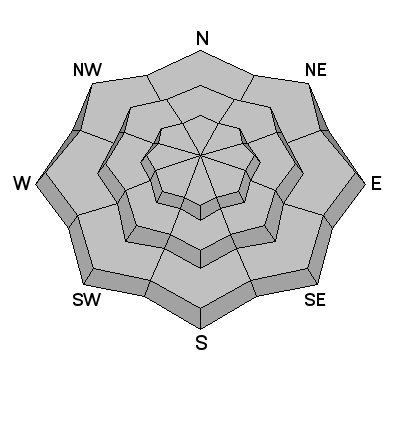 Rose: