Forecast for the
Salt Lake Area Mountains

Issued by Greg Gagne for
Friday, January 29, 2021
The avalanche danger is HIGH on upper elevation aspects facing west, through north, and southeast. Upper elevation aspects facing south and southwest - and all mid-elevation aspects - have a CONSIDERABLE danger. Strong southerly winds have created dense slabs of fresh wind-drifted snow that have overloaded the snowpack on many slopes at the mid and upper elevations. Any natural or human-triggered avalanche can be 3-4' deep and over a few hundred feet wide. There is a Moderate danger at the low elevations.
Traveling on, underneath, or adjacent to slopes steeper than 30° at the mid and upper elevations is not recommended. Fortunately, there are excellent riding conditions on lower-angled slopes outside of wind-affected terrain.
---
If you're leaving a resort boundary through an exit point, you are stepping into CONSIDERABLE or HIGH avalanche danger.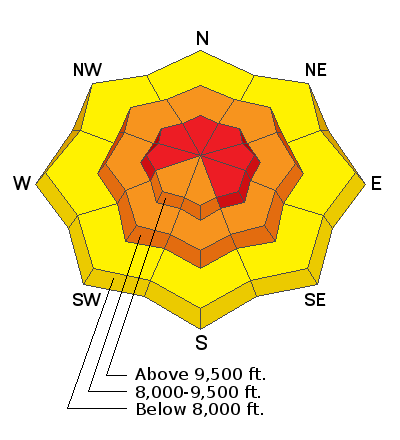 Learn how to read the forecast
here