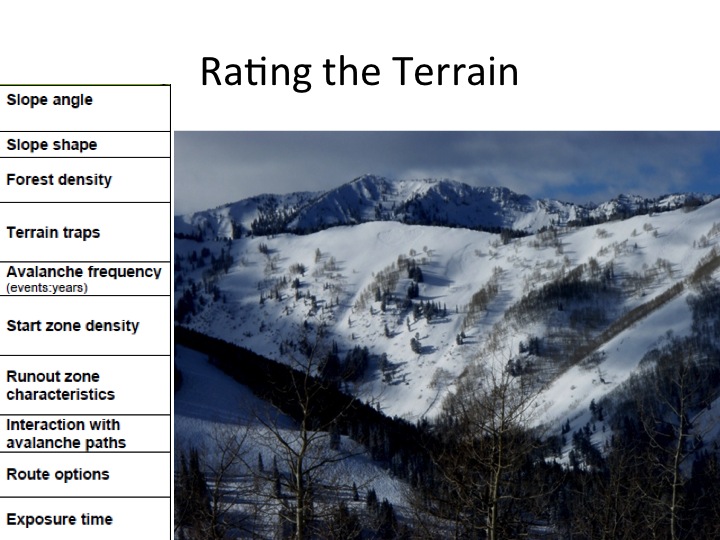 Avalanches are part of life in the mountains, and anyone who has spent any time in the 'Greatest Snow on Earth' knows that Utah can often have some of the greatest avalanche cycles on earth as well. Since 1990, Utah has averaged 4 fatalities per winter, and that demographic is across the board – men and women, young and old, experts and the unaware. And every group has suffered tragedy: snowshoers, snowboarders, skiers, and snowmobilers recreating in or below avalanche terrain.
In bounds and above the mountain highways, mountain resort and Utah Department of Transportation avalanche control teams knock down the avalanches to protect the in-bounds terrain and the transportation corridors. In the backcountry and beyond the mountain resort rope lines, however, it's a completely different environment. It's up to you to make life and death decisions about where and when to recreate. But you don't have to go it alone. The Forest Service Utah Avalanche Center (
www.utahavalanchecenter.org
1-888-999-4019) issues daily avalanche advisories and warnings to help backcountry recreationists make educated decisions in a dynamic and ever-changing mountain snowpack.
Terrain, however, doesn't change with the weather, and is the one constant that you can control through proper route selection. The angle and shape of the ground, or the number of established avalanche paths won't vary from day to day. Our Avalanche Ratings for 30 Selected Routes does just that: rates each of 30 routes on how much interaction they have with avalanche terrain in and adjacent to the route.
It is very important to understand that these maps do not rate avalanche terrain— they rate specific, "out-and-back" routes and do not apply to terrain immediately adjacent to the route. Combined with snow stability information from the Forest Service Utah Avalanche Center, you can choose a specific route appropriate for the avalanche conditions.
Do I still need to read the avalanche advisory every day? Absolutely – you'll not only find out what the overall hazard it, but what kind of avalanche hazards exist, and tips for avoiding them. You'll get an estimate of whether natural avalanches are likely, how large the avalanches are expected to be, where the avalanches are most likely, and whether they'll persist for awhile or settle out rather quickly. But it's not all about avalanches: there's weather information as well: you'll find out how much snow fell overnight along with other current and forecasted mountain weather.
What else can I do to prepare for a backcountry outing?
These ratings supplement other guidebooks, such as
Wasatch Tours
, by Dave Hanscom and Alexis Kelner;
Backcountry Skiing Utah
by Tyson Bradley; and
The Chuting Gallery
by Andrew McLean. Check out the Wasatch Maps by Alpentech and
www.wbskiing.com
for more terrain names in the central Wasatch. More avalanche education and training is always a good thing – look for current listings on our website on the education page……and pick up Fredston/Fesler's
Snow Sense
or Tremper's
Staying Alive in Avalanche Terrain
to bone up on your avalanche understanding.
How are the routes rated? Each route is rated upon a weighted scale of the following ten parameters: slope steepness, slope shape, forest density, terrain traps, avalanche frequency, start zone density, runout zone characteristics, interaction with avalanche paths, route options, and exposure time. The routes are completely independent of route difficulty or fitness level. Trailheads are indicated on each individual page. Outlined areas in pink are many - but not all - of the historical avalanche paths that have been mapped in the Wasatch.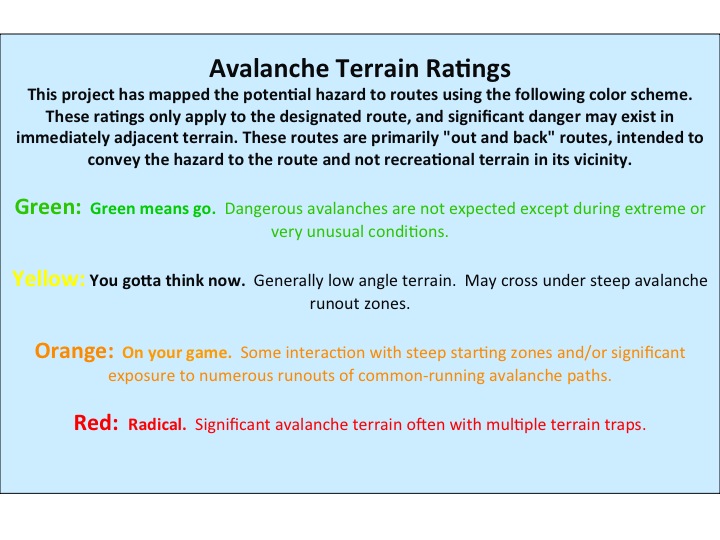 Examples are below: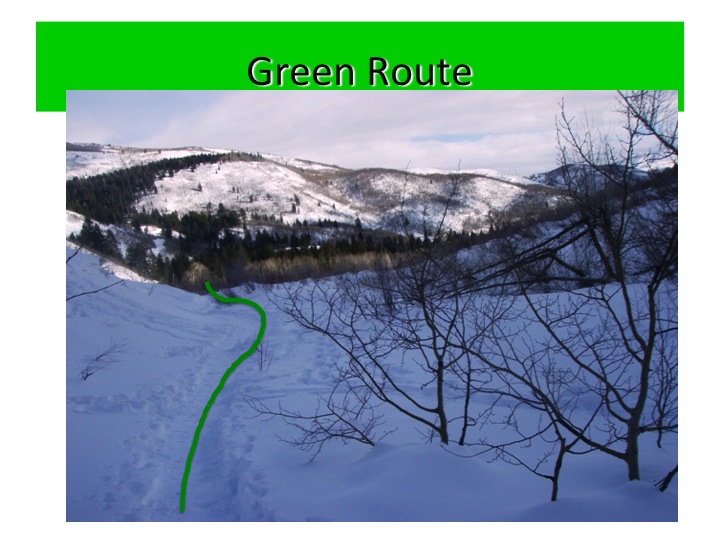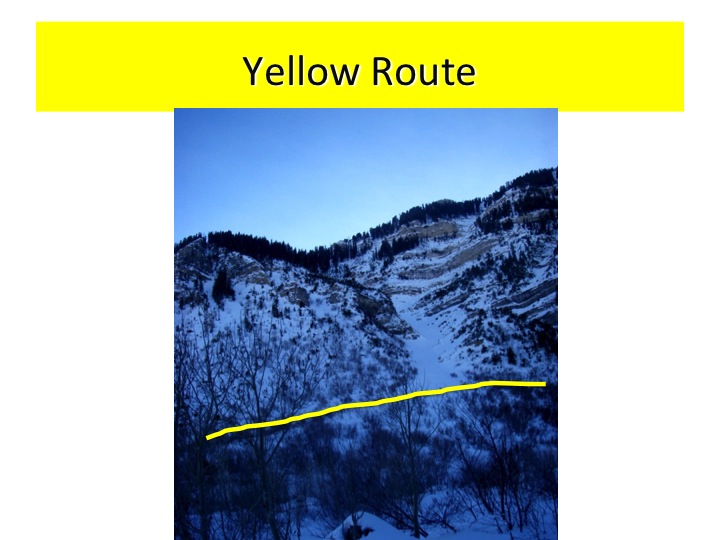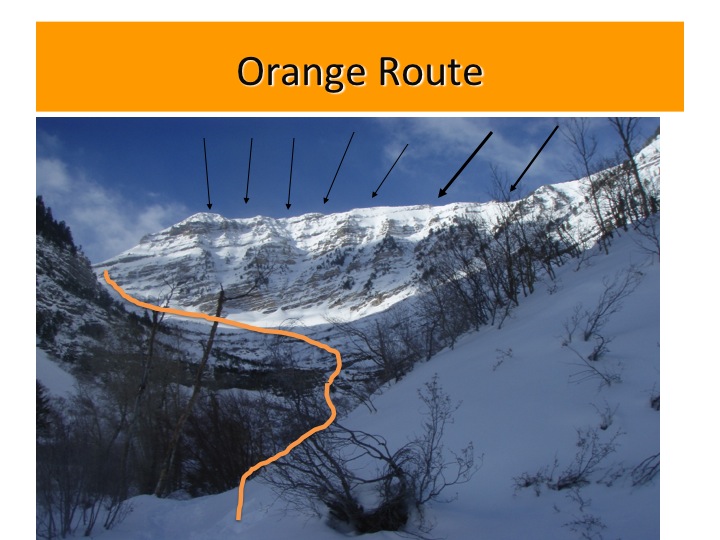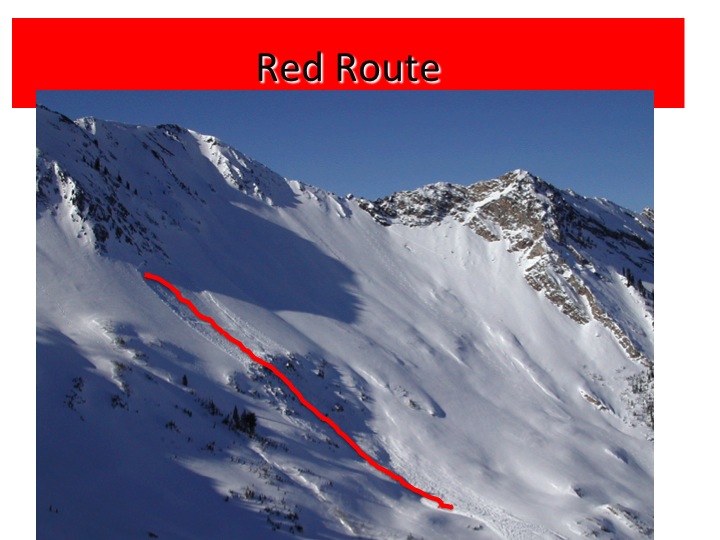 Disclaimer: There are inherent risks in backcountry travel, and most of the routes here will at times be unsafe due to potential snow avalanches. The Utah Avalanche Center has done its best to provide accurate information and to describe the terrain characteristics typical of each general region. However, it is up to the users of this information to learn the necessary skills for safe backcountry travel, access additional trip planning materials, and to exercise caution while traveling through the backcountry. Users of this information do so entirely at their own risk, and the Utah Avalanche Center disclaims any liability for injury, injury resulting in death or damage to anyone undertaking a trip into any of the regions described. This information is no substitute for experience and good judgment.
Acknowledgements: Avalanche terrain ratings were developed by Grant Statham and others with Parks Canada, and we would like to thank them for developing this model. We would also like to thank Dr. Phoebe McNeally, a professor of GIS at the University of Utah and her students Max Felkor-Cantor, Mark Hammond, and Sheila Grindstaff for their tireless work and patience.
Guidebooks and Maps:
---