Greg Gagne
This is our first "Week in Review" of the 2018/19 winter season where we highlight significant snowfall, weather, and avalanche events of the previous week. Although we generally focus on the Salt Lake mountains, we will also highlight notable events in other ranges in Utah. We generally post the Week in Review each Friday morning, and have it available for people as they make their weekend plans. [Note - We will likely make changes to the Week in Review as we continue to adjust to the new website.]
Summary: Early season snows in October and early November put down a layer of snow that melted away on southerly aspects, but remained on mid and upper elevation shady, northerly aspects. Generally fair weather persisted through much of November, where these faceted layers continued to weaken, and  the first real storms of the winter season began arriving on Thursday November 22 - Thanksgiving Day. This storm snow fell on bare ground on southerly aspects, but more problematic was that it fell on the layer of preserved facets on the shady aspects facing northwest through east, creating an immediate persistent weak layer problem. 
Approximate snow totals since Thursday Nov 22:
Upper LCC: 25-30" of snow (2.0"-2.6" H20)
Upper BCC: 30-40" of snow (2.0"-4.2" H20)
Provo area: 18-24" of snow (3.5"H20)
Ogden area: 30" of snow (2.1-3.75" H20)
Park City: 20-25" of snow (1.5"-2.5" H20) )
A heat map (illustrating the aspect and elevation) of avalanche activity for the week which illustrates the reported activity occurred on slopes facing northwest through east: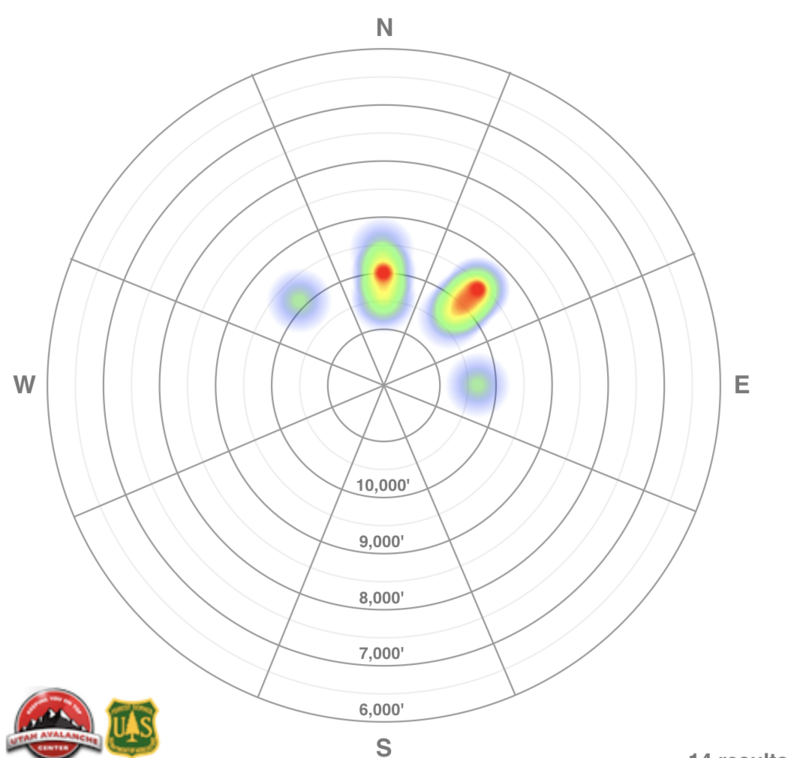 (Click on the date to view the avalanche forecast for that day)
Thursday Nov 22
- Snowfall begins with mountain locations receiving 6-10" of storm snow. Avalanching began in earnest with a period of natural avalanches occurring in the early afternoon during a period of heavy snowfall, with avalanches failing on the persistent weak faceted layer. The image below (Mark White) is from the Rocky Point area between Big and Little Cottonwood canyons, failing on the prominent layer of facets above the October crust: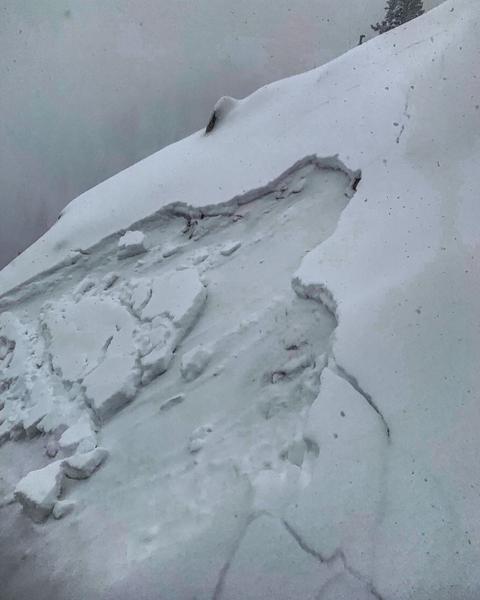 Friday November 23
- A few inches of snow, and observers in the field found a very unstable snowpack with several remotely-triggered avalanches, all failing in the weak faceted snow. 
Saturday November 24
- A strong cold front entered the region with high winds and a period of heavy snowfall. Numerous natural and human-triggered avalanches were reported, including another natural avalanche in Rocky Point as the slope was loaded with more storm and wind-blown snow: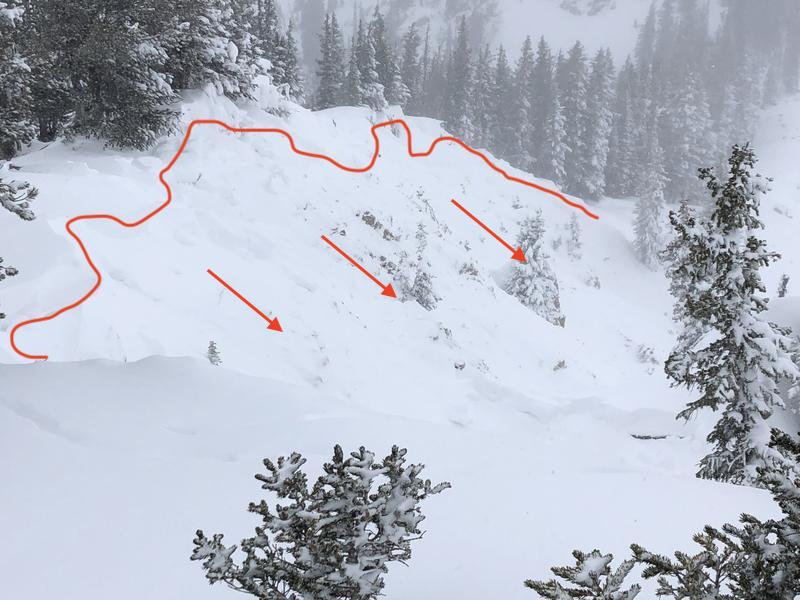 Sunday November 25
- Cold and clear, and several observers noted widespread, loud, booming collapses, some propagating several hundred feet, further signaling the unstable structure of the snowpack on northwest through east aspects. Image below from Days Fork of a natural avalanche that ran during the storm: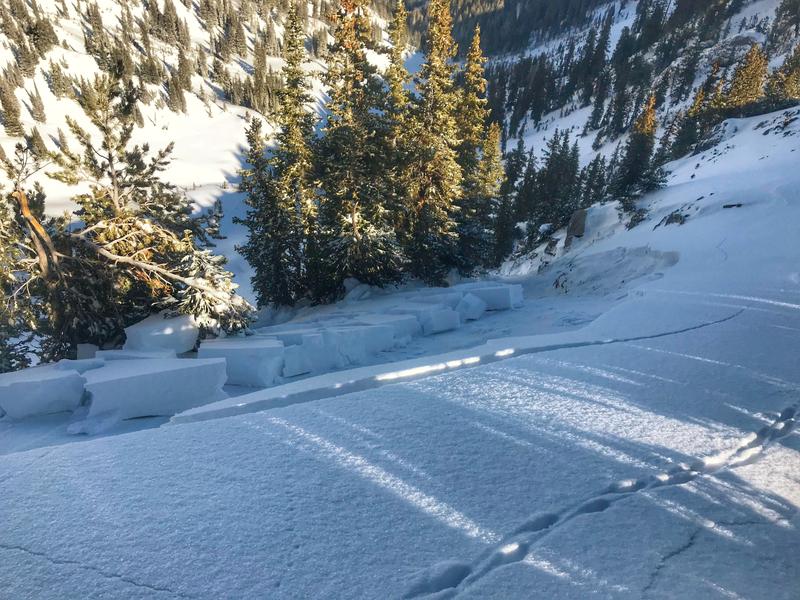 Thursday November 29
- Snow and wind pick up where Brighton reports 12" storm snow and over 1" of water since Wednesday. Southerly winds begin to overload northerly aspects, the slopes holding the weak, faceted snow near the ground: