Greg Gagne
Blog: Week in Review (Feb 23 - Mar 1)
Progression of danger roses for the Salt Lake mountains for 2/23 - 3/1. (Click on the day of the week for the archived forecast for that day.)
Friday
Saturday
Sunday
Monday
Tuesday
Wednesday
Thursday







Moderate Moderate Considerable Considerable Considerable Moderate Moderate
Summary: Storms Friday through early Sunday morning, followed by a wind event on Monday that left many exposed upper elevations slopes with hard wind slabs at the surface.
Approximate snow/water totals for the week include: 
  Snow Water Cottonwoods 16-20" 1-1.45" Park City Ridgeline 12" 0.6" Ogden Mountains 32" 1.6"
Human-triggered avalanches, as well as a significant natural cycle early in the week in the Provo mountains, failing in faceted snow down near the ground.
Friday February 23 - Another over-achieving storm with 6-9" in the Cottonwoods, 2-4" in the Park City mountains, and 8-10" in the Ogden mountains. Avalanche activity was limited to small wind slabs.
Saturday February 24 - Additional snowfall totaling 9" in Little Cottonwood, and 3-6" in Big Cottonwood and along the Park City ridgeline. A persistent slab avalanche was remotely triggered by a snowboarder on an East aspect of Raymond Shoulder, failing on a mid-pack facet/crust combination. No one was caught or carried.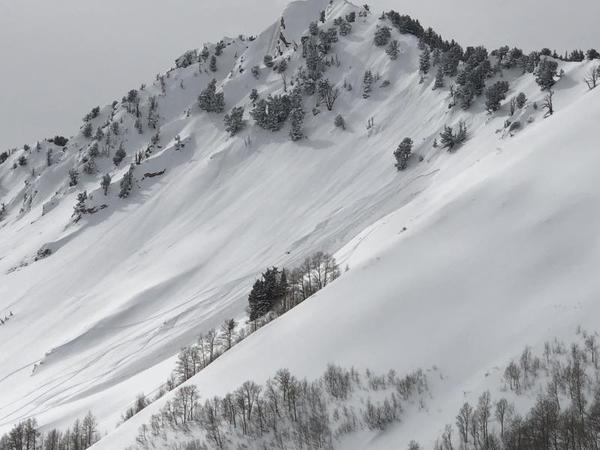 Sunday February 25 - Clearing skies and gusty winds overnight Saturday lead to pockets of fresh wind drifts at the upper elevations. A natural avalanche in American Fork that failed in old, faceted snow is also reported: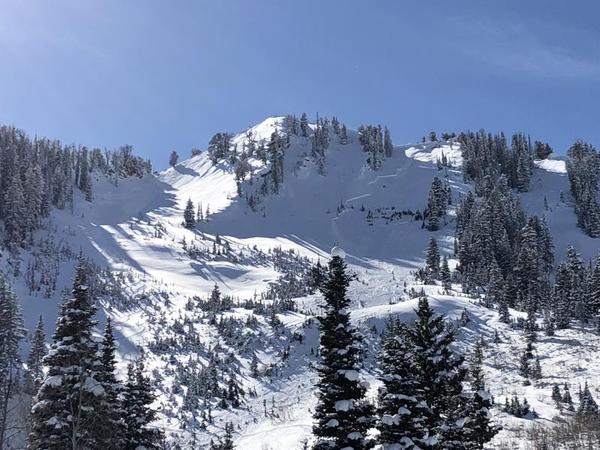 Monday February 26 - Increasing winds create larger cornices, and drift leeward slopes with dense wind slabs. A cornice fall triggers a natural avalanche in Mineral Fork, subsequently sympathetically releasing additional adjacent slides. The deepest portion of the crown was 4-5' and 100' wide, failing in faceted snow down near the ground.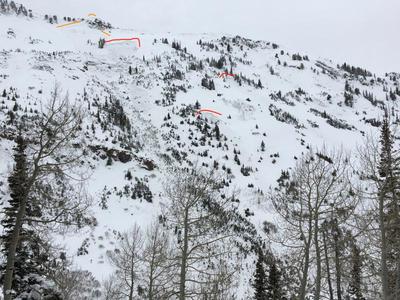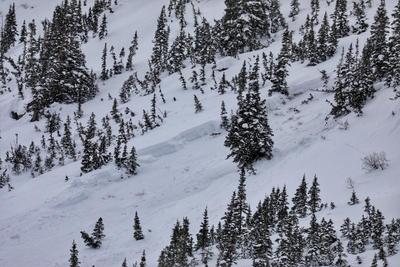 Tuesday February 27 - Quiet day with only a few small small wind drift avalanches from Monday's strong winds.
Wednesday February 28 -  Two avalanches were reported from the backcountry - a natural avalanche in Days Fork and a slide in Wolverine Cirque that was triggered from an intentional cornice drop. 
Two human-triggered slides are reported from the Hells Canyon backcountry adjacent to Snowbasin. These avalanches failed in faceted snow, and ran 2000' vertical. One slide involved a short catch-and-carry before the rider could escape from the avalanche.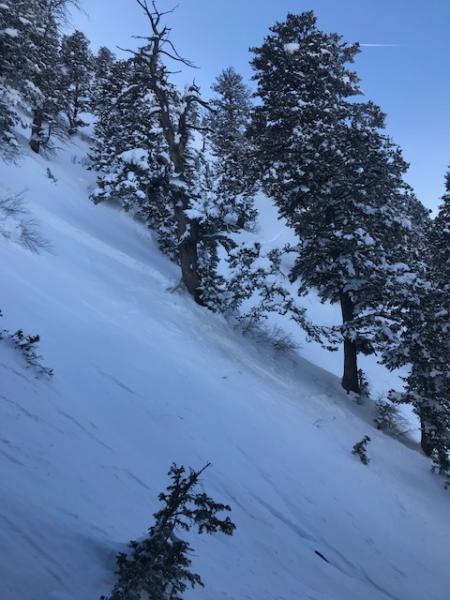 Thursday March 1 - 1-2" snow reported, along with very strong winds especially in the Ogden mountains. Small pockets of fresh wind drifts reported at the mid and upper elevations.