Observation Date:
Wednesday, February 28, 2018
Occurrence Date:
Wednesday, February 28, 2018
Trigger: additional info: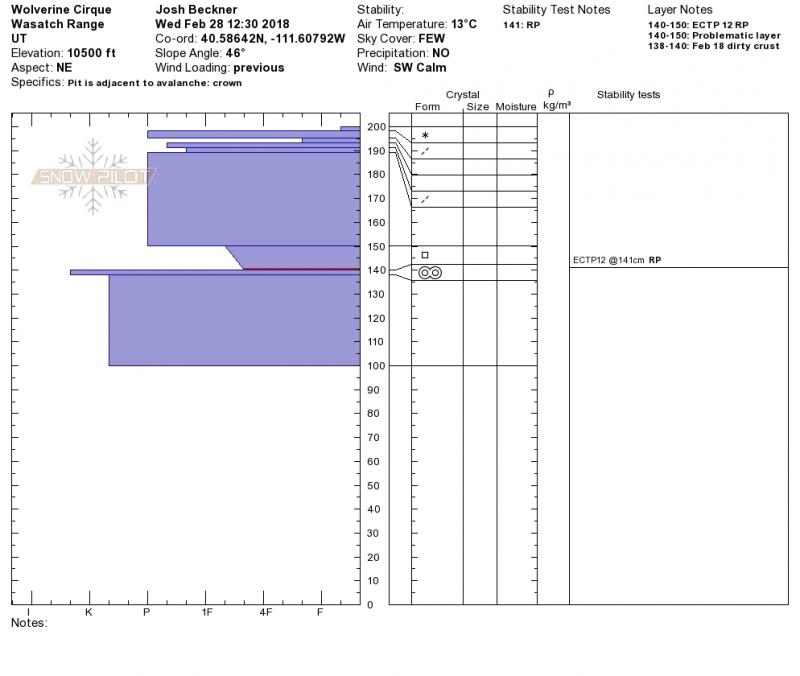 Comments:
This is additional information that can be added to my obs that I sent from the field earlier today...
Over the past 6 days, I've skied a number of lines over 35* on solar aspects and have felt good about the stability. Today we went looking for trouble and found it. We decided to check out the non-solars in Wolverine Cirque. Despite a Moderate Rating, I'm still quite spooked by the shady faces and because of this, decided to use a rope to either belay someone into the steeps and dig a pit or drop a cornice or both. We found an easy cornice to drop, made sure no one was below, rigged an anchor to belay off of, and popped it off. It was the size of a very small car and triggered an R2 D2 (S1) hard slab with a 2 foot crown. Certainly enough to kill a person in terrain like that. We skied it but used the rope until we were on the apron. There were a number of people that were skiing adjacent chutes in the cirque that I thought were even more likely to slide (shallower, steeper, with convexities), but thankfully nothing was triggered. Lastly, I didn't find any week layers under the Feb 18 crust. With those layers in mind, I did a deep tap CT and didn't get any concerning results (DT 28 BRK).