Observer Name:
Hardesty, Wilson, Patterson
Observation Date:
Saturday, February 24, 2018
Occurrence Date:
Saturday, February 24, 2018
Trigger: additional info:
Snow Profile Comments:
Various crusts and very weak faceted snow down to the ground below the key structural portions of the fracture line profile as depicted below and in third photo.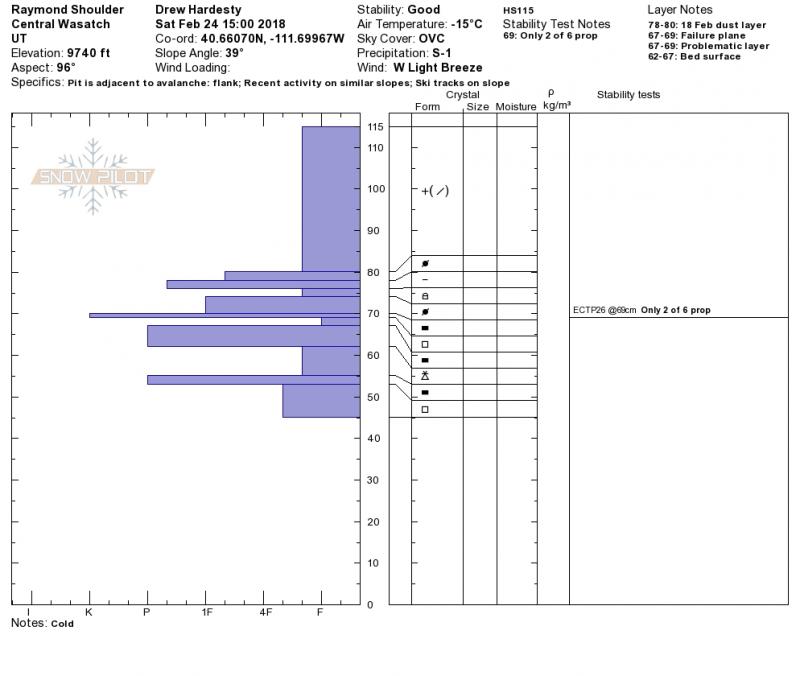 Comments:
This turned out to be a very interesting avalanche and possibly near miss.
Raymond Shoulder. Elevation 9740' at 096°East facing with just a touch of south. Crown height ranged from 25-65cm; average 40cm. 50' wide. Reportedly triggered by splitboard party of two. Wind not a factor.
Remotely triggered, though just barely - 5 to 10' away. There were probably a dozen tracks off the shoulder into Mill A basin prior to the avalanche. Avalanche looks similar to the Toots to Boot avalanche from Monday with similar layering/history though accounting for aspect.
Weakness was 2cm of .5-1mm rounding but loose facets sandwiched between two mf crusts. Third photo has the red line along this weakness. Only two of six ECT tests elicited full propagation in the moderate and hard category. No collapsing or cracking noted.
Overall height of snow was roughly 115cm with various crusts and plenty of very weak facets and depth hoar. Could be an interesting wet avalanche cycle this spring.
It's late; will upload a crown profile tomorrow.