Greg Gagne
Blog: Week in Review (Jan 26 - Feb 1)
Week in Review for Friday Jan 26 through Thursday Feb 1
Progression of danger roses and overall hazard rating for the Salt Lake Mountains from 1/26 - 2/1. (Click on the day of the week for the archived forecast for that day.)
Friday January 26 - A very close call in the Meadow Chutes. Remotely-triggered persistent slab avalanche with one person getting caught, carried, and incurring injuries. Trent has his usual excellent video recap of this accident:
Saturday January 27 - No avalanche activity, and people reported some of the best riding conditions of the year in the 6-8" of storm snow that fell on Thursday.
Sunday January 28 - A period of riming left the snow surface with a 1-2 mm thin rime crust on windward aspects. Of greater significance, yet another persistent avalanche was triggered, this time along the West Willow Ridgeline in Big Cottonwood Canyon. Like other persistent slab avalanches, this slide took out existing downtracks as well as the uptrack on the slope.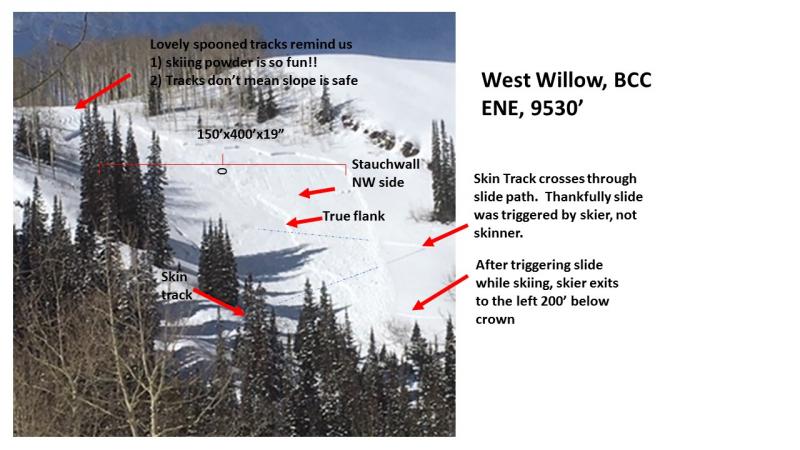 Monday/Tuesday January 29/30 - Benign conditions with no backcountry avalanches reported. Periods of winds created some pockets at the mid and upper elevations.
Wednesday January 31 - Persistent slab avalanche activity on Gobblers from a cornice drop as well as a possible remotely-triggered slide.
Thursday February 1 - No avalanche activity reported with overcast skies and a few snow flakes