Date:
Tuesday, January 30, 2018
Description:
It's like we're collectively playing the arcade game Wack-a-mole.  No matter how fast, agile, and smart we are, we'll eventually lose because the game is rigged, just as our snowpack is rigged…with layers of weak facets.  As we are several days out from the last wind and snow events, the chance of triggering a slide is decreasing, but the size would be the same - 1 to 3 feet deep, and up to a couple hundred feet wide.  By avoiding steep, west through north through easterly facing slopes, you can avoid playing the game and losing. Thinner snowpack areas are particularly suspect – such as rocky rollovers, the Park City and Millcreek ridgelines and drainages and the mid elevations.  
One way to get a grasp on these avalanches is to check out the excellent accident reports, with videos, on the last 3 close calls:
Special Announcement:
Going uphill at most ski areas is not allowed with a few exceptions. Yesterday Alta Ski area was preparing to deploy explosives via helicopter and had to delay operations twice when they spotted people traveling uphill. It's a safety issue and a legal issue.
Wednesday at 5:30 p.m. at the Kimball Junction Library in Park City - Craig Gordon will be giving an avalanche presentation about the current state of our snowpack and the string of human triggered slides. It's guaranteed to be informative, timely, and perhaps even entertaining. 
Current Conditions:
Under mostly cloudy skies, it is another warm morning, with temperatures in the upper 20s to mid thirties. Many mid and lower elevation stations have had no refreeze for 48 hours. The west to southwesterly wind speeds have been variable for the past 24 hours – at their peak, they've averaged 20 to 25 mph at the mid elevations, with 30 mph averages at the highest elevations. Sheltered, northerly facing slopes are the best bet for relatively softer snow, though it's still capped with a thinning rime crust. The stouter sun and ice crusts on all lower elevation and sunny slopes may or may not soften today.
Ice crusts on southerly facing slopes in Little Cottonwood.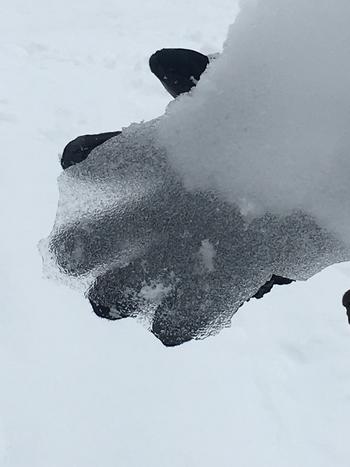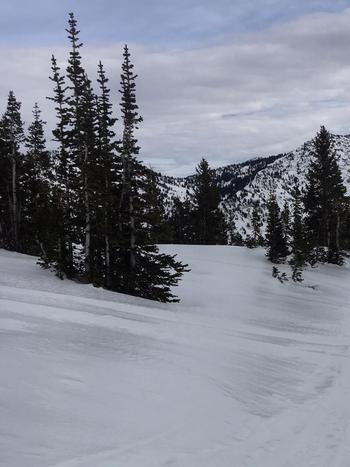 Recent Activity:
No new avalanche activity was reported yesterday, making it 2 days with no avalanches.  Red arrows below point to days with one or more backcountry human triggered slides, compared with nearby snowfall.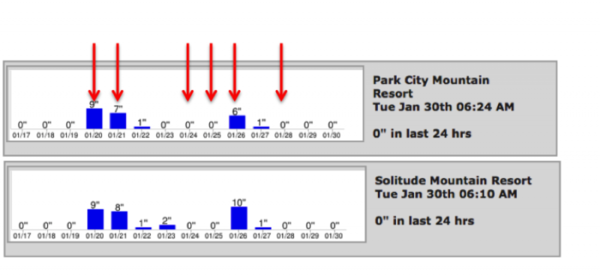 Mountain Weather:
A dry cold front crossing northern Utah will bring abundant mid and high level clouds today, with periods of increased wind speeds.  The westerly winds will average 15 to 25 mph at the mid elevations, with the high peaks reaching averages of 35 mph at times, with gusts to 50 mph.  Temperatures will be cooler than yesterday, but still way above average – hitting 35 to 40 degrees F at the mid elevations.  The future is not looking bright – cloudy and warm, with occasional high elevation snow flurries.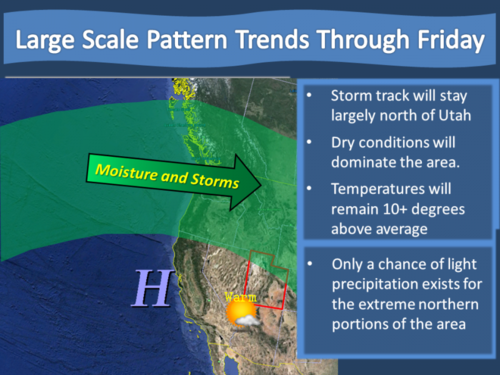 Bottom Line:
The Avalanche Danger is MODERATE on steep, mid and upper elevation slopes facing west through north through east.  Human triggered avalanches 1 to 3 feet deep and up to 200' wide are possible in isolated places, failing on one of the buried faceted weak layers.  Avoid any new wind drifts at the upper elevations, and if the sun comes out where you are, a few wet loose sluffs are possible.
Description:
Wind Slabs:  little snow is available for transport, but a few new wind slabs have likely formed at the highest elevations, especially on northerly through easterly facing slopes. The drifts are sitting on dry snow and thin rime crusts, and can be triggered by a person on steep slopes. 
Wet Loose: it's a balancing act today between the cooling clouds and wind and the very warm temperatures.  If the sun pops out where you are, the snow will rapidly heat, and you could trigger a wet loose sluff.  The snow will also become damp and sloppy on all aspects below about 8,500' with daytime heating.
General Announcements:
CLICK HERE FOR MORE GENERAL INFO AND FAQ
The UAC has new support programs with Outdoor Research and Darn Tough. Support the UAC through your daily shopping. When you shop at Smith's, or online at Outdoor Research, REI, Backcountry.com, Darn Tough, Patagonia, NRS, Amazon, eBay  a portion of your purchase will be donated to the FUAC. See our Donate Page for more details on how you can support the UAC when you shop.
Benefit the Utah Avalanche Center when you buy or sell on eBay - set the Utah Avalanche Center as a favorite non-profit in your eBay account here and click on eBay gives when you buy or sell. You can choose to have your seller fees donated to the UAC, which doesn't cost you a penny
This information does not apply to developed ski areas or highways where avalanche control is normally done. This advisory is from the U.S.D.A. Forest Service, which is solely responsible for its content. This advisory describes general avalanche conditions and local variations always occur.