We'll see a trace to an inch of snow with riming possible. Winds should lose some steam over the course of the day as the skies trend party cloudy by afternoon. Temps will be in the mid 20s, marching toward the low 30s (even at ridgetop level) by tomorrow. Tomorrow should be partly cloudy, warm, with light wind. Looking down the road, the ridge of high pressure retrogrades west and amplifiies, keeping us under an unsettled and cool northwest flow through the week. Possible snow for next weekend.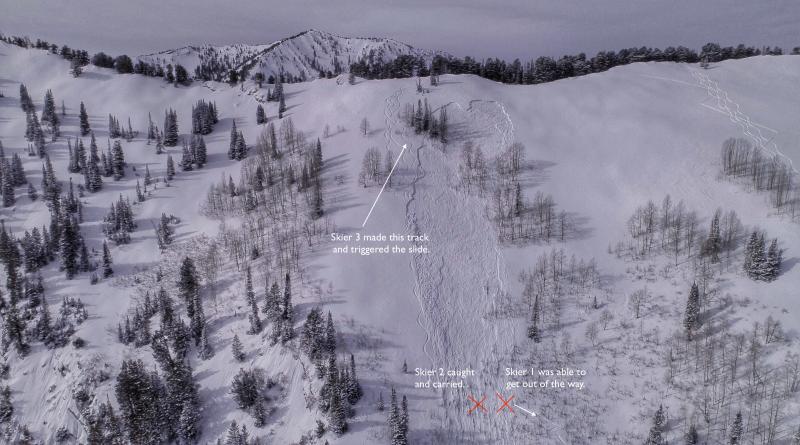 Mark Staples, Trent Meisenheimer, and Mark White have the final accident report here from Friday's avalanche incident in the Meadow Chutes of Silver Fork (BCC). It's a complicated event, but in a nutshell, one skier waiting mid-way down the slope was engulfed by a remotely triggered avalanche from above and subsequently carried over 600' down the slope. Fortunately he was not buried, but suffered injury. Stabilization was provided by his partners (one an ER doc) with evacuation shouldered by Solitude ski patrol, Wasatch Backcountry Rescue, and Intermountain Life Flight. Below is Trent's standard Banff-worthy video production as usual.
Video on our YouTube channel here.
---
No avalanche activity reported yesterday from the backcountry or at the resorts, however, in the past week alone, we've had three very close calls in the central Wasatch - two along the Park City ridgeline (No Name and Pointy Peak) and Friday's accident just "right across the street" of Big Cottonwood Canyon in Silver Fork. These three persistent slab avalanches were all east to northeast facing between 9300' and 9600' with skiers taking rides hundreds of feet down the slope. Comprehensive list here.