Date:
Tuesday, January 30, 2018
Description:
The snowpack is generally 3-4 feet deep on mid and upper elevation northerly aspects. Persistent slab avalanches have been breaking 2-3 feet deep on faceted snow crystals and 100-200 feet wide.
Unfortunately, the answer to stability is not yes or no. It's a matter of odds or probability. Each day after the last snowfall or wind storm (which was last Thursday with a little wind and a trace of snow over the weekend) the odds of triggering a persistent slab avalanche decrease just a little bit. Many people have skied suspect slopes and have not triggered avalanches. As seen in recent avalanches, tracks on a slope are not a sign of stability.
What to do? Every slope is a little different. Some are more likely to slide and some have better/worse consequences if they do.
On a low angle slope near the one you hope to ride, dig a quick snowpit and perform and Extended Column Test. If a fracture pops across the column - go somewhere else, this is red flag.
Choose a slope with run out free of trees, rocks or cliffs - basically anything that could cause trauma if the slope slides.
Lastly, watch your partners from a safe zone that is not in the runout zone of any avalanche path.
Special Announcement:
Going uphill at most ski areas is not allowed with a few exceptions. Yesterday Alta Ski area was preparing to deploy explosives via helicopter and had to delay operations twice when they spotted people traveling uphill. It's a safety issue and a legal issue.
Wednesday at 5:30 p.m. at the Kimball Junction Library in Park City - Craig Gordon will be giving an avalanche presentation about the current state of our snowpack and the string of human triggered slides. It's guaranteed to be informative, timely, and perhaps even entertaining. 
Current Conditions:
Weather conditions are somewhat consistent across many elevations this morning with warm temperatures and moderate SW winds. Temperatures most places are just a degree or two below freezing. Winds have increased some since yesterday and are blowing from the SW at 11-17 mph and gusting 20-25 mph.
A combination of rime on Sunday and warm air temperatures on Sunday and Monday has made it difficult to find good powder. Riming on Sunday added a thin crust to many slopes.
Photo: Rime crust found in Porter Fork in Millcreek Canyon by Greg Gagne.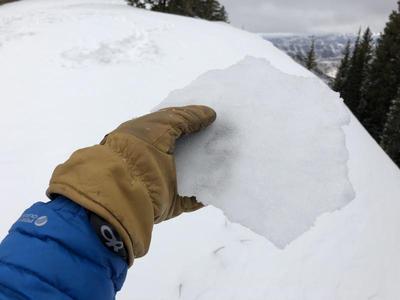 Recent Activity:
The most recent avalanche occurred on Sunday on the West Willow ridgeline, near the Park City ridgeline. Drew and his partners examined this slide yesterday. Read their detailed report HERE. It broke about 2 feet deep and 100 feet wide. The skier who triggered it was able to ski out of the path and avoid being caught. What is scary is that there was an uptrack in this path as well as five sets of downtracks. In the last 8 years, over 1/3 of the avalanche fatalities involving backcountry skiers, boarders, and snowshoers occurred on the ascent.
Also, read our report about an accident in the Upper Meadow Chutes HERE that occurred on Friday.
The Colorado Avalanche Information Center completed their report from a fatal avalanche about a week ago and is worth reading because conditions there are similar to conditions in Utah. Full report HERE.
Video below about the West Willow avalanche.
Mountain Weather:
More warm temperatures are expected today before a dry cold front arrives this evening. Daytime high temperatures should reach the mid to upper 40's at 8000 feet. Winds will steadily increase today as the front approaches with gusts over 50 mph on the 11,000 foot peaks. Temperatures will start dropping at the end of the day as cold air descends into northern Utah. Wednesday should be cooler than today, then warm temperatures return for Thursday and Friday. Some snowfall may come Friday night...at least there's a chance.
Bottom Line:
Today a MODERATE danger exists on mid and upper elevations on west, north, and east facing slopes. The presence of weak faceted snow 1-3 feet deep means that persistent slab avalanches are possible today. Additionally, warm temperatures and some sun today may cause some small, wet loose slides on south aspects.
Description:
Today's partly cloudy skies should limit heating of the snowpack from solar radiation. However, near freezing temperatures mean the snowpack won't need much additional heat to become wet and produce a few small wet loose avalanches.
General Announcements:
CLICK HERE FOR MORE GENERAL INFO AND FAQ
The UAC has new support programs with Outdoor Research and Darn Tough. Support the UAC through your daily shopping. When you shop at Smith's, or online at Outdoor Research, REI, Backcountry.com, Darn Tough, Patagonia, NRS, Amazon, eBay  a portion of your purchase will be donated to the FUAC. See our Donate Page for more details on how you can support the UAC when you shop.
Benefit the Utah Avalanche Center when you buy or sell on eBay - set the Utah Avalanche Center as a favorite non-profit in your eBay account here and click on eBay gives when you buy or sell. You can choose to have your seller fees donated to the UAC, which doesn't cost you a penny
This information does not apply to developed ski areas or highways where avalanche control is normally done. This advisory is from the U.S.D.A. Forest Service, which is solely responsible for its content. This advisory describes general avalanche conditions and local variations always occur.