Forecast for the
Logan Area Mountains

Issued by Toby Weed for
Tuesday, March 14, 2023
Heightened conditions and MODERATE danger are found at all elevations on backcountry slopes steeper than 30°. Avalanches are possible on drifted upper and mid elevation slopes, where people could trigger large cornice falls and/or 1 to 3-foot-thick slab avalanches. Loose wet avalanches are possible on lower elevation slopes as the snow is softened by daytime warmth and rain. Drifting from increasing southwest winds, warmth, and rain down low will elevate avalanche danger this afternoon.
---
Elevated avalanche conditions exist at all elevations, so evaluate snowpack and terrain carefully.
---
Dangerous conditions will continue to develop tonight, with heavy snow up high, rain down lower, and strong wind blowing from the southwest. The danger is likely to rise to HIGH in the backcountry tomorrow, long running natural avalanches will be a concern, and people will be wise to avoid travel in avalanche terrain.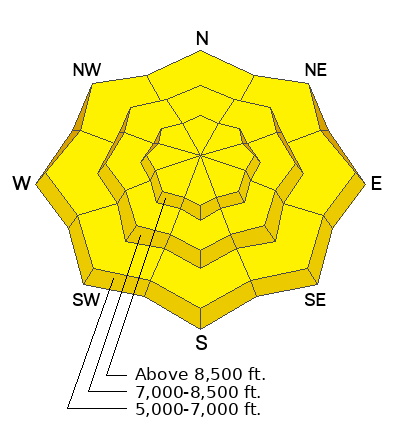 Learn how to read the forecast
here