Observer Name
R Cutter
Observation Date
Wednesday, January 24, 2018
Avalanche Date
Wednesday, January 24, 2018
Region
Salt Lake » Park City Ridgeline » Pointy Peak
Location Name or Route
Pointy Peak
Elevation
9,300'
Aspect
Northeast
Slope Angle
38°
Trigger
Skier
Trigger: additional info
Unintentionally Triggered
Avalanche Type
Soft Slab
Avalanche Problem
Persistent Weak Layer
Weak Layer
Facets
Depth
2'
Width
100'
Vertical
300'
Carried
1
Caught
1
Comments
At around 11:30am our group of 3 triggered an avalanche off Pointy Peak on the Park City Ridge Line.
Before deciding to ski two of our group dug hand pits to the surface on the slightly lower angle about 20 feet above the eventual crown line. We found the same layers and facets we have been seeing on the ridge this season but neither produced easy sheer or collapse.
The first skier entered the slope and triggered the slide on his second turn. It broke approximately 5 to 10 feet above him and around 100 feet wide. He immediately tried to cut right but was caught and carried through the smaller aspen trees. Airbag was deployed about 1/3rd of the way down the slope and skier remained on top of the slide coming to rest roughly 20 to 30 feet above the toe.
Skier was not injured and after a 20 minute search both skis were located 2 to 3 feet deep just above where the skier stopped. Fortunately it was not needed but a big thank you to the PC (Canyons) patrol for their willingness to come out and assist.
Forecaster note: A huge thank you to this party for providing a write up about his incident. It helps all of us learn more about avalanches, become safer, and hopefully come home safely every day. Also, all three people were carrying avalanche transceivers, probes and shovels.
Forecaster note: Adjacent to this slope (out of view in the trees to the lookers left in the second picture) was the scene of a fatal avalanche on Jan 31, 2016.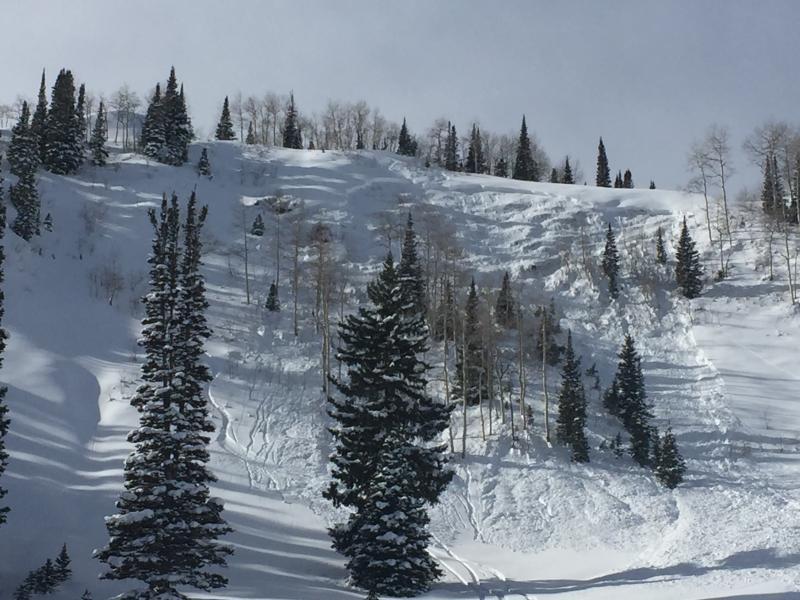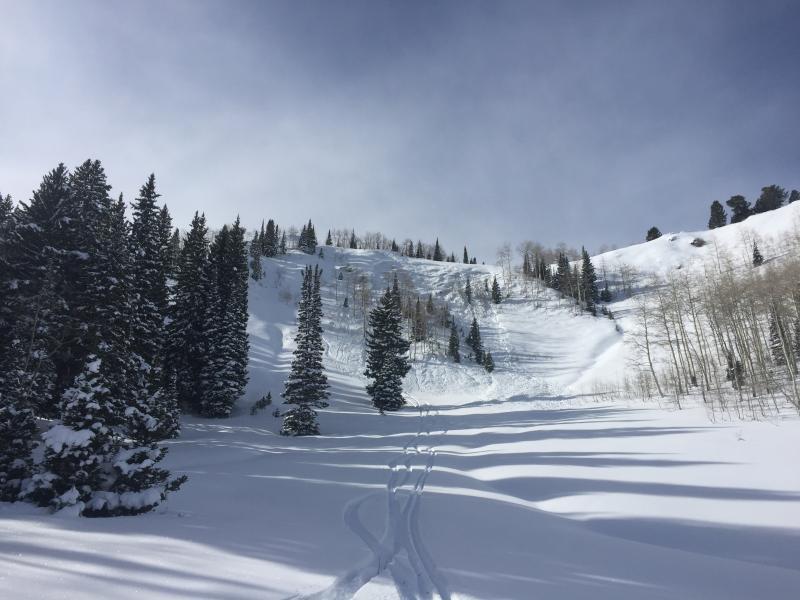 Comments
Entrance and path skier took
Comments
The adjacent slope produced an avalanche on December 28th as seen in the photo below.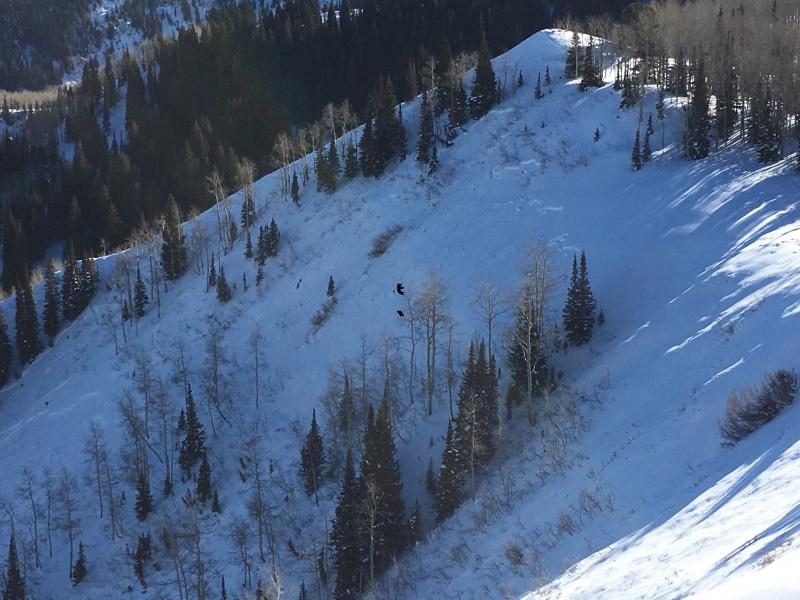 Comments
Video discussion from the UAC that visited this site on Thursday.
Video
Coordinates