Forecast for the
Uintas Area Mountains
Issued by Craig Gordon for
Saturday, November 30, 2019 - 3:26am
HEADS UP... THE AVALANCHE DANGER REMAINS SKETCHY FOR THE NEXT COUPLE OF DAYS!
Avalanche avoidance is key and it's really quite easy.... simply stay off of and out from under steep wind drifted slopes.
For today, in the wind zone at upper elevations, the avalanche danger is HIGH. As today's storm continues evolving, natural avalanches are likely and human triggered avalanches very likely on steep slopes facing the north half of the compass, particularly those that harbor weak, pre-existing snow.
In addition, strong winds are whipping up fresh drifts near the ridges and mid and upper elevations, cross-loading terrain and creating dangerous avalanche conditions, especially on slopes facing the north half of the compass. Expect pockets of CONSIDERABLE avalanche danger on steep mid elevation, wind drifted slopes, where human triggered avalanches are likely.
A MODERATE avalanche danger exists on all steep, wind drifted mid or lower elevation slopes and human triggered avalanches are possible.
Here's your exit strategy-
Wind sheltered low elevation terrain that held no old snow prior to the Thanksgiving storm generally offers LOW avalanche danger and human triggered avalanches are unlikely.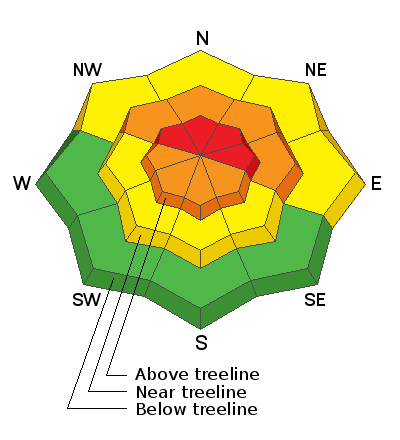 Learn how to read the forecast
here