Forecast for the
Uintas Area Mountains
Issued by Craig Gordon for
Tuesday, November 26, 2019 - 4:13am
HEADS UP... EXPECT A RAPIDLY RISING AVALANCHE DANGER THE NEXT COUPLE OF DAYS!
For today, in the wind zone at mid and upper elevations, the avalanche danger is MODERATE. Human triggered avalanches are possible on steep wind drifted slopes, especially those facing the north half of the compass, and particularly those that harbor weak, pre-existing snow. In addition, you may be able to trigger avalanches from a distance or even on a slope adjacent to where you're traveling. Any avalanche triggered has the potential to break deeper and wider than you might expect, revealing a myriad of obstacles that could instantly result in a season ending injury.
Avalanche avoidance is key.... so simply stay off of and out from under steep wind drifted slopes.
And remember-
JUST 'CAUSE YOU CAN SEE YOUR RIG PARKED BY THE SIDE OF THE ROAD NEAR BALD MOUNTAIN OR WOLF CREEK PASS DOESN'T NECESSARILY MAKE THE SLOPE YOU CHOOSE TO RIDE MORE SAFE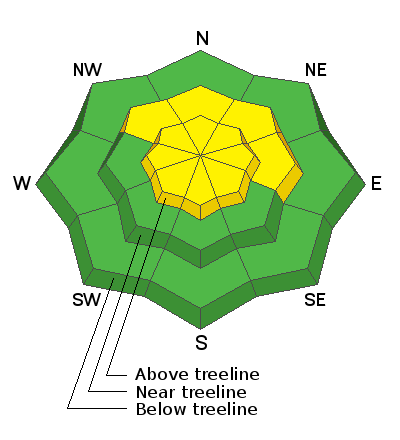 Learn how to read the forecast
here