Progression of danger roses for the Salt Lake mountains for 2/16- 2/22. (Click on the day of the week for the archived forecast for that day.)
Summary: One of the bigger storms of the season over Presidents Day holiday. Avalanches failing in storm snow, as well as into weaker faceted snow in thinner snowpack areas and repeater slopes.
As of 5 am Friday February 23, approximate snow/water totals for the week include:
| | | |
| --- | --- | --- |
| Cottonwoods | 26" | 1.85" |
| Park City Mountains | 18" | 1.4" |
| Provo Mountains | 14" | 1" |
| Ogden Mountains | 24" | 1.6" |
In some parts of the Cottonwoods as well as along the Park City ridgeline, water totals exceed 3" since Feb 10.
Friday February 16 - Clear weather and fresh storm snow lead to a large number of people in the backcountry. A large slide is triggered on a northeast aspect inWest Monitor Bowl along the Park City ridgeline. This was the 5th rider on the slope, and took out recent storm snow, running on a crust formed prior to Feb 10 storm. The rider was caught and carried, but fortunately ended up with no injuries or lost gear.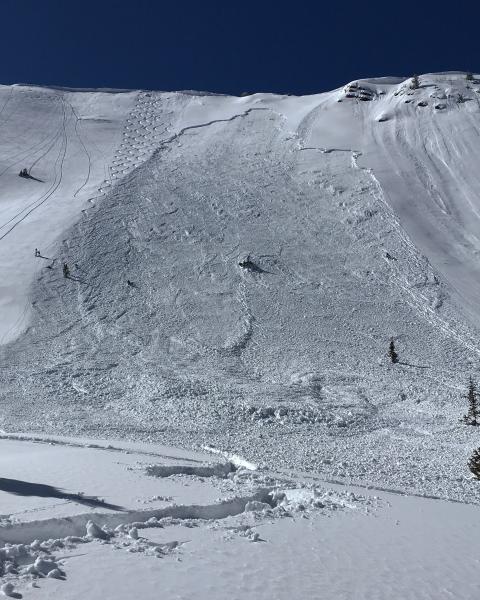 Saturday February 17 - Clear and warm, with increasing winds out of the southwest ahead of a significant trough.
Sunday February 18 - Strong winds and overcast, with snow developing late afternoon.
Monday February 19 - Classic cold, northwest flow with snowfall statewide. Frontal passage Sunday evening, with a natural avalanche cycle in Little Cottonwoodinto the early hours on Monday. Much of the avalanche activity was confined to storm snow, but avalanches also broke down into old snow in thinner snowpack areas as well as slopes that had previously slid. Two skier-triggered slides on Gobblers Knob in MillcreekCanyon. One triggered in a thin snowpackon a steep northeast aspect in Alexander Basin, a second on a northwest aspect inDavis Gulchwhich was a repeater.
| | |
| --- | --- |
| Alexander Basin | Davis Gulch |
| | |
Each of these slides ran on mid-pack faceted layers, with crowns 2-3'.
Ski guide and avalanche educatorAllison Conover describes the snowpack structure they found on the slope that avalanched in Alexander Basin:
Tuesday February 20 - Snow showers overnight add an additional 2-4" in the Cottonwoods. Several skier-triggered wind ans storm slabs are reported from the Brighton backcountry and along the Park City ridgeline. These were on leeward Eand NE aspects and up to 1' in depth.
Wednesday February 21 - Cold and clear weather allowed better visibility of avalanches that ran earlier in the week. This included a slide on a SE aspect in Wilson Chutes along BCC/Millcreek ridgeline, anda large natural in Room of Doom in Mineral Fork.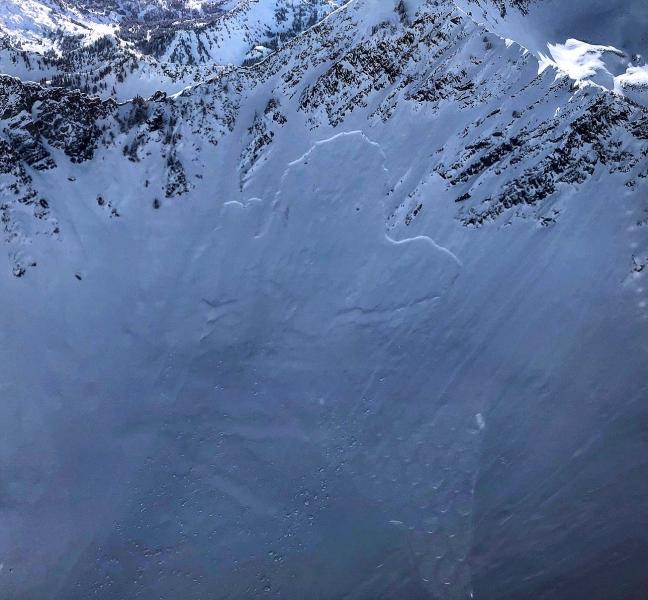 Thursday February 22 - Overcast and increasing winds ahead of a series of cold systems forecasted to impact the region over the next several days. Ogden mountains report 6" during the day on Thursday, with 1-2" in the Salt Lake mountains. Other than sluffing in the weakening snow surface, no avalanche activity reported.