Description:
Avalanches have many weak layers on which they can break. Yesterday in Mineral Fork, Trent and I triggered several avalanches along the summer trail including one from 300 feet away. We were hiking with our inclinometer out measuring every slope to ensure we didn't cross any slope steeper than 30 degrees. Some slides may break several feet deep on slopes facing N, NE and E on slopes that avalanched before Christmas. Other slides may break on a faceted layer under the new snow on many aspects. This layer formed Monday night and allowed slides yesterday to be triggered from long distances away from the slope and allowed other slides to break over wide areas. Read more about the complexity of the snowpack in this blog from Evelyn.
Strong winds have made some slopes more sensitive to being triggered, but are not necessary in order to get an avalanche today.
Avalanche on Reynolds Peak (F. Staff) on an E facing slope that previously avalanched just before Christmas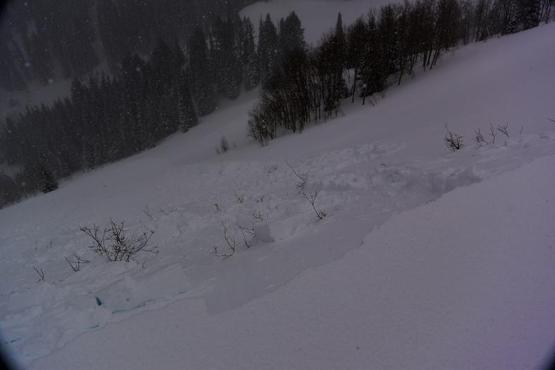 Special Announcement:
Tonight 6:00pm - Utah Adventure Journal Speaker Series continues at Snowbird's Wildflower Lounge with a special presentation from local snowboarder Cindi Lou Grant. "Ride in, Ride out" is the story of Cindi and her husband Zach's dream to have a home with the ultimate access to the mountains. If you can't make it to this talk check out the entire list of speakers here: https://goo.gl/ha05ir
Dutch Auction for gear: The Dutch Auction for the LaSportiva Vapor skis is over. Keep your eyes out for overtaking skiers on the skin track. Stay tuned for more great gear deals coming up.
Current Conditions:
Yesterday morning another 5-7 inches of snow fell with strong winds. The new snow was dense (about 15% density which is double the density of good powder) and winds were blowing 15 mph gusting 30 mph from the WNW but wind speeds of 50-70 mph were recorded in a few places above 9500 feet. This morning under clear skies, temperatures cooled to the low to mid teens F with some colder temperatures in a few low spots in the canyons. Winds eased overnight and are averaging 10-15 mph from the NW this morning.
Recent Activity:
There has been a lot of avalanche activity. View all avalanches here. Some occurred at low elevations on small slopes. Others occurred much higher but ran down to lower elevations near trails. One was reported off Kessler Peak running near the trail above Doughnut Falls.
On Monday and Tuesday, avalanches several feet deep were reported in Days Draw, Twin Lakes, MacDonald's Draw, Banana Days, No Name Bowl. These slides occurred on slopes with N, NE and E aspects that had previously avalanched just before Christmas.
An avalanche was triggered on Reynolds Peak with a tiny cornice drop on a east facing slope that avalanched before Christmas, was scoured by east winds around January 1st, had thin snow, became weak, then got a slab of new snow on it that slid yesterday. There are many similar slopes waiting to be triggered.
Many other avalanches were reported yesterday that broke 6-16 inches deep. These occurred at all elevations including small cut slopes along roads and trails. Some were triggered triggered from some distance away, a major red flag, while others broke over wide areas, another red flag. Even small slopes like one above the Alta Bypass Road buried a solo skier up to his waist.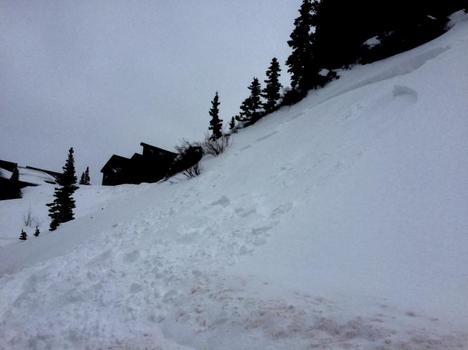 Several large natural slides occurred on south aspects above Little Cottonwood Canyon Road after it was closed around 11 a.m.
Mountain Weather:
High pressure building in across the area and a gradual warming trend taking place, will be the main the dominant feature through Friday. Next storm approaching will arriving late Saturday and Sunday with better chances for mountain snow. Today will have strong sunshine and temperatures around 30 degrees at 9000 feet. Winds should remain from the NW at 10 mph. A few thin clouds may develop this afternoon.
Avalanche Warning:
THE FOREST SERVICE UTAH AVALANCHE CENTER IN SALT LAKE CITY HAS CONTINUED A BACKCOUNTRY AVALANCHE WARNING.
* TIMING…IN EFFECT FROM 6 AM MST THIS MORNING TO 6 AM MST FRIDAY
* AFFECTED AREA…FOR THE MOUNTAINS OF NORTHERN AND CENTRAL UTAH AND SOUTHEASTERN IDAHO INCLUDING THE WASATCH RANGE...BEAR RIVER RANGE...WESTERN UINTA RANGE...AND MANTI-SKYLINE PLATEAU.
* AVALANCHE DANGER…THE AVALANCHE DANGER IS HIGH TODAY.
* IMPACTS…VERY DANGEROUS AVALANCHE CONDITIONS EXIST. MANY AVALANCHES HAVE OCCURRED OVER THE LAST TWO DAYS AND MORE ARE LIKELY TODAY DUE TO RECENT SNOWFALL AND STRONG WINDS. STAY OFF OF AND OUT FROM UNDER SLOPES STEEPER THAN 30 DEGREES.
THIS WARNING DOES NOT APPLY TO SKI AREAS WHERE AVALANCHE HAZARD REDUCTION MEASURES ARE PERFORMED
Bottom Line:
There a many weak layers and issues that will cause avalanches today. All the red flags are present. Widespread recent avalanche activity both natural and human triggered, recent snow and strong winds, widespread faceted layers in the snowpack, and today will have strong sunshine and temperatures possibly going above freezing. All these factors combine to make very dangerous avalanche conditions and a HIGH avalanche danger.
Description:
I'm not sure what effect the sun and warm temperatures will have today. How much will they warm the snow? Will there be shallow wet slabs (6-8 inches deep) or just wet loose avalanches. Fortunately, you'll get clues from the snowpack. Look for the snow surface becoming wet. I'd be avoiding avalanche terrain on all aspects anyway today, but you could see some natural avalanches of some type on south aspects today.
General Announcements:
Remember your information can save lives. If you see anything we should know about, please participate in the creation of our own community avalanche advisory by submitting snow and avalanche conditions. You can also call us at 801-524-5304, email by clicking HERE, or include #utavy in your tweet or Instagram.
To get help in an emergency (to launch a rescue) in the Wasatch, call 911. Be prepared to give your GPS coordinates or the run name. Dispatchers have a copy of the Wasatch Backcountry Ski map.
Backcountry Emergencies. It outlines your step-by-step method in the event of a winter backcountry incident.
If you trigger an avalanche in the backcountry, but no one is hurt and you do not need assistance, please notify the nearest ski area dispatch to avoid a needless response by rescue teams. Thanks.
Salt Lake and Park City – Alta Central (801-742-2033), Canyons Resort/PCMR Dispatch (435)615-1911
Snowbasin Resort Dispatch (801-620-1017), Powder Mountain Dispatch (801-745-3772 x 123).
Sundance Dispatch (801-223-4150)
EMAIL ADVISORY If you would like to get the daily advisory by email you will need to subscribe here.​
DAWN PATROL Hotline updated daily by 5-530am - 888-999-4019 option 8.
Twitter Updates for your mobile phone - DETAILS
UDOT canyon closures: LINK TO UDOT, or on Twitter, follow @UDOTavy, @CanyonAlerts or @AltaCentral
Utah Avalanche Center mobile app - Get your advisory on your iPhone along with great navigation and rescue tools.
Powderbird Helicopter Skiing - Blog/itinerary for the day
Lost or Found something in the backcountry? - http://nolofo.com/
To those skinning uphill at resorts: it is your responsibility to know the resort policy on uphill travel. You can see the uphill travel policy for each resort here. IMPORTANT: Before skinning or hiking at a resort under new snow conditions, check in with Ski Patrol. Resorts can restrict or cut off access if incompatible with control and grooming operations.
Benefit the Utah Avalanche Center when you shop from Backcountry.com or REI: Click this link for Backcountry.com or this link to REI, shop, and they will donate a percent of your purchase price to the UAC. Both offer free shipping (with some conditions) so this costs you nothing!
Benefit the Utah Avalanche Center when you buy or sell on ebay - set the Utah Avalanche Center as a favorite non-profit in your ebay account here and click on ebay gives when you buy or sell. You can choose to have your seller fees donated to the UAC, which doesn't cost you a penny.
This information does not apply to developed ski areas or highways where avalanche control is normally done. This advisory is from the U.S.D.A. Forest Service, which is solely responsible for its content. This advisory describes general avalanche conditions and local variations always exist.
Date:
Thursday, January 21, 2016
Rose: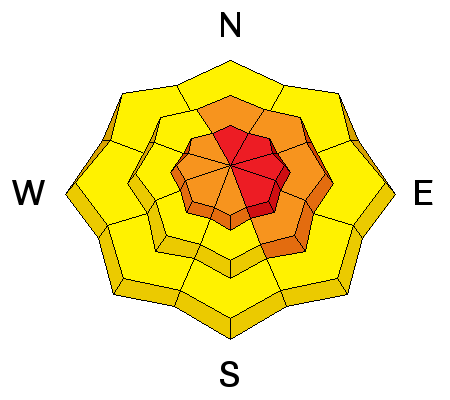 Rose: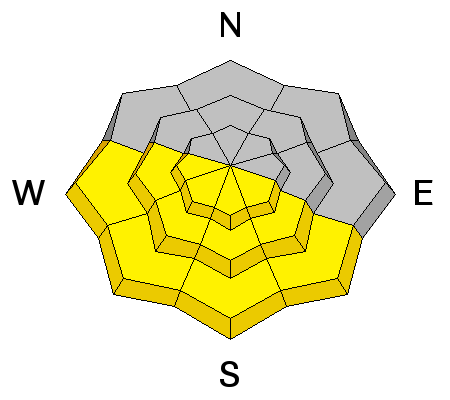 Rose: