Forecast for the
Salt Lake Area Mountains

Issued by Greg Gagne for
Friday, January 8, 2021
There is a CONSIDERABLE AVALANCHE DANGER on steep slopes at the mid and upper elevations facing west, through north, and east where recent storm snow and winds have created a dense slab of snow on top of a buried persistent weak layer. Avalanches may be 2-3' deep and over 200' wide. These are dangerous avalanche conditions - avoid being on, underneath, or adjacent to steep slopes on these aspects and elevations. A Moderate danger exists for triggering a lingering wind drift at the upper elevations.
Keep in mind:

- If you are leaving the ski area through an exit gate, you are entering the backcountry and likely stepping into a CONSIDERABLE avalanche danger.
- Previous tracks are zero indication of stability.
- If you are skiing or riding alone, you have no margin of safety with no one to perform a rescue.
There have been several close calls/near misses this past week and I am fearful our luck has run out. Fortunately, excellent riding conditions exist on low-angled slopes other than due south.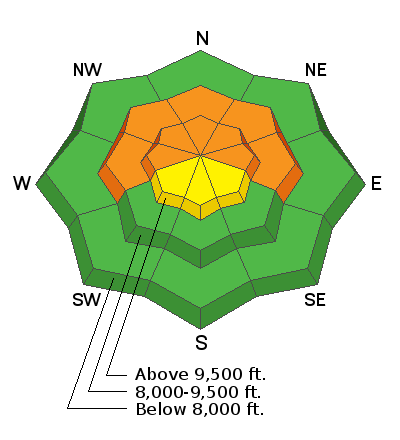 Learn how to read the forecast
here