Observer Name
Derek DeBruin
Observation Date
Avalanche Date
Region
Ogden » Snowbasin Backcountry
Location Name or Route
Snowbasin periphery
Elevation
7,400'
Aspect
Northeast
Slope Angle
40°
Trigger
Skier
Trigger: additional info
Unintentionally Triggered
Avalanche Type
Soft Slab
Avalanche Problem
Wind Drifted Snow
Weak Layer
New Snow/Old Snow Interface
Depth
4"
Width
70'
Vertical
50'
Comments
Was making my way up the ridge where wind loading was evident and still occurring with transport of the surface snow. Cornice formation was beginning, but were still wind walls, not yet overhanging. Surface wind slab formation was also occurring, generally 5-10cm deep, 4F, and not super touchy. I did find the occasional more reactive 1F patch of snow.
I was winding my way up the ridge, regularly changing directions to manage slope angle, cornice formation, firmer snow, and blustery wind. I stopped in a flat-ish spot just uphill of a tree to change directions and move left around the windward side of the cornice.
I stomped a bit to pack the snow in and enable me to turn when the avalanche released. The fracture sheared nearly vertically and dropped the bulk of the cornice (which was not overhung). It also propagated along the ridgeline about 75 feet. Below the cornice was a flat moment in the snow, which retained the pictured hang fire. The convex roll just below this fractured and released a slab about 30ft across by 20ft of vert that ran downslope at least 50ft into the trees.
The cornice was a couple feet tall and 1F. The slab was about 10cm deep and on the hard side of 4F. Failure was on the interface with the old snow; noted no facets.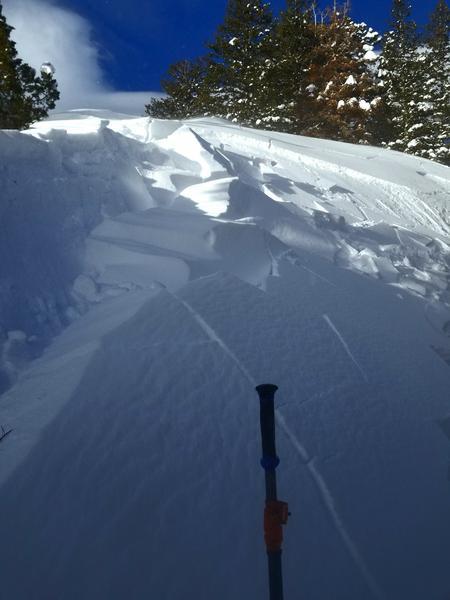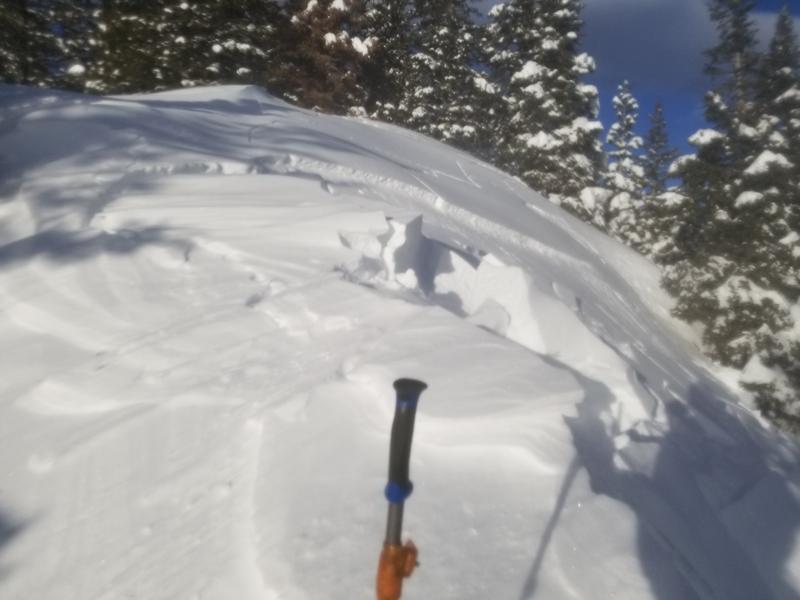 Coordinates