Observer Name
Jullian A
Observation Date
Avalanche Date
Region
Salt Lake » Mt Olympus » Memorials
Location Name or Route
Memorial Chute #3
Elevation
8,600'
Aspect
Northeast
Slope Angle
Unknown
Trigger
Skier
Avalanche Type
Soft Slab
Avalanche Problem
New Snow
Depth
8"
Width
Unknown
Vertical
250'
Snow Profile Comments
Wind slab
Comments
SS-ASu-D1-R1-I
4 person touring group knowing all well what we were getting into entering the Memorial Chute #3 tour. New snow and wind slabs were the main problems of the day. The PWL issue wasn't as troublesome to us at lower elevation. Snow was coming down wet and heavy throughout the tour.
As we ascended Memorial #3 chute, we noticed some old Avy debris around 8500ft below the east facing wall. Most likely snow falling from the wall. Before topping out the coulior we notice more old avy debris in the middle of the chute. We navigated/weight tested a couple of wind slabs at the top of the chute with no results.
Skier #1 dropped the chute and triggered a small wind slab, on skiers left, about 4" to 6" deep, and 20ft wide. The slab ran about 20yds down into the chute. Not caught, or carried.
Skier #2 dropped the chute. Skied 10yds into chute, and released what looked to be a small wind slab on skiers right of the chute. The slab was about 6" deep, and 15ft wide. Once that wind slab ran 15yds down slope, it triggered the wind slab connected to the chutes NNW wall. This wind slab propagated the entire length of the NNW wall, and ran 80yds down slope. The crown ranged from 4"-8" deep. Not caught, or carried.
Skier #3 and #4 skied out with no other issues.
Be easy, and be safe.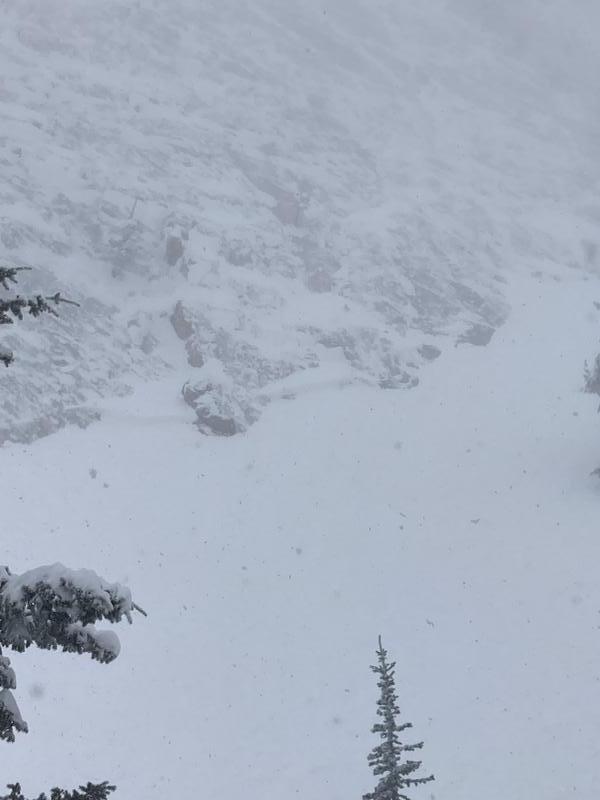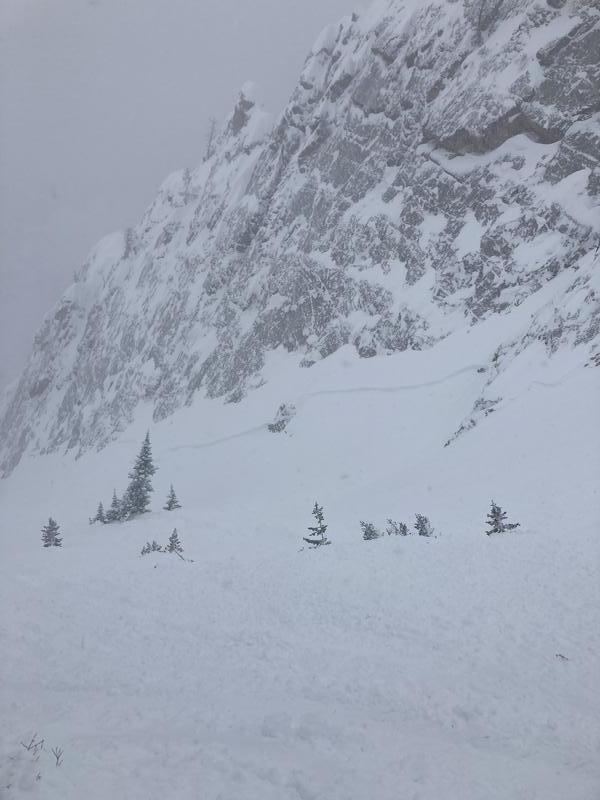 Coordinates