Observer Name
Zack Little, Sam Hoffman
Observation Date
Avalanche Date
Thursday, December 1, 2022
Region
Salt Lake » Big Cottonwood Canyon » Bear Trap
Location Name or Route
Beartrap Fork
Elevation
8,000'
Aspect
West
Slope Angle
36°
Trigger
Natural
Avalanche Type
Soft Slab
Avalanche Problem
Persistent Weak Layer
Weak Layer
Facets
Depth
20"
Width
100'
Vertical
60'
Snow Profile Comments
We dug a quick pit to the ground on a W/NW at 8900'. Slope angle 29º, height of snow 97cm with ski penetration 35cm, boot penetration 90cm. Notable results included CT2 SC, ECTP1, PST24/100 END at 65cm from the ground on the November NSF layer (buried by recent storm). We suspect this was the same layer that the avalanche reported below failed on. While observed avalanche activity was minimal today, it will be important to keep an eye on this weak-layer as the slab develops in the upcoming storm.
Comments
While traveling up Beartrap Fork, we noted this D1.5 avalanche on the skiers left side of the approach gully. We are unsure when this avalanche exactly occurred during the storm. The debris went into the typical skin track with up to 4-5' of snow in certain places, and while small, this slide could have buried a human considering it went into a gully. We assume (based on pit results noted below) that this released sometime during the 12/1-12/2 storm, on the the persistent NSF layer. Collapsing and cracking was noted on low/mid elevations on all aspects.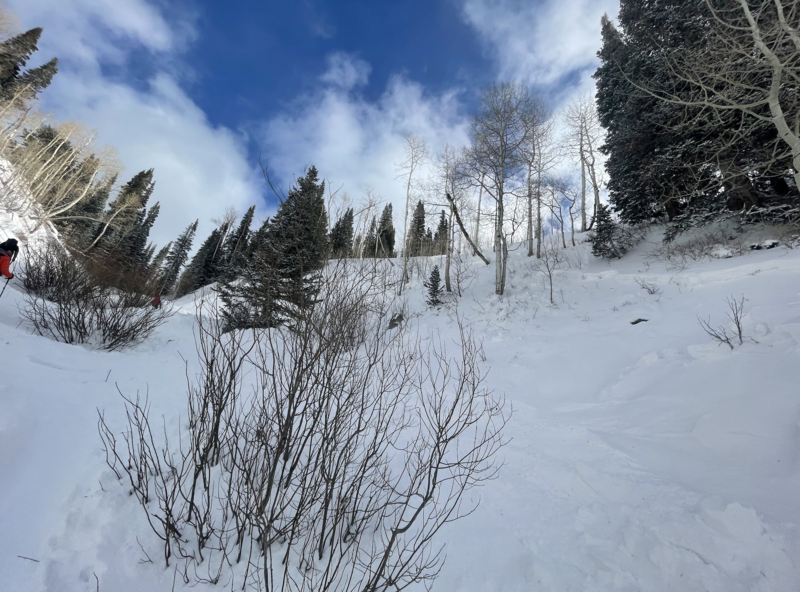 Coordinates