Observer Name
Ofto
Observation Date
Sunday, November 20, 2022
Avalanche Date
Sunday, November 20, 2022
Region
Salt Lake » Mill Creek Canyon » Porter Fork
Location Name or Route
Sox's
Elevation
9,600'
Aspect
North
Trigger
Skier
Avalanche Type
Dry Loose
Weak Layer
Facets
Depth
4"
Width
20'
Carried
1
Caught
1
Comments
Went out in search of soft turns in Porter Fork this morning with a party of four.
We discussed the danger of sluffing in steeper slopes, but I decided I felt confident to ski Sox's anyway. A punchy turn before the drop into the chute stopped me in my tracks, and allowed the sluff I had triggered in the first few turns to catch me and push me off the small cliff. I landed on my skis and continued down the pitch, ahead of the sluff, until another punchy turn knocked me down. This fall clogged my sunglasses with snow, and I was hit again by my sluff, now moving faster and carrying more snow. Unable to see, I am unsure how far I was carried, but it wasn't far before I was able to roll over and slide off to the side away from the moving snow. I cleared my glasses and radioed to my party that I was okay before finishing the descent. The slide had carried on through the entire chute until slowing in the low angle gully below. It probably 6" deep where it stopped. The rest of my party descended nearby pitches, and also experienced sluffing, but chose lines where it was more manageable.
The combination of variable snow and sluffing made for a scary ride that I should have considered more before making the decision to drop in. Perhaps will also consider goggles more of a necessity when packing my bag.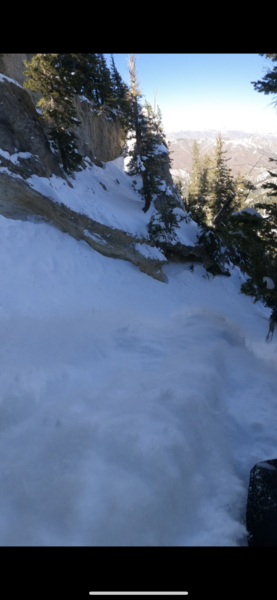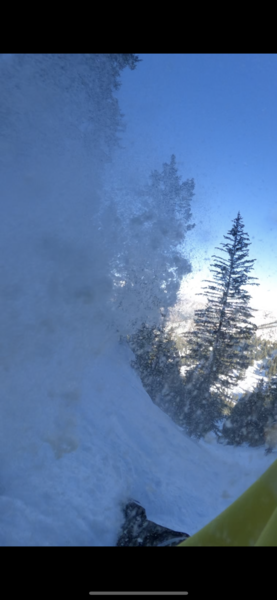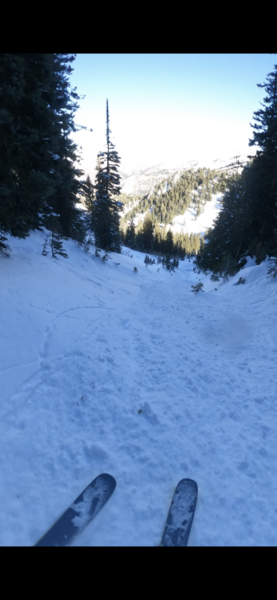 Video
Coordinates