Observer Name
Grainger, Bruemmer
Observation Date
Avalanche Date
Region
Salt Lake » Big Cottonwood Canyon » Silver Fork » East Bowl
Location Name or Route
Silver Fork
Elevation
10,200'
Aspect
Northwest
Slope Angle
40°
Trigger
Natural
Trigger: additional info
Cornice Triggered
Avalanche Type
Soft Slab
Avalanche Problem
Wind Drifted Snow
Depth
12"
Width
45'
Comments
A windy and warm morning with moderate-gusting-strong Southerly winds. These winds remained through the day as forecasted and managed to transport nearly all of the transportable snow, despite its high density. Sastrugi covers south aspects and areas that saw drainage-influence wind.
Saw a number of small (D1) avalanches today off of the East and West Bowl headwalls in Silver Fork, I'm guessing natural cornice-triggers occurring during the high-gusting wind overnight (Potential for a few to be human-triggered from ridge-walking yesterday). These pieces were all in steep, rocky terrain, lee side of the LCC/BCC ridge, ~8-14" crowns generally with debris <2 ft. depth.
Photo 1- East Bowl 10,200'- Crown visible upper right, shallow debris ran a few hundred feet.
Photo 2- West Bowl 9,900'- Crown visible upper right, one of a number of similar pieces along the West Bowl headwall.
All debris shallow, failure was likely the overloaded interface created when 11/2 snow fell.
Photo 3- Wind transport was consistent today throughout drainages, accented along ridges. Ridge travel was a treat...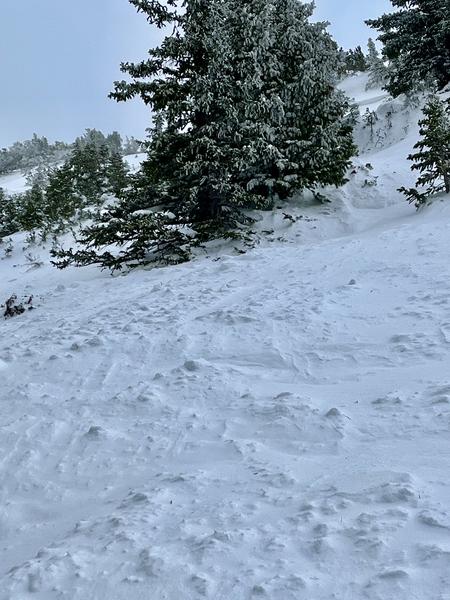 Coordinates