Observer Name
Zach W
Observation Date
Avalanche Date
Region
Salt Lake » Little Cottonwood Canyon » Alta Ski Area
Location Name or Route
Alta
Elevation
9,800'
Aspect
Northwest
Trigger
Unknown
Avalanche Type
Wet Loose
Avalanche Problem
Wet Snow
Depth
4"
Width
50'
Comments
Most of the second half of the High T slid, wet loose. There were probably 5 or 6 wet slides that ran 400-500 feet. Either they ran naturally or maybe someone (like the West Rustler victim) was skiing the High T and caused them all to run. Bed surface was brown which maybe indicates a dust element to the bed.
Stark and noticeable greenhousing today. Around 3:30 PM the air temp was supposed to be 30* ish, but it felt like 55. The snow is very wet, even at the highest elevations.
Skinning on a NW slope, it was evident that the snow was not well-bonded to the ice/dust surface underneath. Slides only looked to be new snow, so maybe 4-5" deep.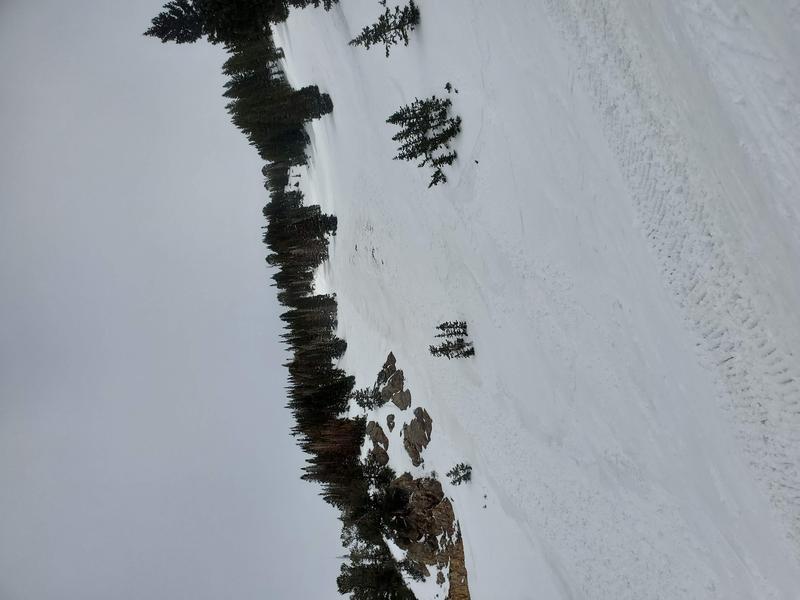 Coordinates