Observer Name
Nason
Observation Date
Avalanche Date
Region
Superior
Location Name or Route
Valerie's - South-facing Superior
Elevation
8,600'
Aspect
South
Trigger
Natural
Depth
4"
Width
60'
Comments
20190304 - 1400- S. 8,600' WL-N-D1.5-U
Early to mid afternoon I watched the lower portion of the S. ridge of Superior, a run known as Valerie's delaminate.  The low density snow from yesterday saw warm temps and direct sun for the first time and started peeling away with numerous natural point releases.  The largest one I saw looked to be about 60' wide and a few inches deep, entraining quite a bit of wet snow as it tumbled downhill.  While this slide alone would likely not be capable of a full burial I would suggest a few points:
-Wet debris can be very powerful, this could certainly knock a skier/rider off their feet and the ability to ski out of this while sliding downhill would be very difficult if possible at all.  
-Consequential terrain:  these types of slides in certain terrain can amplify the effects of even a small avalanches.  A small amount of wet snow is plenty to carry a skier/rider over a cliff or funnel and pile up in terrain traps.  (mid-low elevations couloirs*) 
-Wet debris is very difficult to dig through or extricate oneself, it sets up like cement.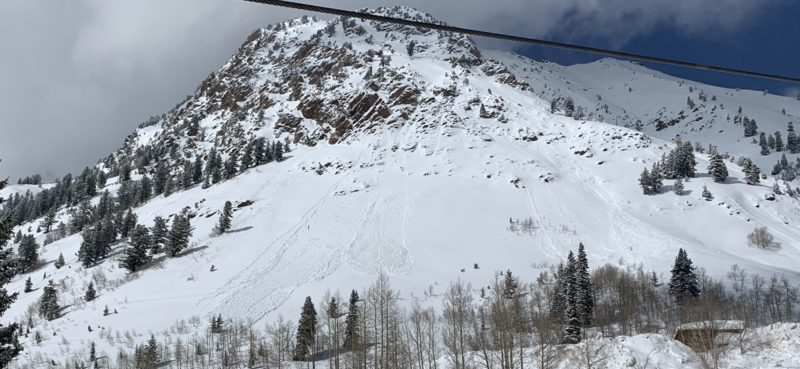 Coordinates