Observer Name
John
Observation Date
Saturday, February 16, 2019
Avalanche Date
Saturday, February 16, 2019
Region
Salt Lake » Big Cottonwood Canyon » Guardsman Pass area
Location Name or Route
Guardsman Pass area
Elevation
9,000'
Aspect
East
Slope Angle
45°
Trigger
Skier
Trigger: additional info
Unintentionally Triggered
Avalanche Type
Hard Slab
Avalanche Problem
Persistent Weak Layer
Weak Layer
Facets
Depth
3'
Width
200'
Carried
1
Caught
1
Buried - Fully
1
Accident and Rescue Summary
See below; full burial and recovery though ski sticking out.
Comments
Skier triggered on a shallow rocky convex steep slope. 4th skier on the slope that day. Crown brake was 6 inches (at trigger point) up to 3 feet deep. 3 people skiing. We knew the steep part of the slope had a likelihood of breaking but thought it would be manageable. we all underestimated the amount of snowpack that broke.... that being said we all had avalanche gear and had one person up top in eyesight of the skier and one at the bottom out of the path. Skier was buried under about a foot deep, with one ski sticking out. Buried For less then a minute.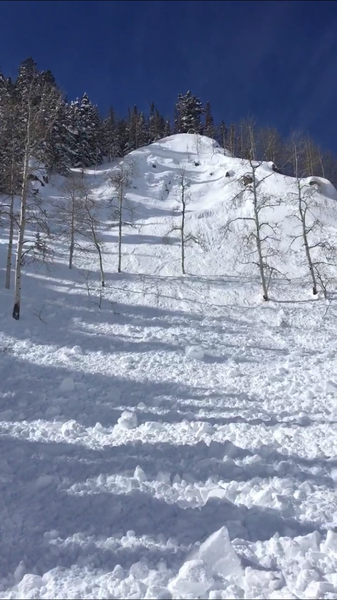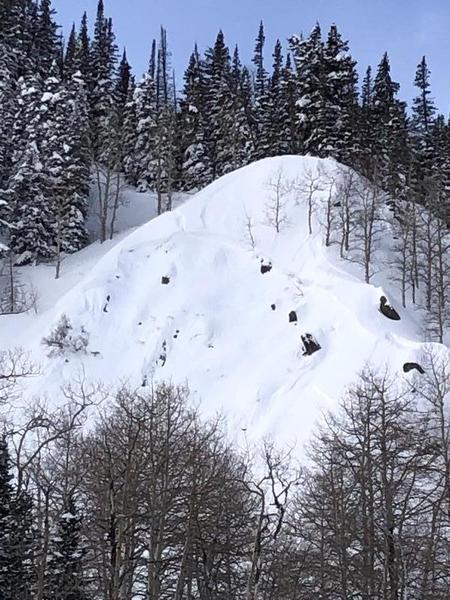 Comments
Forecaster Comments: Trent Meisenheimer, visited the avalanche site on February 17th 2019. Below are pictures and comments from his investigation. Photo below is an overview of the avalanche.
Comments
This avalanches failed on near surface facets. It's likely these faceted grains formed over the cold dry period around the new year. It was hard to tell exactly the time period that the faceted snow formed in. However, it was very easy to find weak snow in the snowpit wall in this location. There was a very strong (1 finger) slab on top of loose faceted snow. My best guess is this area was wind loaded from the strong SW winds over the past few weeks. It's a very steep (48° degree) rocky slope.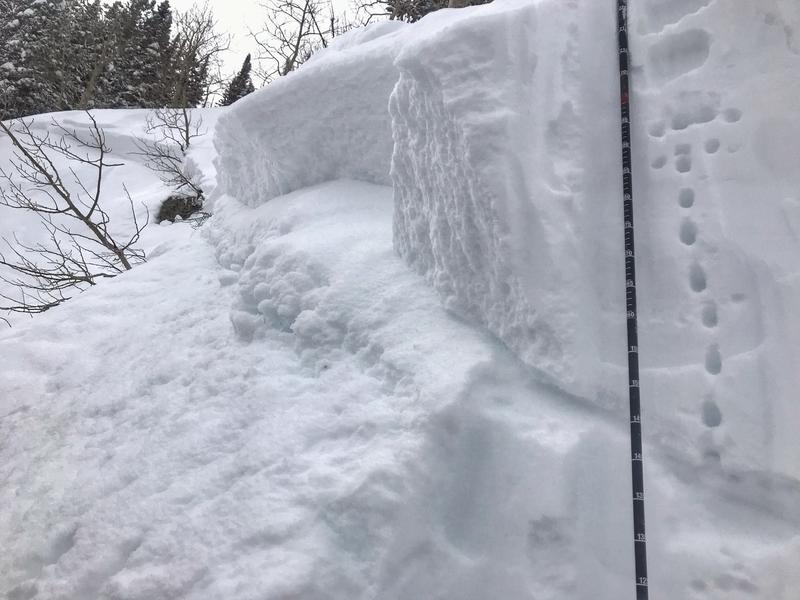 Comments
Photo: Looking up at the avalanche crown. This slide was 2-3' deep and about 200' feet wide. The second photo shows the burial location of the victim. Thankfully, everyone had rescue gear and was able to dig out the buried person in just a minute or two. A few learning objectives:
1. Keep a close eye on your partners.
2. Have a beacon, shovel and probes.
3. Be in a place that you can perform a fast and successful rescue.
4. This was a good outcome - the group all had the right equipment and gear to make a successful recover in case anything happened.
Video
Video