Observer Name
Grainger, Young, Olafsen
Observation Date
Monday, February 19, 2018
Avalanche Date
Monday, February 19, 2018
Region
Salt Lake » Big Cottonwood Canyon » Mill Creek Canyon » Mill A » Butler Fork » Gobblers » Davis Gulch
Location Name or Route
Davis Gulch/Gobbler's Knob
Elevation
9,000'
Aspect
Northwest
Slope Angle
Unknown
Trigger
Skier
Trigger: additional info
Unintentionally Triggered
Avalanche Type
Soft Slab
Avalanche Problem
Persistent Weak Layer
Weak Layer
Facets
Depth
3'
Width
80'
Vertical
250'
Comments
Throughout the day we observed no storm slabs due to the light winds and right-side-up-ness of the 9-14" of new snow (Bowman, Yellow Jacket, Cabin Run). PI averaged 0.5"/hr throughout the day with light wind. Activity in the new layer was limited to slopes over ~35 degrees where the top 2-4 inches (assuming the frontal passage density change) would sluff and from the ridge through the bottom of Depth Hoar and Alexander Basin's East Bowls, multiple paths creating narrow D1 loose snow debris piles.
This avalanche happened sometime in the afternoon, we observed afterward from the next sub-drainage and went to look from the Davis Gulch northern ridge. We saw no tracks on the slope above nor the runout but did see a smaller storm slab a few hundred feet above with soft debris running the gut of Davis Gulch and triggering the larger ~2-4 ft. crown that propagated on this midslope rollover. My assumption is that a skier in the Gobbler's north ridge area today ran a small sluff that popped the upper slab and subsequently the debris weight propagated the lower into the gulch terrain trap below.
We were unable to safely approach the bed surface to look at the crown but think that the NSF/graupel layer from the Feb. 4th interface may be the bed surface, like the recent West Monitor slide (despite the aspect difference).
The new water weight seems to be finding some sleeping dragons, hopefully no one was affected by this one.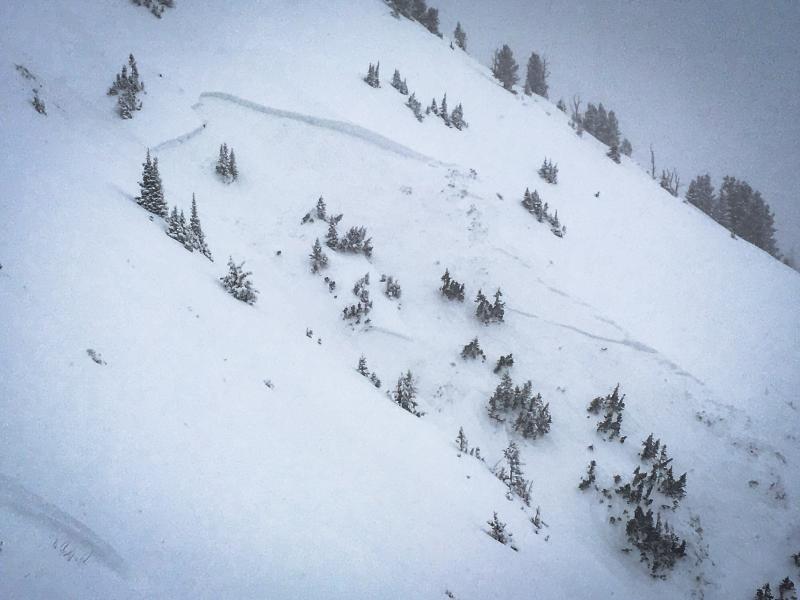 Comments
The upper red traces the crown of the upper slab and lower the path of the soft debris that ran the gut of the gulch.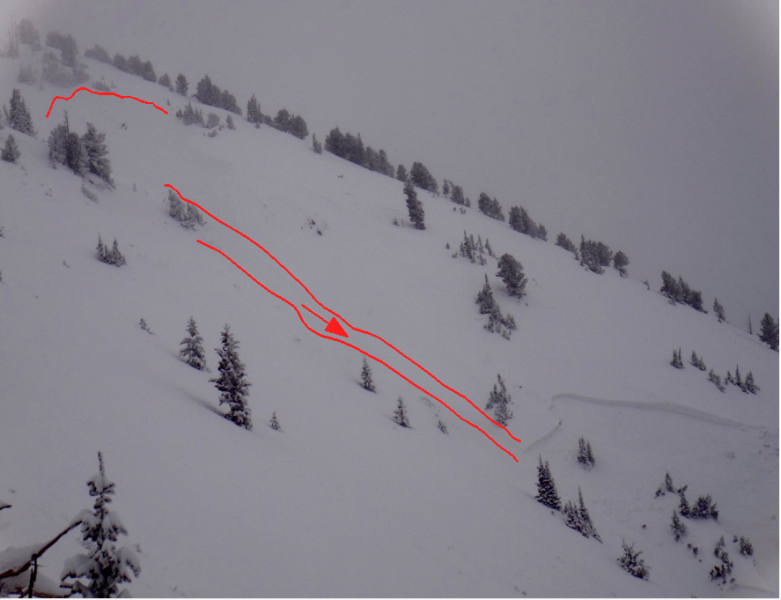 Comments
Standard cornices over Depth Hoar Bowl, possible future triggers for remaining persistent layers?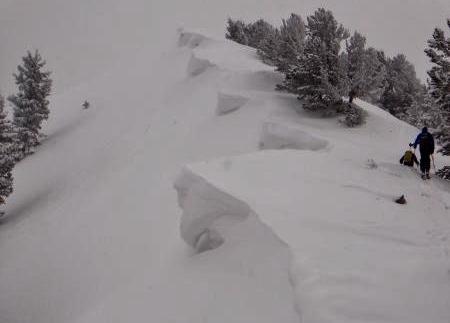 Coordinates