Observer Name
Brett Carroll/Quilter, Jim M, C Brown
Observation Date
Wednesday, January 10, 2018
Avalanche Date
Wednesday, January 10, 2018
Region
West Monitor
Location Name or Route
West Monitor
Elevation
10,000'
Aspect
North
Slope Angle
36°
Trigger
Skier
Trigger: additional info
Remotely Triggered
Depth
2'
Width
1/4 Mile
Vertical
1,000'
Comments
Remotely triggered a large avalanche in West Monitor Bowl from on top of the ridgeline at 1230 today. Visibility was poor and we were unable to access the bed surface to investigate. The slab was at least 300' wide but possibly wider (again, poor visibility) and the crown closest to us appeared to be 1.5-2 feet deep. It appeared to run at or near the ground. Weather conditions at the time were light snowfall and moderate westerly winds with significant blowing snow loading the bowl. The snowpack overall felt very upside down and we felt many collapses on our tour, which was mostly above 8500 feet on primarily south through west facing terrain.
Comments
Photo and comments by Jim M
Thought I'd submit this in addition to Brett Carroll's avalanche report. We were up there around 3:00 pm and had enough visibility to get a photo. Impressive slide! Looks like it's a bit bigger than he reported. Arrows show a good size pocket that pulled out in addition to the main slide. I'd say the slide encompasses over 2/3rds of the bowl. Didn't get closer than where I took the photo from but it looked to be to the ground (as previously reported) and ran full track. Considering the slabby upside down feel to the snow on our up and significant winds reloading snow rapidly, thought it might have been a natural. Enough cracking going on and rotten snow near the ground to see how this could have easily been remotely triggered.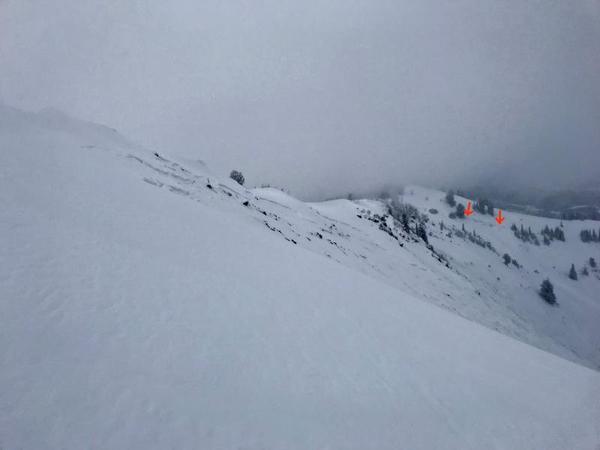 Comments
Eric Quilter photo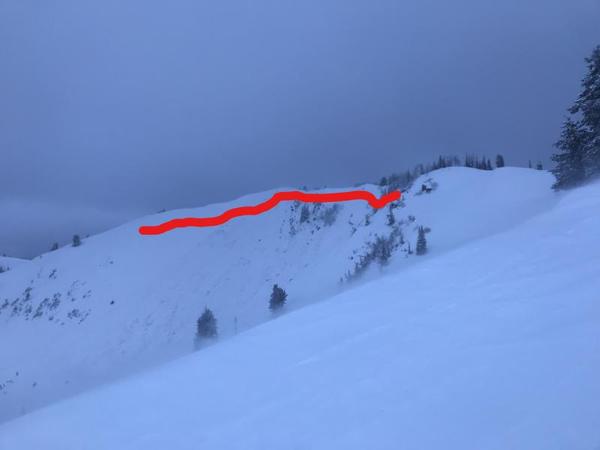 Comments
C Brown photo