Observer Name
Greg Gagne
Observation Date
Avalanche Date
Region
Grizzly Gulch
Location Name or Route
Grizzly Gulch
Elevation
9,300'
Aspect
North
Trigger
Natural
Avalanche Type
Soft Slab
Weak Layer
New Snow/Old Snow Interface
Depth
unknown
Width
250'
Comments
Exiting Grizzly Gulch after skiing in East Bowl and noticed terrain trap in lower Grizzly Gulch had avalanched. At least 250' wide. We did notice some tracks adjacent to the slide, but saw the tracks were on top of the debris. Likely this was a natural avalanche as we had seen widespread natural avalanches this morning in similar terrain.
Lower Grizzly Gulch is a notorious terrain trap, and in 2013 a skier-triggered avalanche occurred in this area, with a full burial. The slide we saw today occurred just west of where this accident occurred.
This is the type of terrain where even a small slide can be fatal as the avalanche debris is deposited at the bottom of a very steeply-sided gully where even a small amount of snow can produce a deep pile of debris.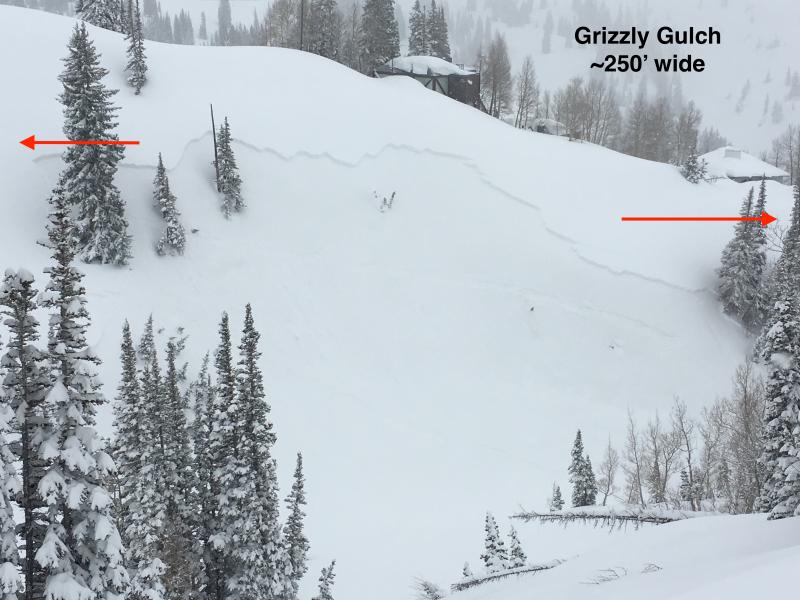 Video