Observer Name
Marshall B
Observation Date
Avalanche Date
Region
Lambs Canyon
Location Name or Route
Lambs>Elbow Fork>Peak??
Elevation
7,900'
Aspect
North
Slope Angle
37°
Trigger
Snowboarder
Trigger: additional info
Intentionally Triggered
Avalanche Type
Soft Slab
Avalanche Problem
Persistent Weak Layer
Weak Layer
Facets
Depth
2'
Width
80'
Vertical
700'
Comments
Walked up Lambs Canyon heading towards Elbow Fork. Went up Elbow Fork to the ridgeline with Millcreek then headed to the north. Lots of settling on the south facing and then on the north facing aspects up high. My first clue, reaffirming the instabilities seen on Mt.Aire 2 days prior. Dug a quick pit. Two layers, the new soft slab on top and a firm base with a weak interstitial layer. The northern aspects, in this small basin, has "fibs" flowing to the bottom. I've skied these "ribs" since the early 90's and they provide more safety rather than diving into the open slopes. I did two turns, looked back upslope, and decided my third turn I'd drop down on the slope in question and then with momentum arrive back on the rib after making a driving backside turn on the slope. I made the turn and the slope broke and moved downhill at a good rate. With the hangfire above I didn't stick around to do much analysis and made my way back to safety on the ridge. The lesson, for me, was the instabilities in the mid to lower elevation snowpack. With these elevations now having good skiing I need to keep in mind the differences in weather and snowpack at different elevations. The avy center report from Weds. from Mt. Aire provided the "caution" pill I needed for today's foray.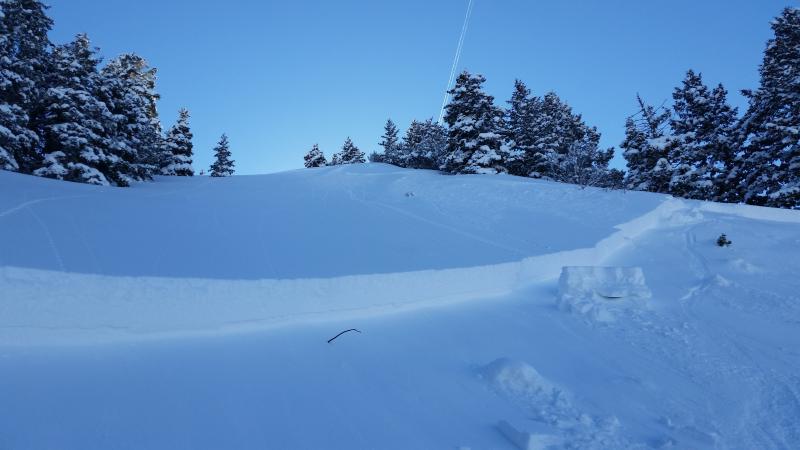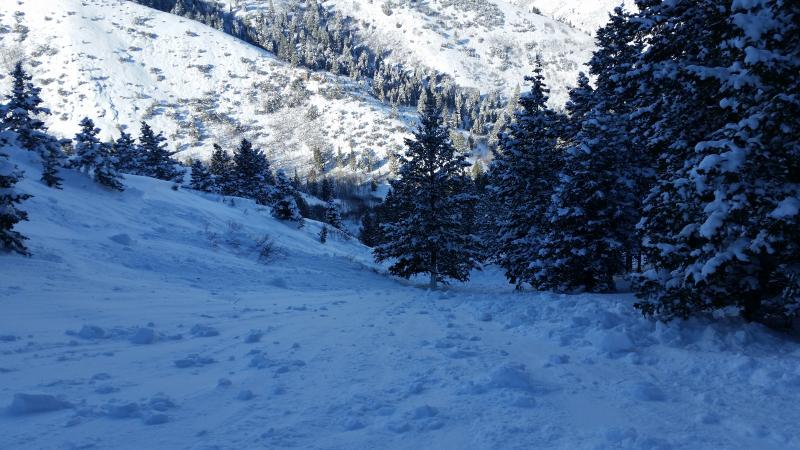 Coordinates