Observer Name
Weed/Pagnucco
Observation Date
Wednesday, January 11, 2017
Avalanche Date
Wednesday, January 11, 2017
Region
Beaver Canyon
Location Name or Route
Beaver Canyon, Hwy 89
Elevation
7,200'
Aspect
Northwest
Slope Angle
40°
Trigger
Unknown
Avalanche Type
Hard Slab
Avalanche Problem
Persistent Weak Layer
Weak Layer
Facets
Depth
4'
Width
150'
Vertical
250'
Comments
The midday avalanche hit and closed Hwy 89 in the Beaver Canyon section of Logan Canyon.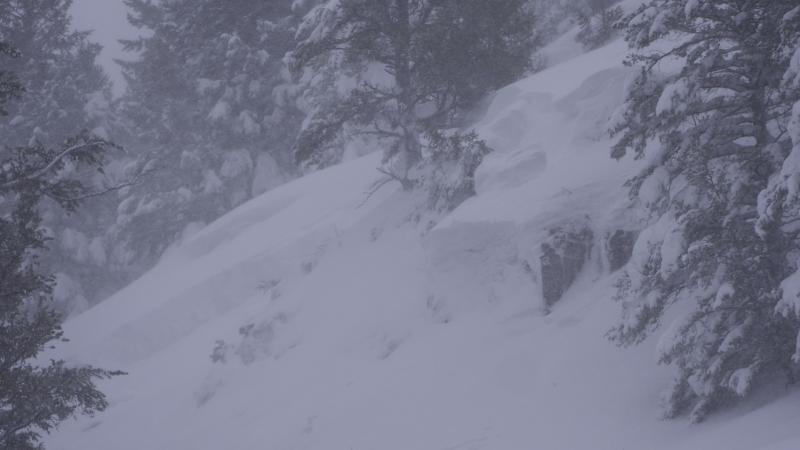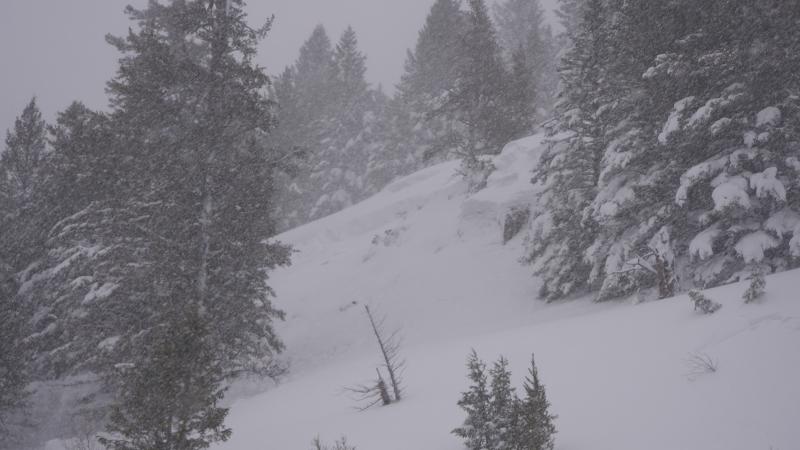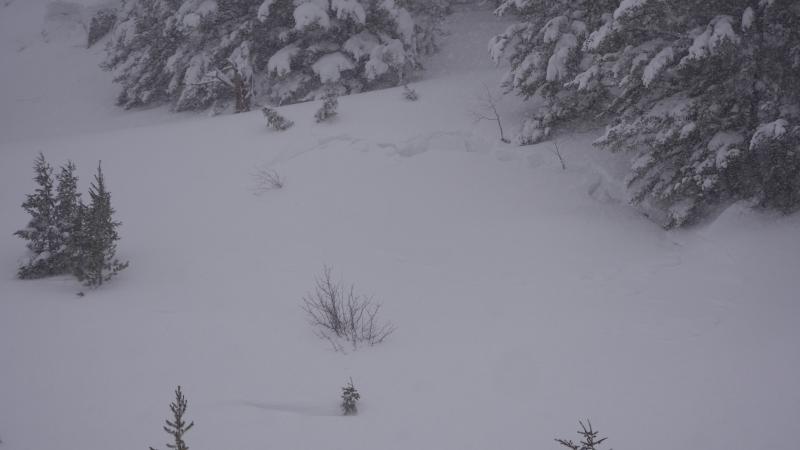 Comments
A UDOT maintenance worker witnessed a natural avalanche at about 12:30 pm on Wednesday, January 11. It occurred directly across the highway from a popular parking lot for riders coming off the backside of Beaver Mountain (out of bounds). No one was caught in the slide. He immediately notified his crew and closed the highway. Paige Pagnucco (UAC and UDOT forecaster) responded from Beaver Mountain and traveled to the avalanche site to assess the situation. It was quickly determined that with forecast continued heavy snowfall and strong winds, the road would remain closed. UDOT, UHP and Beaver Mountain staff worked in cooperation to create a plan to get people safely down Logan Canyon.
Bill Nalli (UDOT avalanche supervisor) was notified immediately when the avalanche occurred and he traveled to Logan to help evaluate and mitigate the avalanche danger. Once the road was closed and cleared, UDOT mitigated determined areas of avalanche danger with explosives. The canyon re-opened the following morning with no further incident. 
Paige Pagnucco investigated the avalanche on 1/12/17 and found the weak layer to be small facets sitting just under a thick but brittle crust about 50 cm up from the ground. The area is very rocky underneath the bed surface and facets of various sizes exist. The trigger appears to be the intensified snowfall rate that occurred during that time. Combined with strong winds, the weight of the new snow overloaded the weak layer and caused it to fail . The avalanche occurred on the lee side of a small subridge. The height of the slab was 85-110 cm. 
Both lanes of the highway were covered with about 4-5' of debris for about 150'.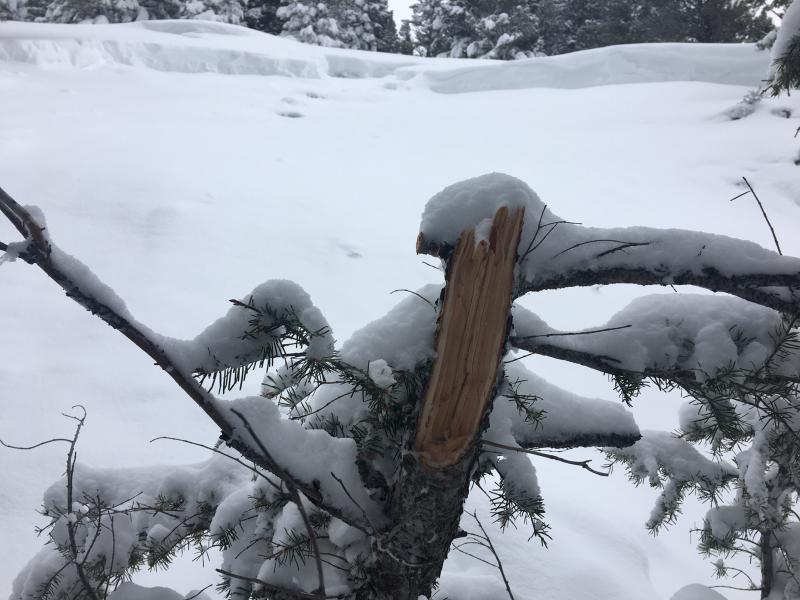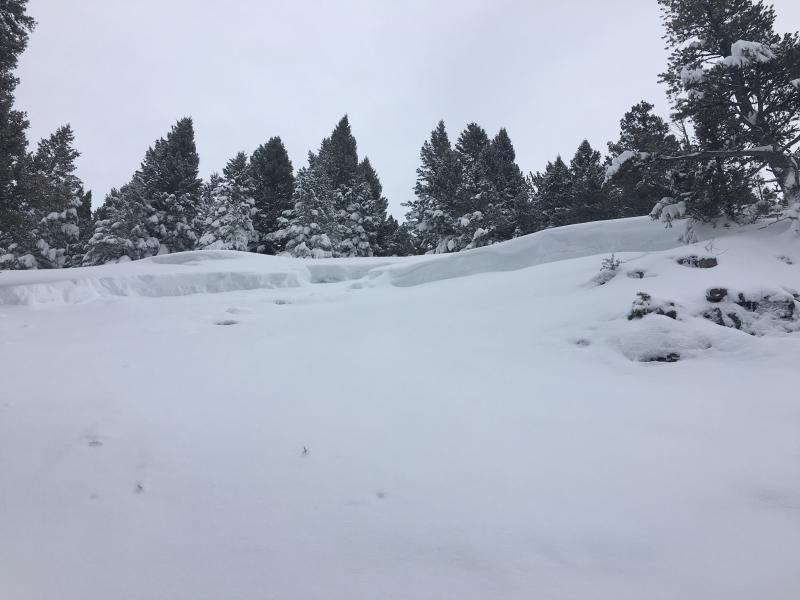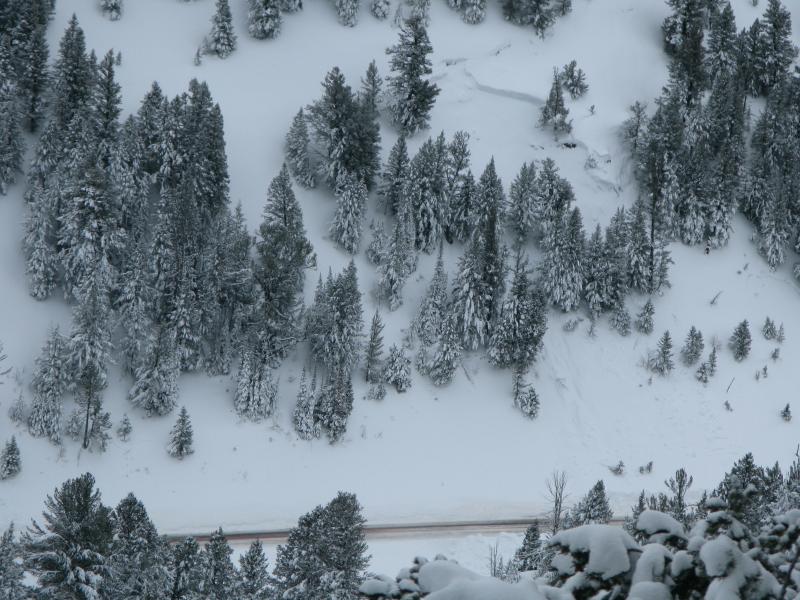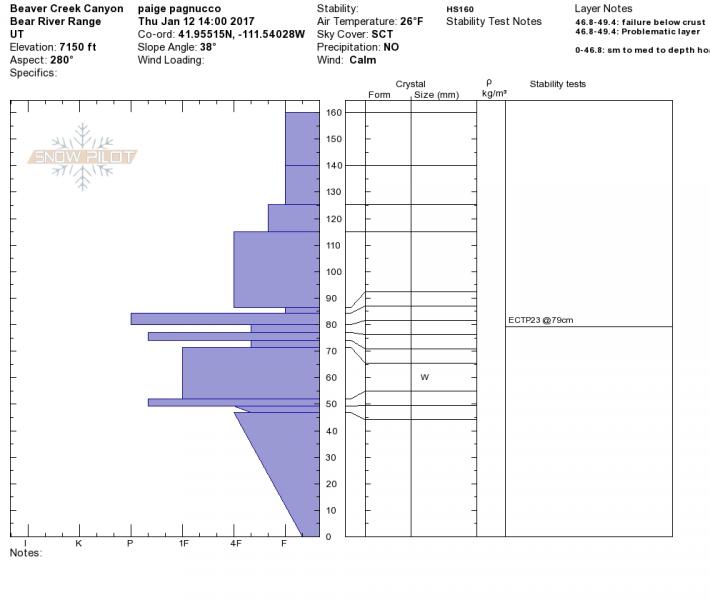 Video
Coordinates