Observer Name
Staples
Observation Date
Saturday, February 13, 2016
Avalanche Date
Saturday, February 13, 2016
Location Name or Route
Gooseberry Region
Elevation
9,800'
Aspect
Northeast
Trigger
Unknown
Avalanche Type
Soft Slab
Avalanche Problem
Persistent Weak Layer
Weak Layer
Facets
Depth
2'
Width
60'
Vertical
125'
Comments
Spotted this slide on Saturday, Feb 14 and it likely occurred on Saturday or possible Friday at the latest. It appears to be snowmobile triggered but not sure. Definitely no one was caught or buried.
What is surprising is the shallow snowpack. It is only about 2 feet deep with about 6-8 inches of very obvious facets (Fist hardness) at the ground. We did an ECT in the pit in the background behind the sled. It fractured and propagated at 23 taps (3 from the shoulder), ECTP23.  I'm not sure if this slope avalanched previously or was scoured by the wind. A previous avalanche seems more likely.
We covered a lot of ground and this was the only avalanche we saw. In another location at a similar aspect and elevation (N facing near 10,000 ft), we dug a snowpit in a spot with deeper snow. 140 cm or about 4.5 feet of snow. The facets at the ground were about 6-8 inches thick as well and obvious, but noticeably harder (4 finger plus hardness). We did an ECT and nothing fractured or propagated after 30 taps.
Side note about the snow surface: The only place i could find weak (near surface facets) snow on the surface was in another avalanche path that has avalanched previously. In all other areas, the snow surface was either warm dense powder or an ice crust with dense powder or damp snow underneath it.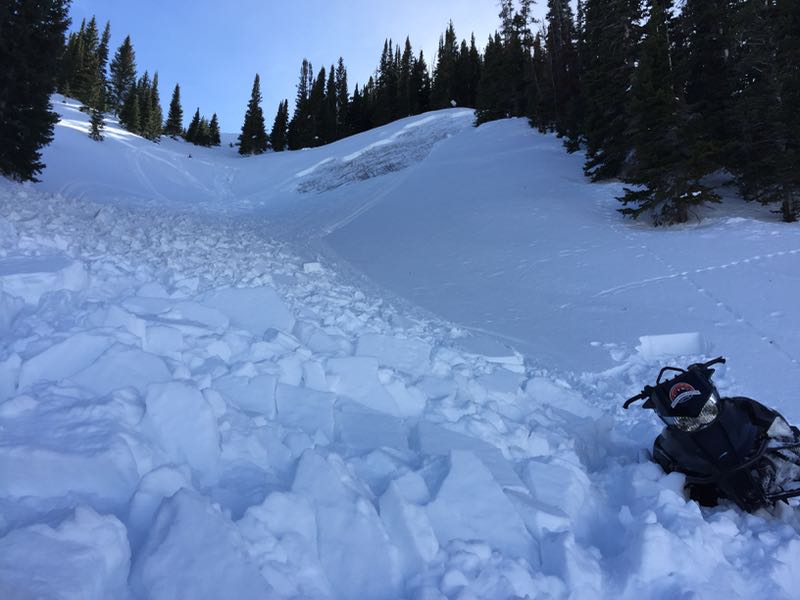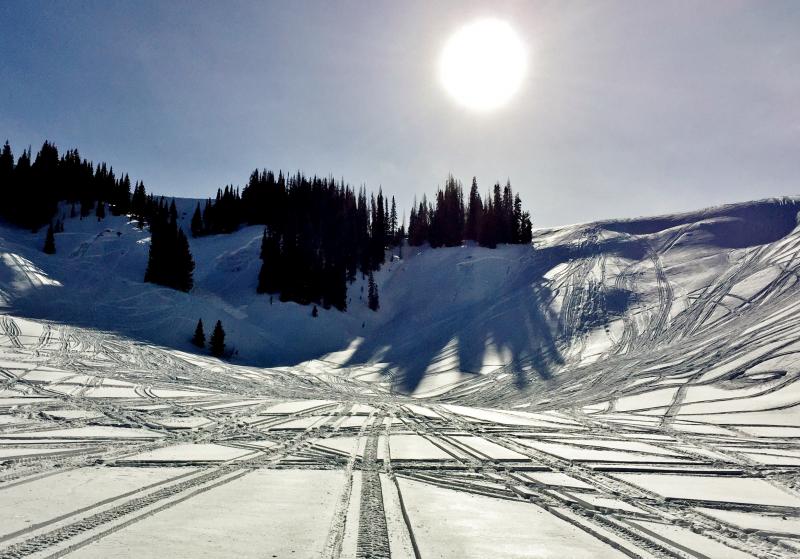 Coordinates