Observer Name
Glew
Observation Date
Avalanche Date
Region
Oscar Mayer
Location Name or Route
Logan Dry Canyon "Oscar Mayer"
Elevation
8900
Aspect
North
Slope Angle
Unknown
Trigger
Natural
Trigger: additional info
Repeater
Avalanche Type
Hard Slab
Avalanche Problem
Deep Slab
Weak Layer
Depth Hoar
Depth
4'
Width
175
Vertical
800
Comments
Saw this slide today in my travels in Logan Dry. Did not get too close to it but it seemed to be a pretty deep repeater. I would assume it happened on Saturday during the storm or even more recently such as during the Sunday night strong east wind event. It does appear it failed near the ground and was rather deep, probably in the 3-4 ft range. 
Avalanche depth, size, and running distance are estimates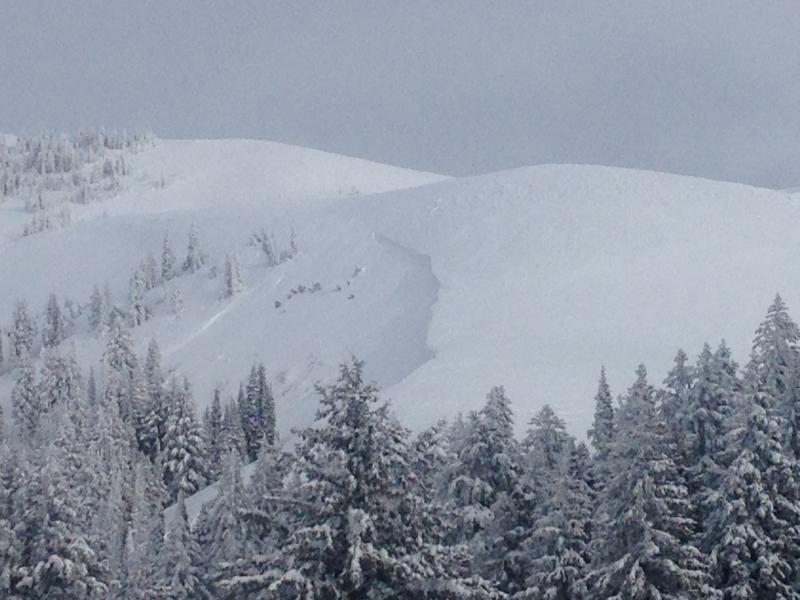 Comments
From Erik Syrstad 2-2-16 (Thanks):
I think you are correct about timing.  When I skied this shot on Sunday evening (from the trees on the left side of the photo, just after sunset), it was dead calm up there and no active wind loading was observed.  The Ogden Peak station shows an east wind kicking up starting around 630-7 pm that night.
This is definitely a repeater.  Pretty much all the big slide paths in the Logan Peak area and front canyons slid somewhere during or after the Christmas cycle.  At one point almost everything I was skiing was a filled in bed surface including this one.  However this one may have either gone twice, or not until later, with a smaller slide after New Year (maybe from that east wind event).  On Jan. 9 it was basically dust on crust, with ~8" of beautiful snow on top of a hard bed surface, and lots of debris ~500' below the ridge that was partially covered.  Mogul run.
Coordinates