Observer Name
UAC Staff
Observation Date
Avalanche Date
Region
Salt Lake » Big Cottonwood Canyon » Brighton Perimeter » Pioneer Ridge
Location Name or Route
North face of Pioneer Peak
Elevation
10,000'
Aspect
Northeast
Slope Angle
50°
Trigger
Snowboarder
Trigger: additional info
Unintentionally Triggered
Avalanche Type
Hard Slab
Avalanche Problem
Persistent Weak Layer
Weak Layer
New Snow/Old Snow Interface
Depth
2.5'
Width
300'
Vertical
500'
Carried
2
Caught
2
Buried - Fully
2
Killed
2
Accident and Rescue Summary
Richard Jones, 19 and Allen Chatwin, 18, died in a large avalanche they triggered off of Pioneer Ridge, a backcountry area west of Brighton Ski Resort.
Twelve young snowboarders rode the Crest lift at Brighton and proceeded past the ski area boundary to Pioneer Peak to build some jumps in the Dog Lake area. As the two victims traversed a very steep, 50-degree slope just below the ridge, they triggered a 300 foot wide, 2-8 feet deep hard slab that took out the entire bowl. Luckily, all of the other snowboarders were off to the side at the time.
No one in the party carried any beacons although they did have several shovels with them for building jumps. Ski patrollers from Alta and Brighton responded and located the victims using avalanche rescue dogs. They had both died from asphyxiation.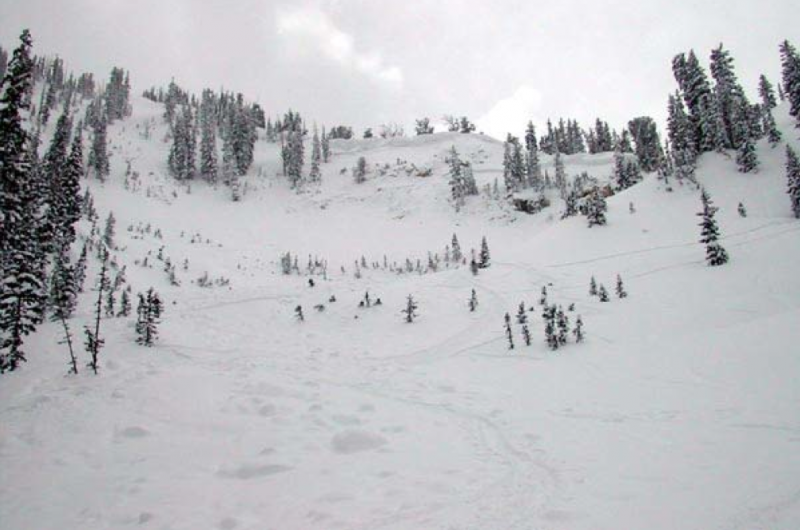 Coordinates