Observer Name
Scott Martin/Hugh Ferguson
Observation Date
Avalanche Date
Region
Salt Lake » Little Cottonwood Canyon » White Pine » Lake Peak
Location Name or Route
White Pine - Lake Peak (N aspect)
Elevation
10,300'
Aspect
North
Slope Angle
40°
Trigger
Skier
Trigger: additional info
Unintentionally Triggered
Avalanche Type
Soft Slab
Avalanche Problem
Wind Drifted Snow
Weak Layer
New Snow/Old Snow Interface
Depth
12"
Width
60'
Vertical
200'
Snow Profile Comments
Double layer cake. Storm snow (6-12") woth poor interface with old surface, plus the bonus of an overnighter wind slab (3-6") on top (the icing, if you will). Skied the location Weds early a.m. and it was hard, approaching bulletproof in spots. Thursday/Early Friday storm. Last night's wind. Made for lovely looking untracked for this morning's dawn stroll.
Comments
Surface slab(s) popped out whilst skinning up to Lake Peak ridge on N aspect at 10,300. Was on the slab(s) when it went but angled right at 45 degrees upon impromu skin descent into shallow rock band on immdiate right (east). Stopped immediately. No consequences. Notably, had felt as though there would be small micro-wind-slab pop due to increasing angle and slight slope buldge and wind loaded snow appearance and close proximity to rideg line. Even with awareness of these factors, made decision to move across and ascend to ridge due to general stubornness, desire to attain pre-meditated goal, and probably most importantly, the general benign nature terrain below combined with confidence in my decision that what would pop, if anything. would be very small. Got a bit more than bargained for. Again, quickly off slab and no ride or resultant consequence. Skied down bed surface a bit and with my pal, Ferg, inspected the make up of this event. Conclusions drawn on hill and now upon a half day's worth of reflection: the Thursday/Friday storm snow settled (heat and wind) and then the wind blew and it loaded. Bingo. Take aways: 1) Humbling. 2) Familiarity with slope/location/terrain, while nice in theory and conversation, invites error. 3) Minimizing the signs you see, say for the sake of getting somewhere (i.e. summit for a view) with a pal on a familiar slope, invites further error. 4) Overselling in one's mind the deep stabilty of spring, you guessed it, invites error.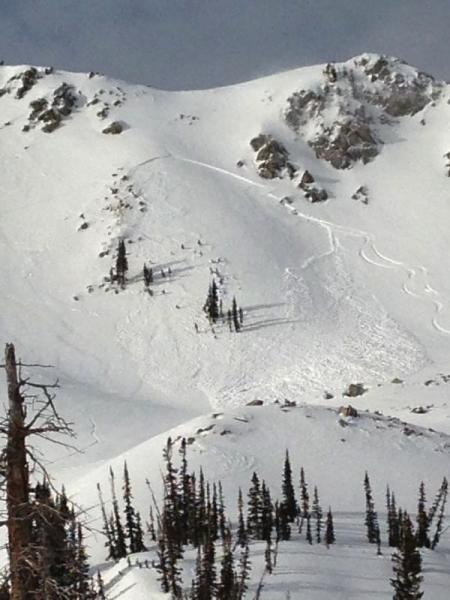 Coordinates