Observer Name
UAC Archives/Snowy Torrents
Observation Date
Avalanche Date
Saturday, February 6, 1999
Region
Salt Lake » Little Willow Canyon » Dolphin
Location Name or Route
Little Willow Canyon-Dolphin
Elevation
8,400'
Aspect
Northwest
Slope Angle
Unknown
Trigger
Hiker
Trigger: additional info
Unintentionally Triggered
Avalanche Type
Hard Slab
Avalanche Problem
Persistent Weak Layer
Depth
5'
Width
100'
Vertical
1,250'
Carried
1
Caught
1
Buried - Fully
1
Killed
1
Accident and Rescue Summary
Notes from WBR Archives:
This was a victim recovery in Little Willow. Three hikers were hiking up the Dolphin. One turned around and the the other 2 continued up. 20 minutes after they separated Justin triggered an avalanche. Aaron and Steve hiked back down and searched the slope finding nothing. They continued back to the parking lot and not finding Justin at the car alerted Search and Rescue.
This group did not have rescue gear and a Snowbird Ski Patrol dog (Jessee) team located Justin's body. According to the noted the dog found the hat in four minutes and Justin a minute after.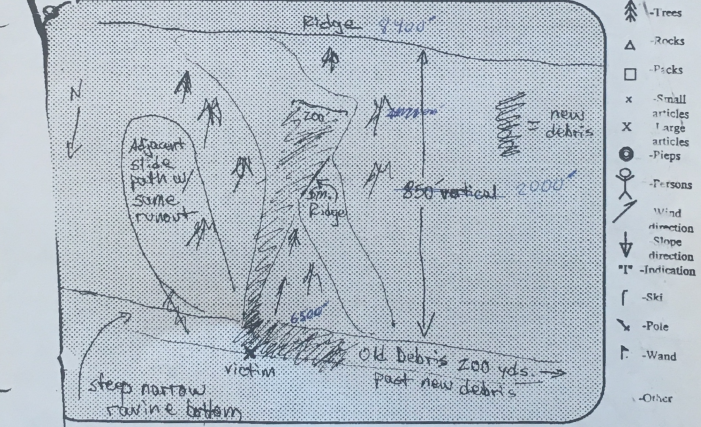 Comments
Williams, Knox; Logan, Spencer, Walker, Emma, and Reardon, Blase (2017). The Snowy Torrents 1996-2004: Avalanche Accidents in the United States. American Avalanche Association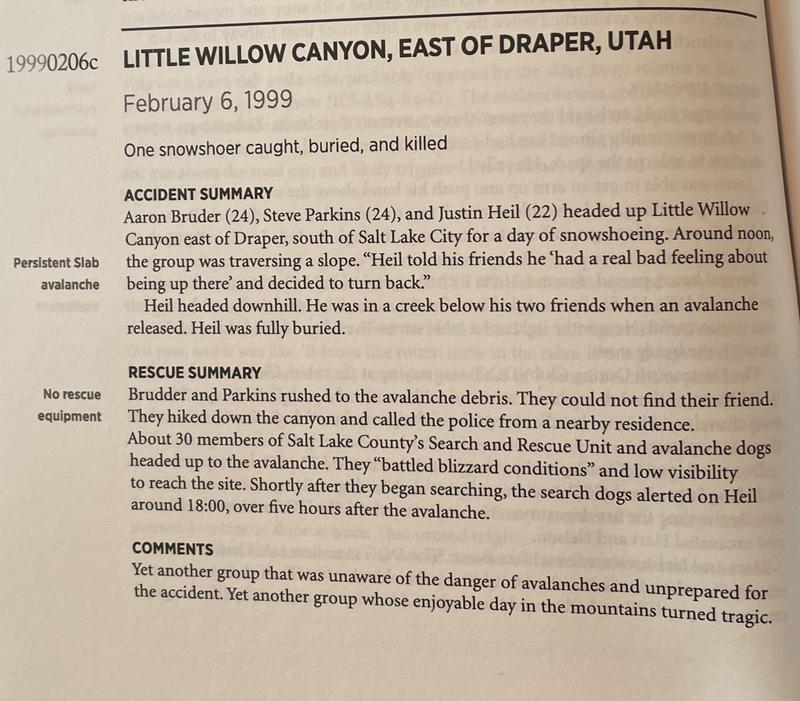 Coordinates