Observer Name
UAC Archives/Snowy Torrents
Observation Date
Avalanche Date
Saturday, November 7, 1998
Region
Salt Lake » Little Cottonwood Canyon » Snowbird Ski Resort
Location Name or Route
West Baldy in Peruvian Gulch at Snowbird, pre-season
Elevation
10,400'
Aspect
Northwest
Slope Angle
Unknown
Trigger
Snowboarder
Trigger: additional info
Unintentionally Triggered
Avalanche Type
Soft Slab
Avalanche Problem
New Snow
Weak Layer
New Snow
Depth
18"
Width
80'
Vertical
500'
Carried
5
Caught
5
Buried - Partly
4
Buried - Fully
1
Injured
1
Killed
1
Comments
November 8, 1998 Desert News
A 21-year-old snowboarder was killed after he was buried by 2 feet of snow in an avalanche Saturday.
Searchers found Jeff Clement, 21, buried on Mount Baldy at Snowbird. He was dead when rescue crews got to him. Weather conditions, including wind gusts up to 75 mph, prevented efforts to remove the body. Crews left markers and will attempt to remove the body Sunday if conditions improve.
Suzanne Tremblay, also in her 20s, was seriously injured in the slide, Salt Lake County Sheriff's Lt. Steven Chard said. She was in stable condition at Alta View Hospital late Saturday.
"She's doing OK," a nursing supervisor said. "We just want to watch her for 12 to 24 hours to make sure."
The two were snowboarding with two other men and a woman when the avalanche started about 12:30 p.m., Chard said. The group was descending Mount Baldy at Snowbird when about 500 vertical feet of snow broke loose and swept up the snow-boarders as the avalanche rushed down the mountain of cliffs and exposed rocks.
The falling snow "It was awfully lucky for any of them to survive," Sheriff's Lt. Lane Larkin said.
Two of the snowboarders were not completely buried and were able to dig themselves free, Larkin said. They made it to a lodge at Snowbird and called for help.
The other snowboarders were identified as Justin E. Kihell, Sean Mceeigh and Nicole Auletta. The five apparently moved to Utah from the East Coast about a month ago, authorities said.
The snowboarders started out at the Alta ski resort and made their way to Snowbird. The group ignored no trespassing signs and posted warnings of avalanche danger as they hiked into Snowbird, Chard said.
Neither resort is open, so no avalanche control has been done. Authorities are urging recreationists to stay away from the slopes - calling conditions "extremely dangerous" - until the resorts open.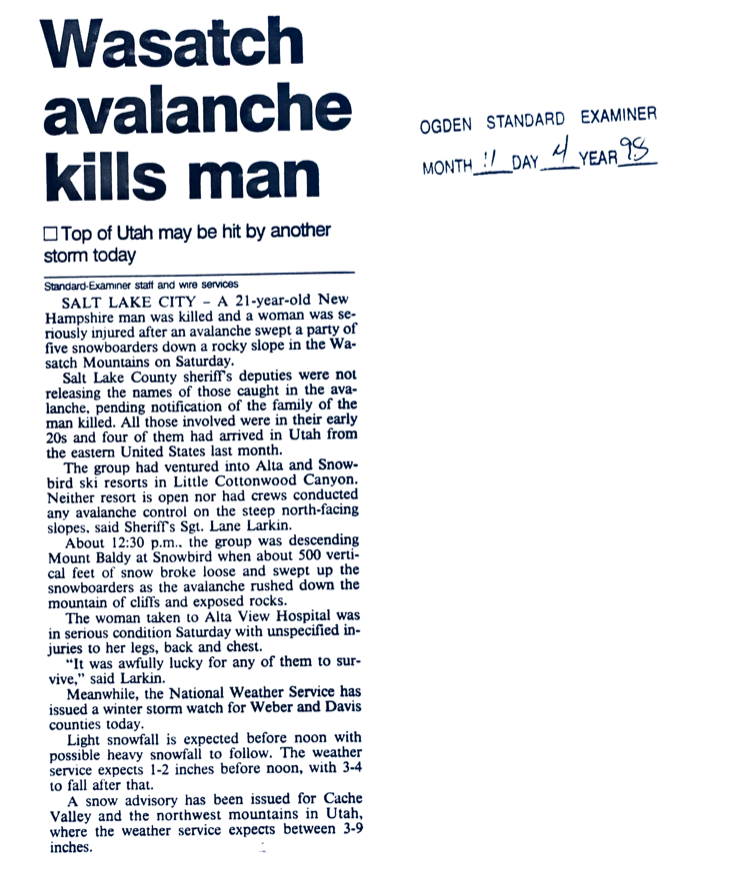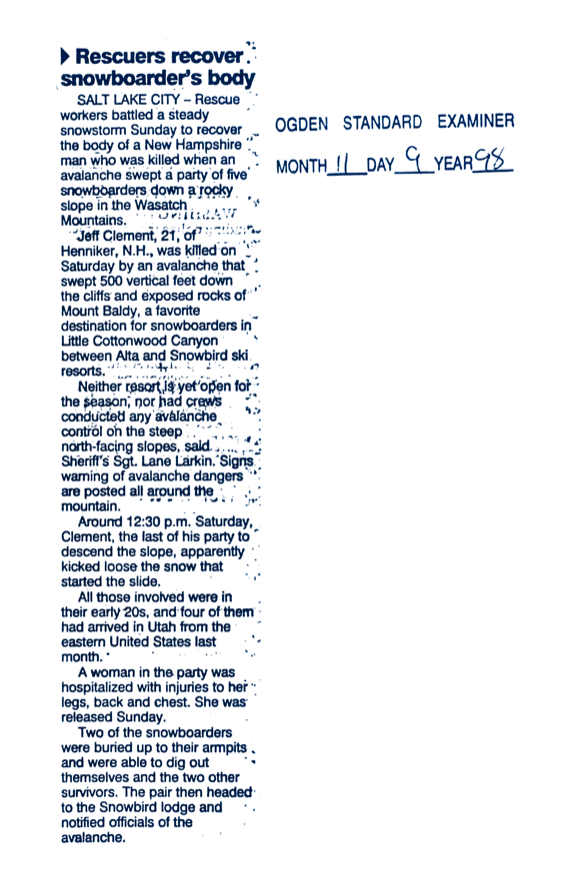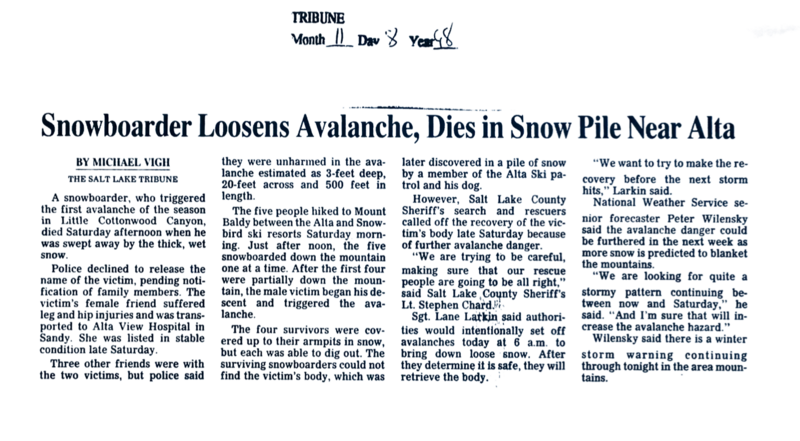 Comments
Backcountry Avalanche Kills Snowboarder 21-year-old New Hampshire Man Killed in Utah Tuesday, Nov. 10, 1998
A New Hampshire man was killed Saturday after he triggered an avalanche on the upper mountain of a closed ski area in Utah. Jeff Clement, 21, was snowboarding with four friends in Little Cottonwood Canyon, between the Alta and Snowbird ski areas, when the incident occurred.
"It was reported that he was the last to start down and he's the one who broke it loose," Captain Gil Howard, of the Salt Lake Country Sheriff's Office, said. "It was a way unstable area.
"The problem was they were in a ski area, but they were faced with backcountry conditions..." — Sgt. Gil Howard, Salt Lake County Sheriff's Office
"All five were buried to one extent or another," Howard said, "and he was the only one completely buried." The other four were able to extract themselves, but Clement was buried with his board uphill. Carrying no beacons or shovels, the friends reportedly did everything they could to locate Clement but were unsuccessful.
Clement's body was found at approximately 2 p.m. Saturday by an Alta rescue dog, but a heavy storm predicted for the area Saturday night forced rescuers to abandon the recovery effort.
Returning Sunday during snows, rescuers "shocked the mountain" to release unstable snow and safely removed the body. Clement was originally buried under three feet of snow. Though not officially determined, Howard said, it appeared Clement may have died from severe head trauma
"The problem was they were in a ski area, but they were faced with backcountry conditions. They are lulled into a false sense, but there's no control work done and this is the tragic outcome," Howard said. Howard said he has heard there were upwards of 50 people in the area that day. Clement and his friends 'were just in the wrong area on the wrong day and at the wrong time," he said.
A female member of the group was transported to Alta View hospital after the accident but has since been released. The other three snowboarders were not seriously injured.
Howard said the five friends had hiked the ridgeline from Alta ski area onto Mt. Baldy. Not yet open for the season, the upper mountain, Howard said, is a popular pre-season destination for adventurous skiers and snowboarders. But, without any controls yet done on the mountain, avalanche danger was extremely high and the fact that the area is closed is well posted.
"They had to hike quite a bit to get up there," Howard said, "but it's not atypical. It's a hard way to learn, but if we can prevent it from happening again, then there's a small amount of good that comes from it." Howard said it is imperative people learn about snow conditions and snow safety, as well as carry emergency equipment.
---
Williams, Knox; Logan, Spencer, Walker, Emma, and Reardon, Blase (2017). The Snowy Torrents 1996-2004:
Avalanche Accidents in the United States
. American Avalanche Association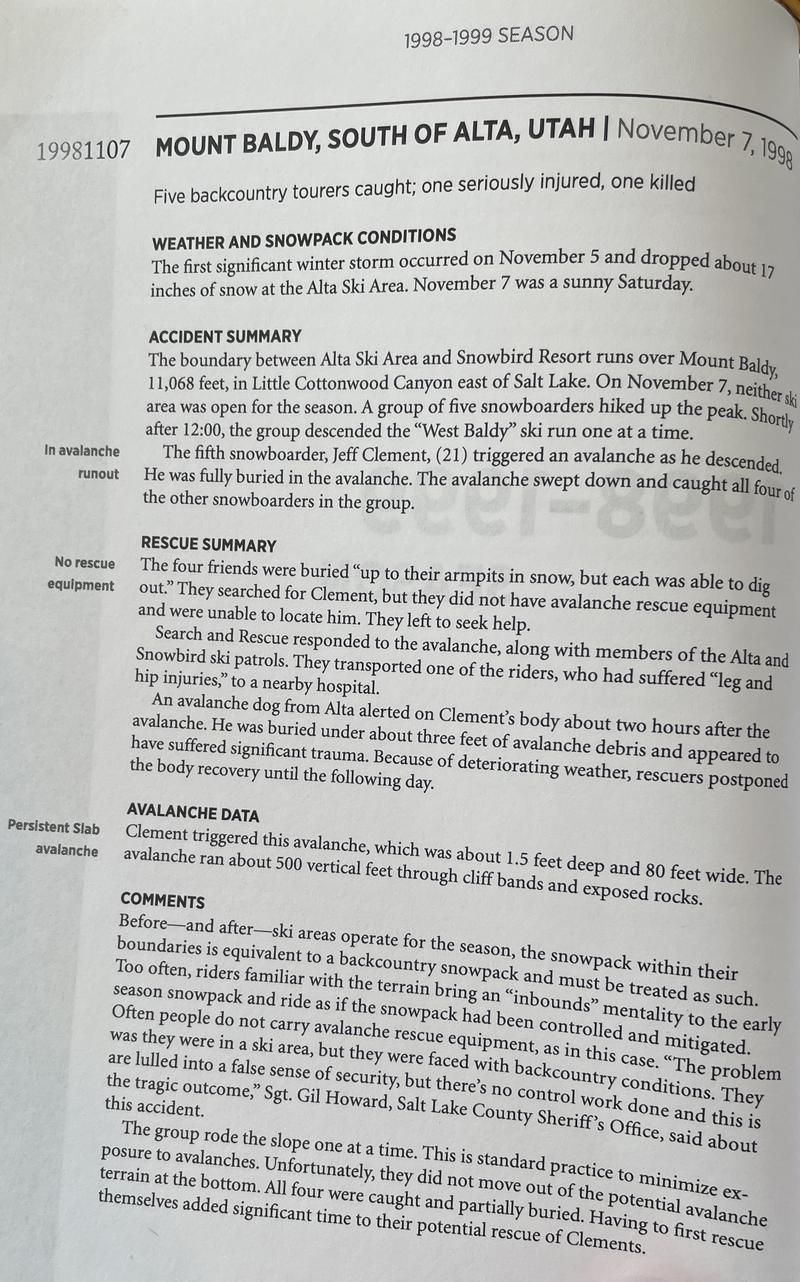 Coordinates