Observer Name
Snowy Torrents/UAC Archives
Observation Date
Avalanche Date
Saturday, January 25, 1997
Region
Provo » Provo Canyon » The Fang
Location Name or Route
The Fang Ice climb in Provo Canyon
Elevation
7,600'
Aspect
North
Slope Angle
Unknown
Trigger
Natural
Avalanche Type
Wet Slab
Avalanche Problem
Wet Snow
Weak Layer
Wet grains
Depth
Unknown
Width
Unknown
Vertical
Unknown
Carried
2
Caught
2
Buried - Partly
2
Injured
1
Killed
1
Accident and Rescue Summary
An ice climber was killed when he was caught in a natural avalanche that released above him. This was a rain on snow event.
Comments
Elaine Jarvik and Jason Swenson
Avalanche: Rain, snow and timing have made 1996-97 avalanche season the deadliest this century
Saturday, Jan. 25. It is raining or snowing, depending on where you are. In Provo Canyon it is both raining and snowing. It's generally a yucky day, but when you work all week, sometimes Saturday is all you have.
Scott Lee and Doug Hall have a plan to go backcountry skiing, but they discover, after they're already on the road, that Hall has forgotten his avalanche rescue beacon. So they opt instead for ice climbing up The Fang, a frozen waterfall just up the canyon from Bridal Veil Falls.
It is not raining when they start out, but about 10 minutes into the climb it begins to drizzle. Later it begins to pour. Hall gets to the top of The Fang and anchors himself to a tree. Lee is about 10 minutes away. There is water dripping from the ropes and their Gore-Tex jackets.
The avalanche seems to come out of nowhere, although actually it has come from a bowl of snow somewhere up above them. All Lee knows is that suddenly the sky gets black. He doesn't remember the rest, but other people have told him: The avalanche knocks Hall and his tree straight down through the air and then across the snow. Lee, attached to Hall by rope, is pulled up toward him and then is pushed down along the avalanche path.
Comments
Williams, Knox; Logan, Spencer, Walker, Emma, and Reardon, Blase (2017). The Snowy Torrents 1996-2004: Avalanche Accidents in the United States. American Avalanche Association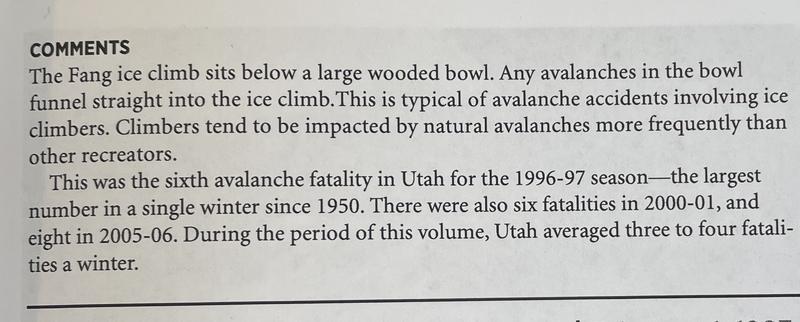 Coordinates