Observer Name
Drew Hardesty, Brett Kobernik
Observation Date
Thursday, February 22, 2007
Avalanche Date
Wednesday, February 21, 2007
Region
Salt Lake » Big Cottonwood Canyon » Gobblers Knob
Location Name or Route
Elevation
10,000'
Aspect
Northeast
Slope Angle
37°
Trigger
Skier
Trigger: additional info
Unintentionally Triggered
Avalanche Type
Hard Slab
Weak Layer
Facets
Depth
20"
Width
200'
Vertical
600'
Carried
1
Caught
1
Buried - Fully
1
Killed
1
Accident and Rescue Summary
A party of three experienced backcountry skiers from Norway, familiar with the Wasatch terrain, set out for a day of ski touring in the Gobblers Knob/Mt. Raymond area. According to reports, the victim, seeking more challenging terrain, left his two partners at the Gobblers/Raymond divide and continued to the summit of Gobbler's Knob with the plan to meet back at the trailhead within the hour. After waiting at the car for some time, the remaining two called 911 to initiate a search. A helicopter with personnel using night vision goggles verified tracks going into an avalanche high on the peak with none coming out. The body recovery efforts by both Salt Lake Country Search and Rescue and Wasatch Backcountry Rescue began the following morning. The three Norwegians were all wearing rescue gear and had called the avalanche forecast that morning. The Utah Avalanche Center had rated the danger as "CONSIDERABLE on slopes steeper than about 35 degrees facing northwest through northeast through southeast, where dangerous avalanches 1 to 3 feet deep can be triggered by people." The forecaster, weary of the three previous fatalities that week, implored people to "Back off the steep stuff – if the close calls continue, someone else is going to get killed or hurt."
The winds were too strong for a helicopter evacuation so members from Wasatch Backcountry Rescue, Wasatch Powderbird Guides, and the Salt Lake County Sheriff brought the body down Butler Fork to the Big Cottonwood highway. This was a very demanding task of bringing the body down this drainage not to mention just getting him off of the steep slope where he was found. These rescuers are highly skilled and should be commended for their actions.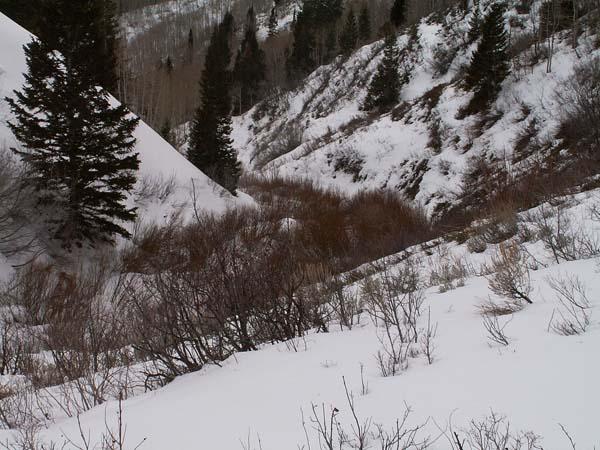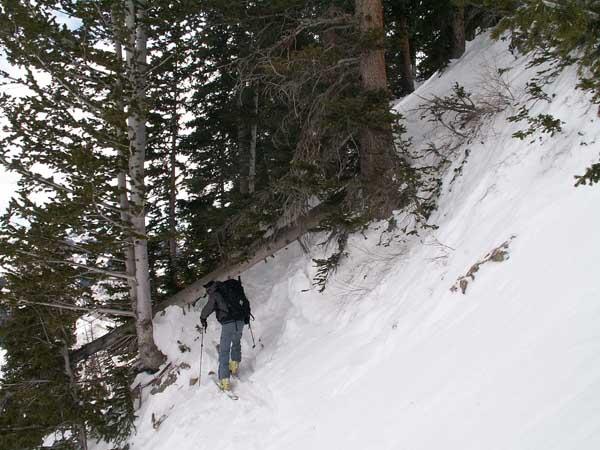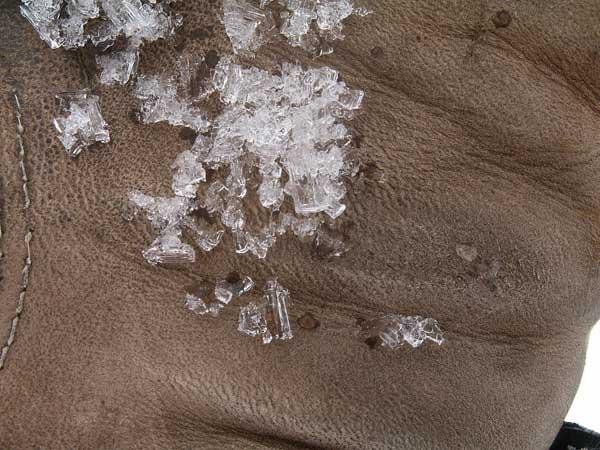 Comments
The avalanche occurred on a northeast aspect of Gobblers Know which drains into Butler Fork. The avalanche indicated by red is the one that killed the victim. The avalanche on the right was triggered with explosives so that rescuers could initiate the body recovery.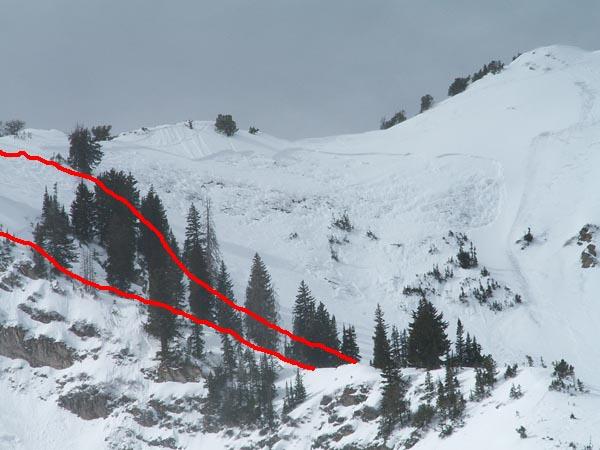 Comments
You can see where the victim was traveling along the ridge. The ski cut he placed here was a risky move however he did not cause the avalanche shown.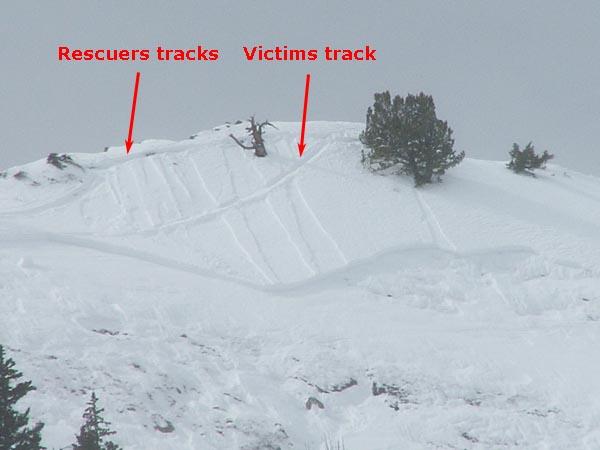 Comments
This is a view down the slope that caught him. Northeast facing with an average slope angle of 36 degrees at just below 10,000'. You could not pick a riper slope for an avalanche. He was caught in the trees below as the rest of the avalanche and some of his gear continued down slope.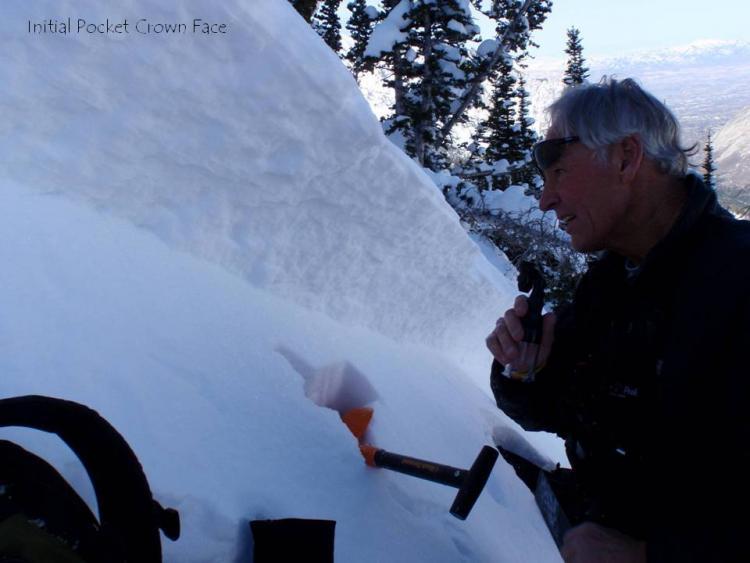 Comments
As the avalanche came over this breakover it released another slab. The weakness at the step down was buried surface hoar and facets.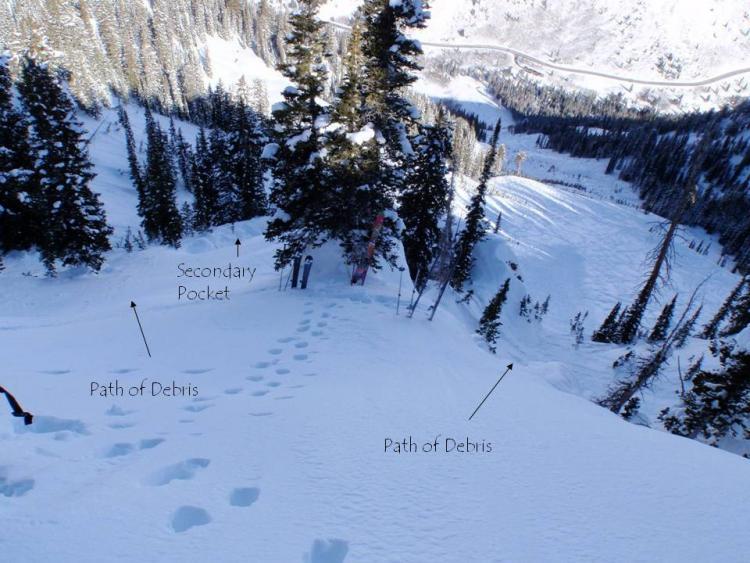 Coordinates