Observer Name
UAC Staff
Observation Date
Saturday, February 17, 2007
Avalanche Date
Saturday, February 17, 2007
Region
Southwest » Fish Lake Area
Location Name or Route
Near Signal Mountain
Elevation
10,900'
Aspect
East
Trigger
Snowmobiler
Trigger: additional info
Unintentionally Triggered
Avalanche Type
Hard Slab
Weak Layer
Facets
Depth
3'
Width
100'
Vertical
250'
Carried
1
Caught
1
Buried - Fully
1
Killed
1
Accident and Rescue Summary
Events leading up to the accident:
The accident happened in a popular snowmobiling area of rolling hills with short, slopes. The victim was highmarking a slope when he triggered the avalanche. Since there were trees at the bottom, he could not outrun the avalanche. He was not wearing a beacon. He was with two other snowmobilers during the day. They were separated at the time of the accident. The two others did not think anything about the fact that they were separated, they just figured Michael took a different route. They returned to an area where Micheal should have shown up. When he didn't, they knew something was wrong.
Rescue:
Both the victim and his snowmobile were completely buried. Companions at the scene called for a rescue, but before rescuers could arrive, they randomly dug the search area, which was fairly small—70 x 30 feet. They found his snowmobile and while digging it out, they found the victim's hand. He was buried sitting up with his head 2-3 feet deep and his hand was reaching upward. The victim did not respond to CPR.
Terrain Summary
The terrain in this area is non-assuming. In other words, it is generally not very steep with no significant or obvious avalanche paths. The slope is in the mid 30 degree range, just barely steep enough to avalanche.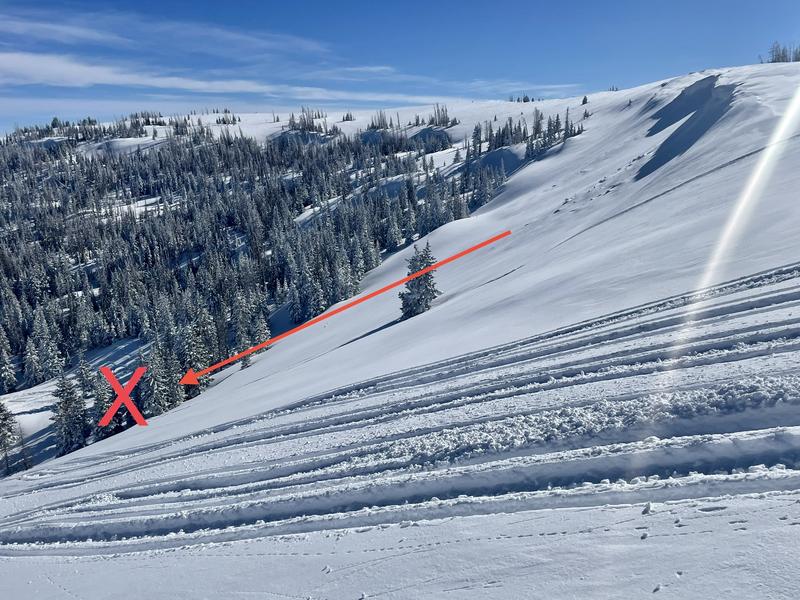 Coordinates