Observer Name
Craig Gordon
Observation Date
Sunday, February 18, 2007
Avalanche Date
Saturday, February 17, 2007
Region
Uintas » Nobletts » Mill Hollow » Buck Basin
Location Name or Route
Buck Basin
Elevation
9,700'
Aspect
East
Trigger
Snowmobiler
Trigger: additional info
Unintentionally Triggered
Avalanche Type
Hard Slab
Depth
3'
Width
300'
Vertical
250'
Carried
1
Caught
1
Buried - Fully
1
Killed
1
Accident and Rescue Summary
Five young snowmobilers, four males and one female (16-19 years old), began their day snowmobiling in the terrain surrounding the accident site. Most of them were wearing avalanche rescue gear, though those details are still being sifted through. Many clues to instability were missed along the way, including natural avalanches close to the accident site. In addition, at least one large hard slab avalanche was triggered without incident, about a ¼ mile north of the accident site prior to the fatality. This slide was 2'-3' deep, 250' wide, running about 150' vertically. It most likely emboldened the group, luring them deeper into the avalanche dragons den. This group was very familiar with the terrain and had triggered small avalanches in the area on past outings.
Around 16:00 the group traveled to the southwest of the avalanche they just triggered and regrouped at the bottom of a south facing slope. Several riders climbed the 32 degree slope above them without incident. Sixteen year old Zachary Holmes began climbing the slope too, but when he neared the top, he began "side-hilling" towards a steeper adjacent slope which had more of an easterly aspect. As he changed aspect and slope angle, he triggered a large hard slab avalanche 2'-4' deep and 300'-325' wide.
His partners turned their beacons on to receive and began searching. There was plenty of confusion and several random holes were dug 75' uphill from where Zachary was finally located, buried 3' under his snowmobile which was sticking out of the snow. After he was found, two young men stayed on the scene and began CPR while a male and female rode back to the trailhead to make a cell phone call and alert local authorities. Much to their dismay their phones didn't work at the trailhead, but a family with an "OnStar" system in the vehicle placed a call and Wasatch County Search and Rescue was dispatched.
Back at the scene, as the older brother performed CPR an Airmed helicopter located the accident site and dropped a flight nurse off at the scene. Zachary was flown to a local hospital where he died of traumatic injuries.
Comments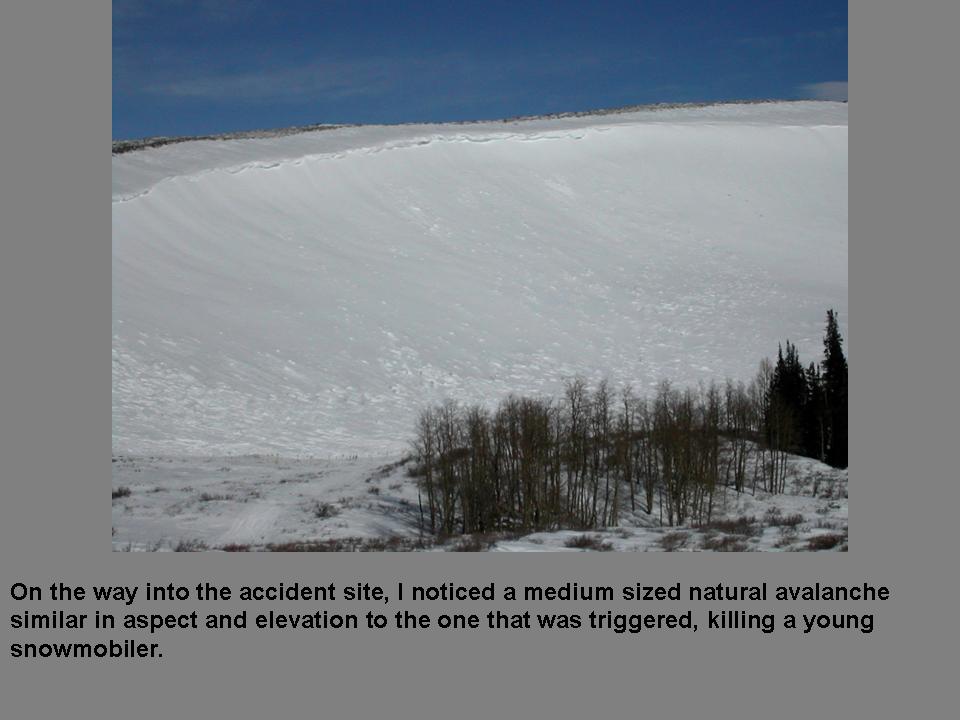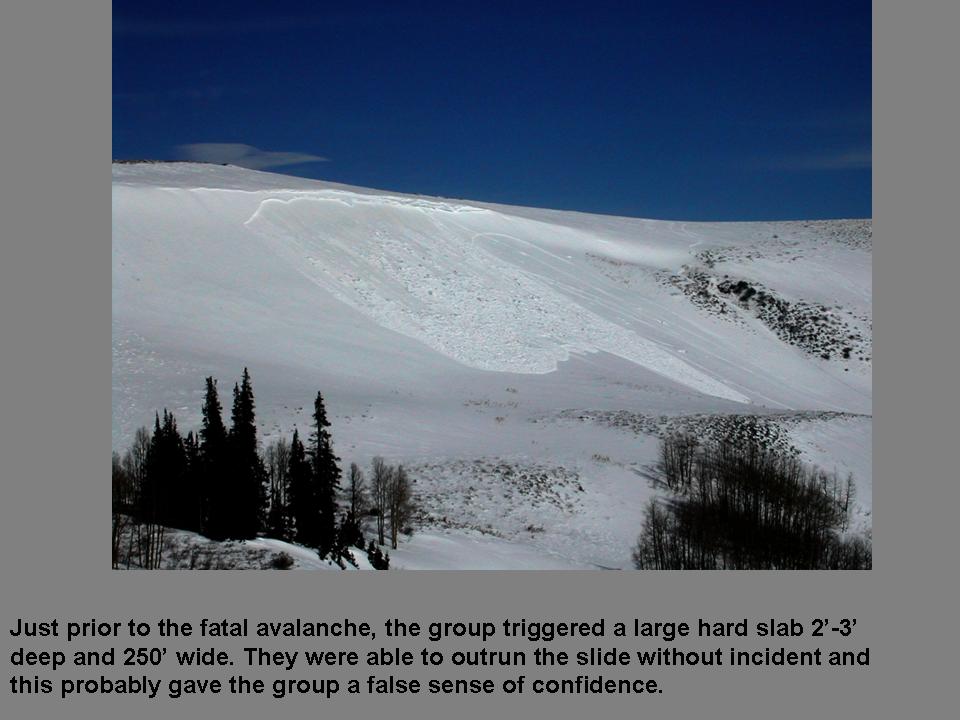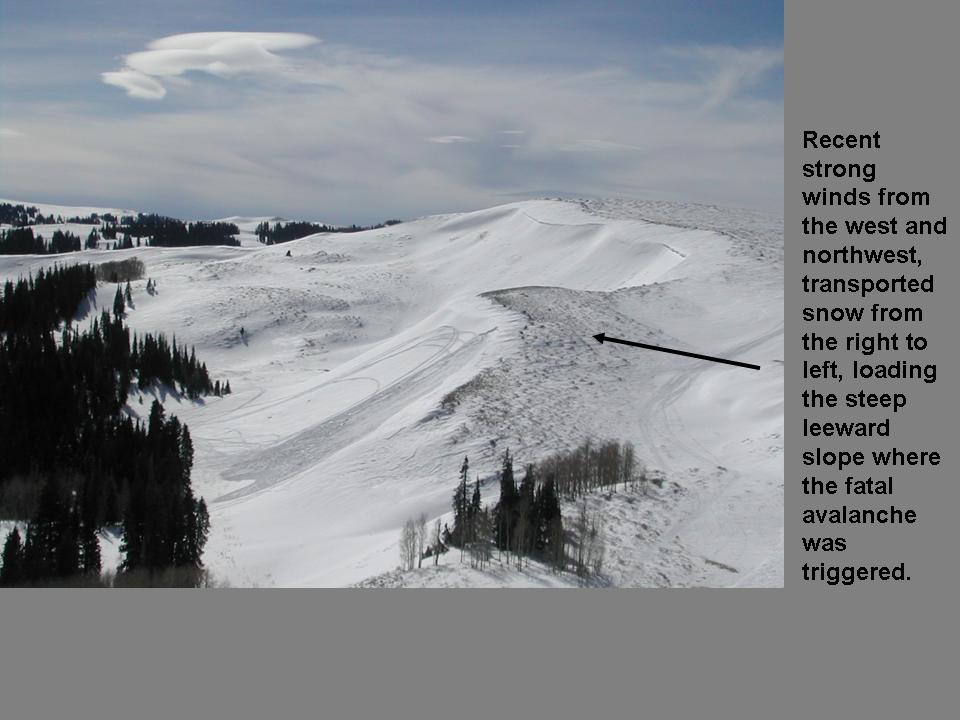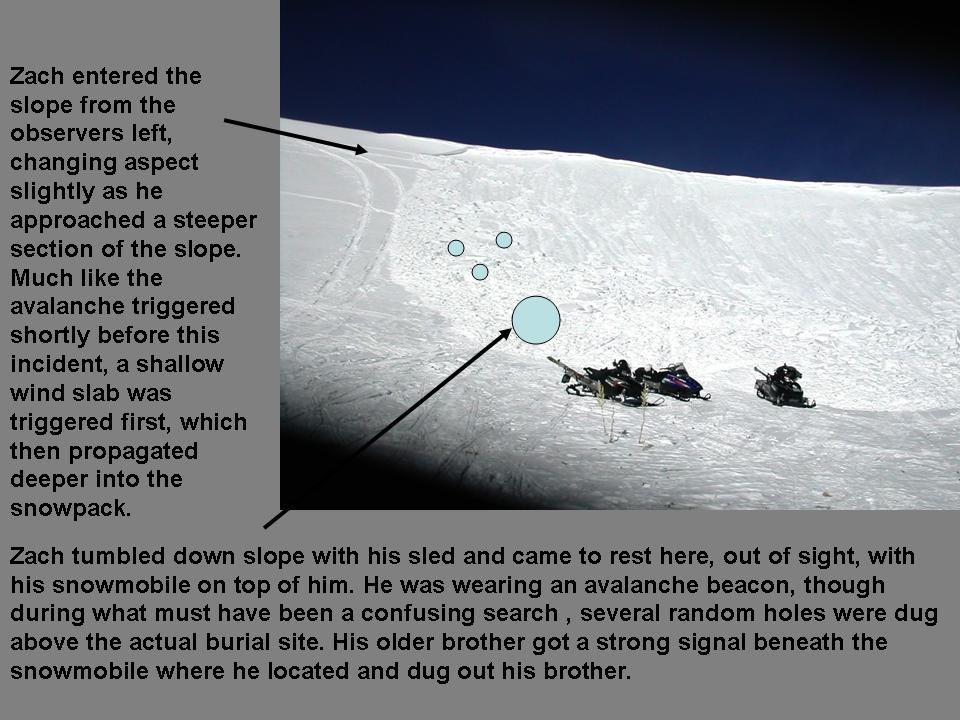 Coordinates