Observer Name
UAC Staff
Observation Date
Saturday, January 8, 2005
Avalanche Date
Saturday, January 8, 2005
Region
Skyline » North Creek » Chokecherry Ridge
Location Name or Route
North Fork North Creek - Chokecherry Ridge
Elevation
Unknown
Trigger
Snowmobiler
Trigger: additional info
Unintentionally Triggered
Avalanche Type
Soft Slab
Depth
Unknown
Width
Unknown
Vertical
Unknown
Carried
1
Caught
1
Buried - Fully
1
Killed
1
Accident and Rescue Summary
David Wayne Johnson, 42, of South Jordan triggered an avalanche in the Choke Cherry area east of Mt. Pleasant and was buried. His companions located him, dug him out and he did not respond to CPR. It is unknown whether he was wearing a beacon.
All of Utah was hit by another large, Pacific storm with extremely strong winds, heavy snow and warming temperatures. The Forest Service Utah Avalanche Center had an Avalanche Warning in effect for all the mountains of Utah with a High avalanche danger.
This makes 6 fatalities for Utah this winter, which ties the all-time record for avalanche fatalities.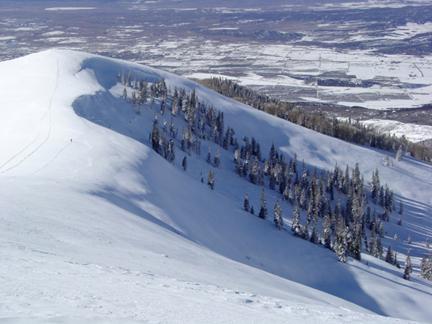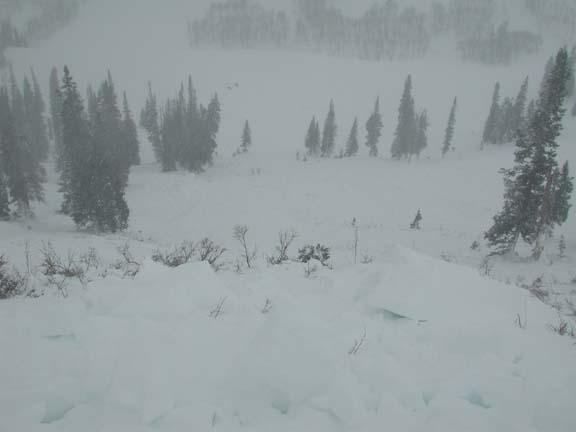 Comments
News Release
Sanpete County Sheriff Office
On 1-8-05 at approx 13:54 Sanpete County Sheriff's Dept. was notified that a snowmobiler had been caught in an avalanche east of Mt. Pleasant in the choke cherry ridge area. Search and rescue and EMS were deployed to the area. The Sanpete County Sheriff's Dept. later received information that the victim had been located by the party he was with and they requested life flight. The Victims condition is unknown at this time.
Sanpete County Sheriff's Dept. strongly advise that people stay out of the mountain areas until avalanche conditions improve.
Comments
MEDIA REPORTS:
Avalanches kill 2 men in Sanpete
Ideal slide conditions: Dense snow, strong winds and warming are making the backcountry dangerous
By Jason Bergreen and Lisa Rosetta The Salt Lake Tribune Salt Lake Tribune
Two men died in avalanches in Sanpete County on Saturday, the latest victims of what has become an unusually dangerous season in Utah's backcountry. Garrett Luke Gordan of Ephraim was snowboarding at about 1 p.m. when he was swept up in an avalanche near the top of Ephraim Canyon, said Andy Lyon, a Sanpete County Sheriff's Office sergeant. Gordan, who was carrying an avalanche beacon, was buried for about a half hour before friends dug him out. They administered CPR until Sanpete County searchers arrived and called in a Life Flight helicopter. The 26-year-old was flown to Utah Valley Regional Medical Center in Provo where he was pronounced dead. An hour later, a snowmobiler was buried in an avalanche east of Mount Pleasant in the Choke Cherry Ridge area, Lyon said. David Wayne Johnson, 42, of South Jordan, was dug out by searchers and flown to Sanpete Valley Hospital where he was pronounced dead. Craig Gordon, an avalanche forecaster at the U.S. Forest Service Utah Avalanche Center, said this winter is shaping up to be an unusual - and deadly - season for avalanches. Six people have perished in slides so far this winter, equaling the death toll of 2000-2001, according to Avalanche Center records. "This is an unusual weather pattern, and unusual weather tends to produce unusual avalanches," Gordon said. A steady stream of storms in the region have brought high winds, heavy snowfall and fluctuating temperatures - "the perfect recipe for a slab avalanche," he said. On Saturday, the mountains were blasted with winds up to 100 mph and between 6 and 8 inches of snow was forecast that night, said Bruce Tremper, director of the Avalanche Center. "It's kind of a 'triple whammy,' as we call it," he said. "We get snow, dense and heavy, extremely strong winds and warming temperatures. People without good avalanche skills should definitely avoid the backcountry." Avalanche danger continues to be high for all Utah mountains, even for low-elevation terrain, Tremper said. While snow, rain and wind pelted other parts of Utah, Saturday in the Salt Lake Valley was sunny and dry. Though strong southerly winds whipped through parts of Salt Lake City on Friday night and Saturday, the majority of a large West Coast storm wasn't expected to produce snow in the valley until after midnight. "The main storm itself is somewhat stationary along the West Coast," National Weather Service meteorologist Alex Tardy said. Several inches of snow fell Saturday afternoon in Logan, Price and Heber, Tardy said. Alta Ski Resort has received about 18 inches of new snow since Friday, 6 of which fell Saturday, he said. Winds gusting 30 to 40 mph were recorded in Salt Lake County, with some gusts reaching as high as 49 mph at the airport, Tardy said. High winds reaching up to 90 mph continued blowing in areas of the Wasatch Mountains. Snow in Salt Lake City could turn to light rain today with temperatures reaching the mid 40s. More rain was expected Monday, with snow returning to the valley Tuesday, Tardy said.
[email protected]

,

[email protected]
Avalanches Kill Two in Central Utah Jan. 8, 2005
Sam Penrod reporting
Another deadly weekend in Utah's backcountry, as two avalanches kill two people in Central Utah. The slides both happened in Sanpete County Saturday afternoon, about an hour apart.
It's been a tragic day in Sanpete County. Two men were killed in separate slides, while snowboarding and snowmobiling this afternoon.
In the mountains east of Mt. Pleasant, a group of snowmobilers were in the area, when one of them apparently triggered an avalanche, around 2:00 this afternoon. One person was buried in the slide, but those in the group eventually were able to dig the victim out. But he could not be revived.
Saturday evening, volunteers from the Sanpete County Search and Rescue were able to recover the victim from the avalanche.
Sheriff Kay Larsen/ Sanpete County Sheriff's Office: "There was approximately ten people up there snowmobiling together. They had lost sight of him and could see the tracks where it had slid, and went down there. [They were] able to get him out of the snow, but unable to revive him."
About an hour before the Mt. Pleasant slide, a 26 year old man who was snowboarding got caught in an avalanche in Ephraim Canyon. The victim was buried in the slide, but was wearing an avalanche beacon and someone who was with him was able to dig him out and started CPR.
The victim was airlifted to Utah Valley Medical Center where he died.
Tonight authorities are identifying the victim as 26 year old Louk Gordon from Ephraim. And in the Mt. Pleasant slide, 42 year old David Wayne Johnson of South Jordan was killed.
Authorities say heavy snow earlier in the week and then the warmer temperatures today likely caused both slides.
Avalanche Warning
Those fatalities make five avalanche-related deaths in the last month.
Another smaller avalanche-- about 4-feet deep-- has closed the road up Little Cottonwood Canyon. Authorities are telling everyone to get out. An avalanche warning is in effect for ALL Utah mountains, and that warning will remain in effect for the rest of the weekend.
Coordinates